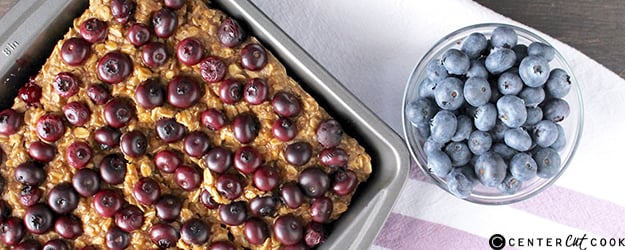 I love making baked oatmeal. There are so many flavor combinations that it never gets old. This peanut butter one is the one I've made the most and is absolutely delicious! It is really good warm, but also good straight from the fridge the next day.
The 6 ingredients that are used are common items that you probably have around the house already. I use cashew milk to make it dairy free, but I've used regular milk in the past and both work great. The blueberries give it an added freshness that works perfectly with the peanut butter. If you want it more dessert-like, you can use chocolate chips instead-yum!
You will love this easy and delicious take on traditional oatmeal. Perfect to make ahead for busy mornings.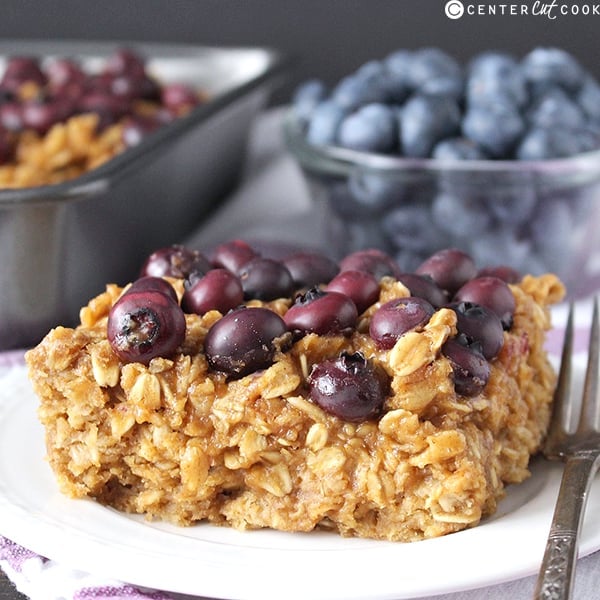 INGREDIENTS
3 cups rolled oats
1/2 cup brown sugar
2 eggs
1 1/4 cups mik (I used dairy free)
1 cup peanut butter
1 cup blueberries (or chocolate chips)
DIRECTIONS
Preheat the oven to 350° and grease a 8×8 pan or line it with parchment paper.
In a large bowl, combine oats, brown sugar, eggs, milk, and peanut butter. Stir until well mixed.
Pour into prepared pan and smooth it to make it as even as possible.
Top with blueberries and bake for 30-35 minutes.
Eat immediately or store in fridge for quick breakfast for the week.
Servings: 6