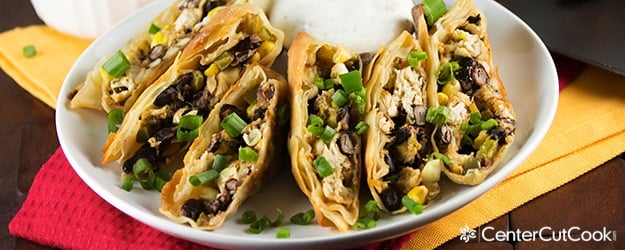 I've gotta tell you, if you're looking for a delicious snack to serve at your next party, look no further! These BAKED Southwestern Egg Rolls get served alongside some jalepeno ranch dipping sauce and they are TASTY! And because they are baked and not fried, the guilt factor is eliminated!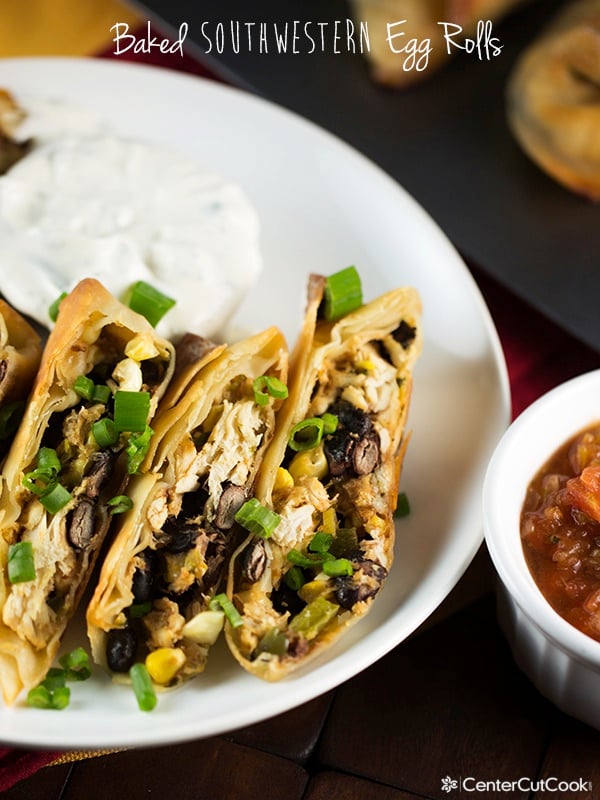 Heating a big ole' pot of oil is just not my thing, especially after I made a mess of it last time with these Crispy Breaded Mushrooms. And then there's the whole thing about feeling guilty after eating fried foods which leaves me with an aversion to them anyways! So instead of frying these egg rolls, I decided to bake them and I was not disappointed. Are they as crispy as fried egg rolls? I'd be lying if I said they were. But, they crisp up nicely for a baked treat, and you can enjoy them without guilt.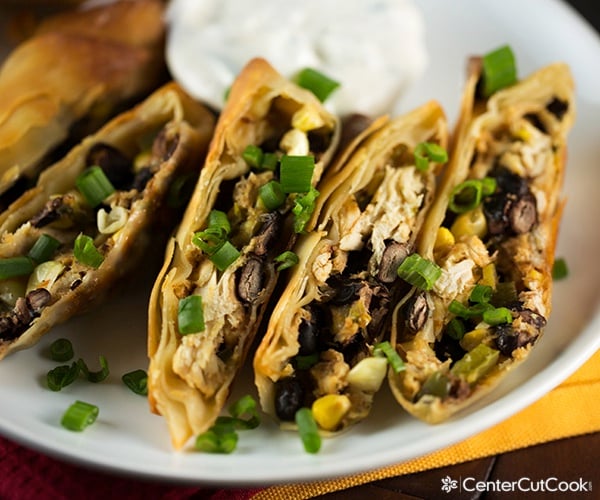 You can't make an egg roll and not serve a dipping sauce alongside. I hemmed and hawed over what route I should take here. I thought about making an avocado ranch dip which sounded great, but the grocery store didn't have any ripe avocados on hand. Instead, I decided to chop up some jalepnos to add to my favorite recipe for ranch dip and it worked perfectly.Ryan ate these with a little BBQ sauce which he liked too.
While this is an ideal party food (especially with the Super Bowl coming up!), we actually munched on these for dinner the other night, and then for lunch the next day. No matter when or where you decide to serve them, they are sure to be a guilt-free hit! Enjoy!
*Note: For the best results, make the jalepeno ranch dip at least an hour before serving so that the flavors can blend together nicely. Additionally, if you'd like to speed the preparation process along, used pre-cooked rotisserie chicken from the grocery store.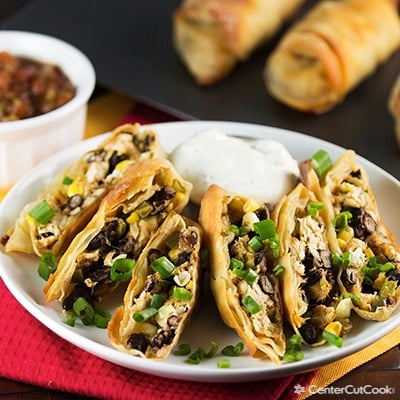 EGG ROLL INGREDIENTS
2 cups shredded cooked chicken (I used rotisserie chicken from the grocery store)
1 cup frozen corn
14 ounce can black beans rinsed and drained
1/2 cup chopped roasted red bell pepper
1 jalepeno, seeds removed, and diced (leave seeds in if you want these really spicy)
1 green onion, diced
1 cup shredded pepper jack cheese
1/2 teaspoon chili powder
1/2 teaspoon ground cumin
1/4 teaspoon cayenne pepper
1/4 teaspoon black pepper
1/4 teaspoon salt
12 of the 6 inch egg roll wrappers
JALEPENO RANCH INGREDIENTS
1 cup mayo
1/2 cup sour cream
1/2 teaspoon dried chives
3/4 teaspoon dried parsley
1/4 teaspoon garlic powder
1/4 teaspoon onion powder
1/8 teaspoon salt
1/4 teaspoon black pepper
2 jalepenos, seeded and chopped
DIRECTIONS
Combine all ingredients for the jalepeno ranch dip and chill for at least an hour.
Pre-heat your oven to 400 degrees.
In a large skillet, saute' jalepenos for a few minutes in a bit of olive oil. Then stir in corn, black beans, and roasted red pepper. Add in chili powder, cumin, cayenne pepper, black pepper, and salt. Saute' just for a few minutes to heat the corn through.
Stir in cooked, shredded chicken and cheese.
Begin filling egg rolls. Place a wrapper in from of you with a corner pointing towards you. Place 1/4 cup filling in the corner of the wrapper. Fold the corner over the filling, tuck in the sides, and roll up. Repeat the process until all of the filling is gone. I was able to make about 12 egg rolls using 1/4 cup of filling per egg roll.
Spray a rimmed baking sheet liberally with cooking spray.
Place the egg rolls on the baking sheet and spray the egg rolls liberally with cooking spray.
Bake for about 20-25 minutes, or until the egg rolls are golden brown. Flip the egg rolls once during the baking process.
Allow to cool for a few minutes, then cut the egg rolls in half in a diagonal and served with jalepeno ranch dip.
Recipe from
CenterCutCook