If you take a look around CenterCutCook, there are very few fried recipes to be found. The reason is two-fold. Reason #1 – I loathe, and I mean LOATHE, heating a big pot of oil in my house. It makes me smell, and my entire house smell. No bueno! Reason #2 – We generally try to eat pretty healthy, and last time I checked, fried foods aren't exactly on the healthy foods list!
When I decided to break down and heat a pot of oil to cook the Toasted Ravioli that I shared with you yesterday, I mentioned to my dear hubby, Ryan, that I should've thought of something else to cook along with the ravioli as long as I was going to make a mess with oil in the first place! He said why not try making breaded mushrooms, and to my surprise, we had every single ingredient already in the house, which is a shocker! I don't regularly keep fresh mushrooms on hand, but I had been planning to make stuffed mushrooms for New Years and I had bought a huge pack at Costco.
Not a whole lot goes into making these babies, you make a simple batter to dip the mushrooms in, and then coat them in Panko bread crumbs. You'll definitely want the Panko bread crumbs instead of traditional bread crumbs, because it really makes a difference. Panko is a Japanese style breadcrumb, and I've found that it tends to crisp up better than tradtional breadcrumbs. Anything made with panko tends to stay crispy longer because it doesn't absorb as much grease. You can find Panko breadcrumbs in any grocery store where you'd find traditional bread crumbs.Once the mushrooms are coated, they get tossed into hot oil (about 350 degrees) and cooked for about 10 minutes or so, or until crisp.
And now, I'm going to share a little tip with you, because I like to prevent ya'll from making the same mistakes as I do. For whatever reason, I decided to use a standard fry pan to make these. Don't do this! Initially I was only planning to make the ravioli, so the fry pan was plenty deep for the inch or so of oil that I needed. But once mushrooms came into the picture, it was a little tricky because I needed about two inches of oil which meant the oil level was pretty high in the pan. Once I was done cooking, I went to move the pan of hot oil off the burner, and guess what? The hot oil spilled all over. My house was instantly smoky, and i mean REALLY smoky. And within seconds, all the smoke detectors were going off, the dogs were shaking uncontrollably while I was frantically trying to wipe the oil off the burner and my hubby was busy waving a towel in front of the smoke detector. If it sounds chaotic to you, it WAS! So with all that said, I'd suggest you use a large deep stock pot to prevent any oil mishaps. Oil spills are dangerous, and not fun to clean up!
Despite my oil mishap, these mushrooms turned out great. The panko really allowed them to crisp up nicely. In fact, we ate some for leftovers the next day and they were STILL crispy! It's rare to find a fried food that stays crispy, even when heated up the next day in the microwave. I served these guys with ranch dressing, use bottled if you'd like, otherwise this homemade classic ranch dip recipe is delish. Enjoy!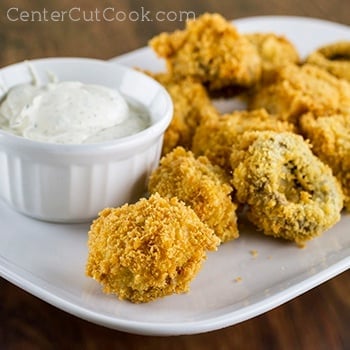 INGREDIENTS
10-12 ounces button mushrooms
2 cups Panko bread crumbs (I do not recommend substituting regular bread crumbs)
1-1/2 cups water
1 cup flour
1/2 cup cornstarch
3/4 teaspoon baking powder
1/2 teaspoon salt
1/4 teaspoon garlic powder
1/4 teaspoon black pepper
Vegetable oil or canola oil – enough so that you have about 2 inches of oil in your pot.
DIRECTIONS
Use a clean dish towel to wipe the mushrooms clean, remove stems and discard
In a bowl, mix together flour, cornstarch, baking powder, salt, garlic powder, and black pepper. Add in water, about 1 1/2 cups, to create the batter.
Dip each mushroom in the batter, allowing excess to drip off.
Coat each mushroom in Panko bread crumbs.
Heat about 2 inches of oil in a large stock pot to about 350 degrees. Carefully add mushrooms to the hot oil using tongs. Allow the mushrooms to cook for about 7-10 minutes, or until they are golden brown and crispy.
Carefully remove mushrooms from the oil to a paper towel lined plate. Allow the mushrooms to cool for a few minutes before serving with ranch dressing.
Recipe from
CenterCutCook