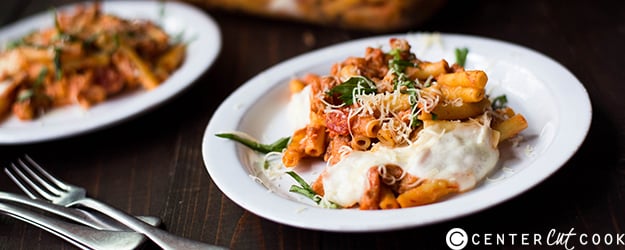 I'm a huge fan of noodles and tomato sauce and cheese. And Italian food. And easy weeknight dinners.
And kid-friendly dinners.
And I'm especially fond of recipes that meet all these requirements. When that happens, I do a little happy dance.
And that, my friend, is what this recipe is right here. It's a recipe superstar and a half. Yep, and a half, people! No joke.
If you've never made baked ziti, it's essentially an Italian pasta casserole that you prepare similar to spaghetti with meat sauce, then add to a casserole, top with mozzarella and parmesan cheese, and then bake until it's golden brown, bubbly, and uber delicious-looking.
Nothing wrong with that, am I right?
You can either use your own tomato sauce or canned tomato sauce – when I don't have my own tomato sauce, I look for jarred sauces that have very few ingredients. The higher quality, healthier ones contain just tomatoes, olive oil, and spices. Add anything else and it becomes more and more processed.
This recipe, as written, serves about 6 if no one has seconds, which is very rare. So, in reality, it serves about 4 because everyone wants seconds and possibly even thirds.
The flavors are so fresh, so creamy, so luscious – I'm sure it'll become a family favorite for you as well!
If you wanted to switch out the Italian sausage for lean ground beef, that would work well, too, but you'll likely need to add a tad more salt since the Italian sausage is already seasoned.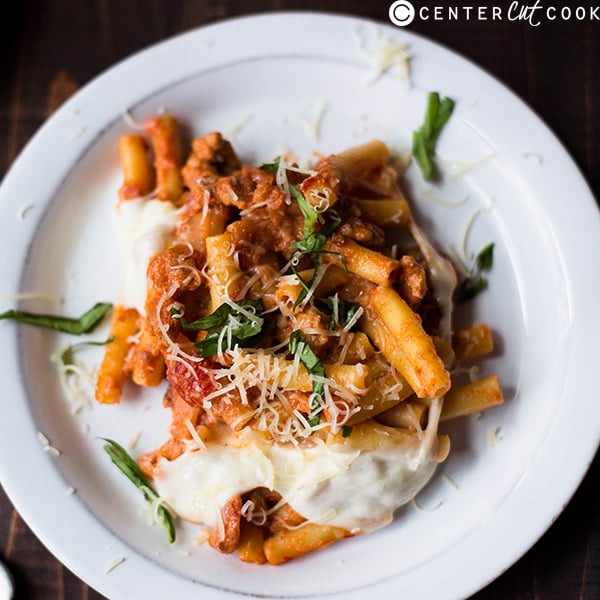 INGREDIENTS
1 lb. ziti noodles
1 tbsp. kosher salt
1/2 tsp. kosher salt
1 tbsp. olive oil
1 yellow onion, diced
1 lb. italian sausage, mild
2 cloves garlic, minced
4 cups tomato sauce (Marinara)
1 cup ricotta
1/2 cup parmesan cheese, grated
6 oz. fresh mozzarella cheese, sliced
DIRECTIONS
Preheat oven to 400 degrees and have a casserole dish setting aside.
Fill a large stock pot full with water and add 1 tbsp. kosher salt. Bring to a boil.
Once boiling, add the ziti noodles and cook until al dente (almost tender), about 8 minutes.
While the noodles are cooking, heat the olive oil in a large fry pan over medium-high heat.
Add the onion and cook until beginning to sweat, about 4 minutes.
Add the Italian sausage to the pan and cook until well-browned, about 6-8 minutes.
Once browned, add the garlic and cook for one minutes, until fragrant.
Add the ricotta, stir together, and heat through.
Add the marinara sauce and stir to combine.
Transfer the ziti to the tomato-meat mixture using a slotted spoon, allowing most of the water to drain before transferring. Stir mixture to combine.
Add the mixture to the casserole dish (I use a 9×13-inch). Sprinkle the top with the parmesan cheese, followed by a layer of the mozzarella slices.
Place in the oven and bake until cheese is melted and tomato sauce is bubbly, about 8-10 minutes.
Servings: 4