Have you ever tried making your own homemade vinaigrette?
If not, a simple balsamic vinaigrette is a great recipe to try. It's very easy and hard not to be delicious.
I've included a recipe to go along with this balsamic chicken salad recipe because I think the salad dressing is such an important part of a salad and can really make or break it.
I love adding simple balsamic vinaigrettes to salads at home because they're super easy to put together and you only need a little bit to go a long way.
Making your own salad dressings is a great way to control the food you're eating as well, since many bottled salad dressings can be riddled with hydrogenated oils and sugars which you just don't need for a yummy salad or a healthy body. Plus, it's a lot cheaper to make your own. All sound like good reasons to me.
This balsamic chicken salad is a real winner for those busy nights when you don't have a lot of time, but you want healthy protein that's full of whole, real foods and fast. And, if you happen to have cooked chicken already as leftovers, this salad is even quicker to toss together. Perfect!
This salad can easily be made without the chicken or with substituting steak or shrimp for the chicken. It's very versatile and forgiving – which makes it one of my faves for sure!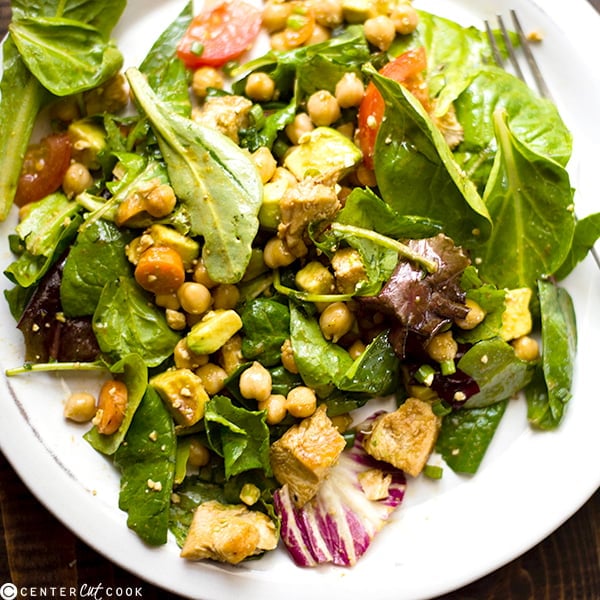 INGREDIENTS
1 tbsp. olive oil
1 cup olive oil
2 chicken breasts, boneless and skinless
1 tsp. kosher salt
1 tsp. ground black pepper
1/8 tsp. ground black pepper
1/3 cup balsamic vinegar
10 cups mixed baby greens, slightly packed
3 vine-ripened tomatoes, diced
3 carrots, sliced
3 avocados, diced
1 1/2 cup garbanzo beans, drained
1 cup gorgonzola crumbles
3 green onions, thinly sliced
DIRECTIONS
Heat 1 tbsp. olive oil in a large fry pan over medium-high heat.
Season chicken with the kosher salt and 1 tsp. pepper.
Once oil is hot, add the chicken to the pan, cover, and cook for 4-6 minutes, or until well-browned. Then, flip and cook, covered, for an additional 4-6 minutes until well-browned.
Flip one last time and cook, covered, for 2-3 more minutes, or until cooked through. Once cooked, remove from the pan and dice into bite-size chunks.
In a small mixing bowl, combine the remaining 1 cup olive oil, balsamic vinegar, and remaining 1/8 tsp. black pepper. Whisk together and then set aside. This will be the salad dressing.
In a large mixing bowl, combine the lettuce, tomatoes, carrots, avocado, garbanzo beans, gorgonzola, and green onions and stir to combine.
Drizzle with 2-3 tbsp. of the balsamic vinaigrette and toss to coat again. Divide onto plates and serve.
Servings: 6