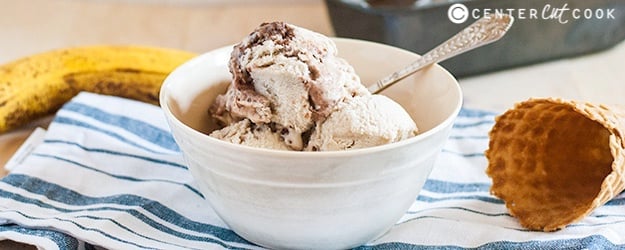 Before we dive into a large scoop of this easy banana Nutella ice cream recipe, I want to say I seriously cannot get enough ice cream. I don't need a break-up to motivate me to eat an entire pint (or quart) of ice cream on my own.
I love the banana "ice cream" that is so popular on the internet and I've made it about a million times, but I would be lying if I said I thought it was as satisfying as actually having a cream-based banana ice cream. I need that cream to round out the flavor in the banana and add balance to any flavor add-ins I want. I do take out the eggs so that it does not compete with the flavors of the banana. An eggless cream-based banana ice cream means we don't need to turn on the stove to make this ice cream (essential in the summer!) and can get to churning and eating the ice cream sooner. That is always good news in my book!
Trust me, once you've had a taste of this banana Nutella ice cream, you won't be able to stop grabbing "just one last spoonful." And if you decide to add in some Nilla wafers – it'll be game over.
Tip: To keep this a quick and easy recipe, make sure all your ingredients, except for the Nutella, is very cold prior to making your banana and Nutella swirl ice cream.
INGREDIENTS
3 large bananas (about 7-8 inches long per banana), peeled and sliced
1 cup milk
1 cup skim milk powder
1/2 cup granulated sugar
2 1/4 cups heavy cream, divided
2 teaspoons vanilla extract
13 ounce jar Nutella
Nilla wafers (optional)
DIRECTIONS
Prepare your ice cream maker according to manufacturer instructions. For some people, that may mean placing your ice cream container in the freezer for 24 hours.
Place the bananas, milk, milk powder, and sugar in a blender. Blend on medium-high until the mixture is a smooth consistency. Mix in 1 ½ cups of the heavy cream and the vanilla extract into the banana mixture.
Churn the banana ice cream according to manufacturer instructions.
While the ice cream is churning, mix together the Nutella and the remaining heavy cream together. I found using an immersion blender helped make quick work of getting a smooth consistency.
If you would like to use Nilla wafers, coarsely crush them and fold into the churned ice cream.
Begin to pour the ice cream into an air tight container. Use a spoon to drizzle swirls of the Nutella in layers over the ice cream as you pour. I put about ¾ cup of the ice cream into my container before adding more Nutella.
Cover and freeze until firm – about 3 – 4 hours.
Recipe from
CenterCutCook