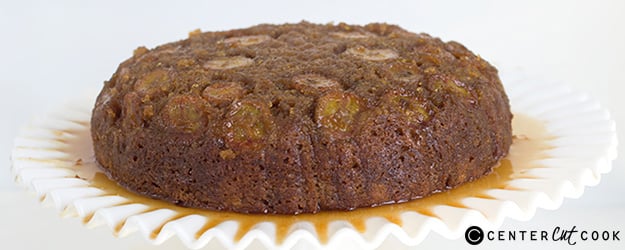 Sometimes I get in such a slump with overripe bananas. My son insists he needs them every shopping trip, but goes through spurts of not eating them all. So, I stick the super brown ones in the freezer inside their peel and freeze them until I'm ready to go on a banana baking spree. Once the bananas are frozen, they will no longer hold their shape when thawed out to bake with. It will be a puree that comes out the the peel, which is pretty awesome. So, for this recipe you'll need to have at least one to two bananas that are overripe, but have not been frozen. I think I used about 1 and a half bananas for the bottom of my skillet.
I used a 10-inch cast iron skillet that's about 3 inches deep with tin foil placed on the inside of it. It makes for an easy clean up and also a simple flip onto the cake stand. Both things can be a pain! Every time I heave on my skillet, I think of myself as a wimp. They are so darn heavy!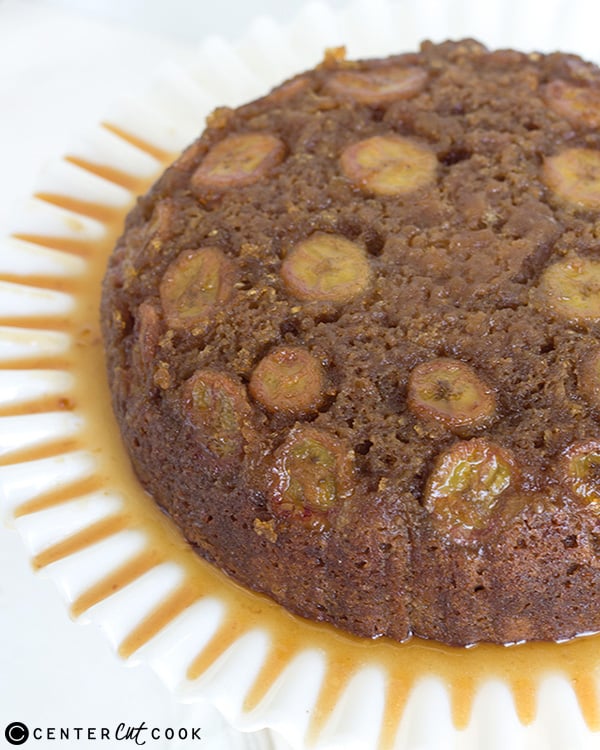 If you don't have a cast iron skillet and use a different baking pan, you may have to bake the cake longer. I have not used anything other than cast iron for this so I can't get you the exacts. Cast iron holds heat better than other surfaces so there could be a variation in time.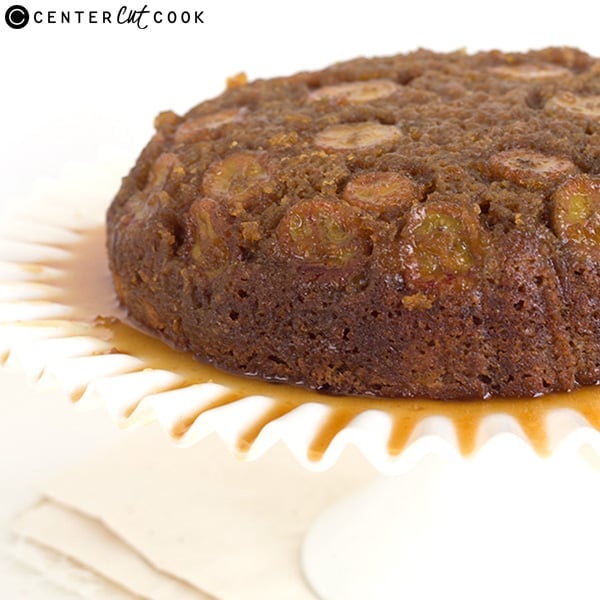 TOPPING INGREDIENTS
6 tbsp. butter
3/4 cup brown sugar, packed
1 1/2 bananas sliced
CAKE INGREDIENTS
TOPPING DIRECTIONS
Preaheat oven to 350 degrees. Line a 10 inch cast iron skillet with heavy duty tin foil.
Place butter and brown sugar in the bottom of the pan. Place in the oven to melt for about 6 minutes. Carefully stir with a spatula, you don't want to tear a hole in your tin foil while stirring.
Add the banana slices on top of the brown sugar and butter mixture. Set aside.
CAKE DIRECTIONS
In a large mixing bowl, add in the melted butter and bananas. Mix on medium with a hand mixer to incorporate.
Add in the granulated and brown sugar. Mix on medium to combine. Scrape down the sides of the bowl.
Add in the egg and sour cream. Mix on medium until well combined.
Add in the milk and stir. If you use your mixer, it will probably splash all over you so stirring with a spatula is more appropriate.
Add in the flour, baking soda and cinnamon. Beat on low with the hand mixer until it comes together. Scrape down the sides and beat for another 15 seconds.
Pour over top of the banana topping.
Place in the oven and 1 hour or until done. Insert a tooth pick to make sure it comes out clean before removing from the oven.
Let cool for about 10 minutes. Place a plate or cake stand on top of the skillet. Flip the cake stand and skillet at the same time. Use a plate or cake stand with a small lip to avoid the brown sugar syrup from running all over.
Remove the tin foil. Cut and serve.