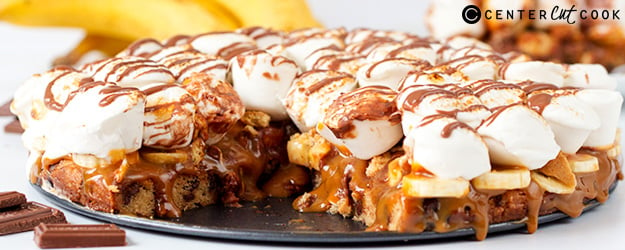 Being from the UK, it might seem a little strange that I'm sharing an American inspired S'mores dessert with you today.
S'mores are not particularly well known in the UK. For one thing, we don't have Graham Crackers over here. The closest we have are digestive biscuits – which are round biscuits that are a little more crumbly and buttery. We also don't have Hershey's bars (except in a few specialist stores). Finally, I guess we don't really have the weather to fire up the BBQ for more than a couple of months a year. So when the sun is finally out, those BBQs are quickly taken up with piles of burgers and sausages. One might be lucky enough to get a toasted marshmallow at the end, but I've never been to a BBQ with S'mores on offer before (sad face).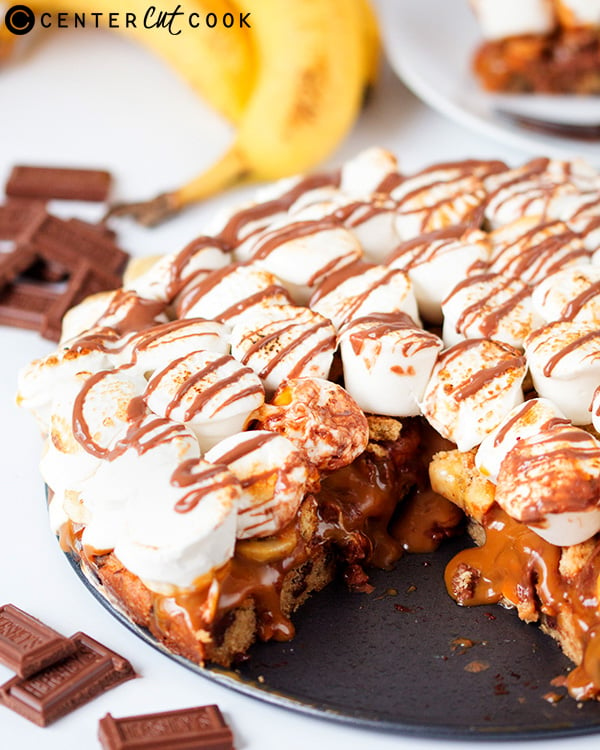 However, I do love Banoffee Pie, and I do love to go over the top with dessert. I couldn't think of a better addition to banana and caramel than that gooey S'mores flavour!
It's the kind of dessert that draws a collective 'whoa', and even those people that earlier proclaimed they were full can usually manage just a little piece.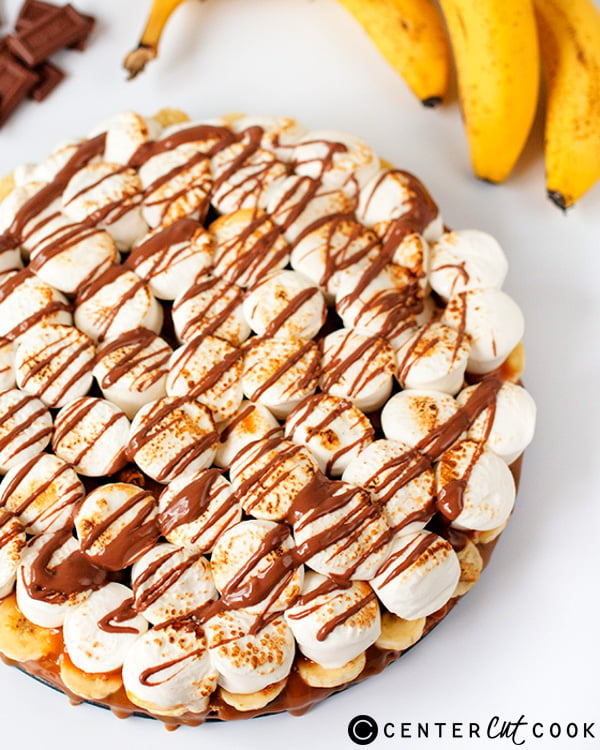 Made with shop-bought cookie dough and caramel sauce, it's really just a case of putting this dessert together – rather than spending hours in the kitchen measuring and mixing. You can make ahead earlier in the day, up to the end of step 4, and then toast the marshmallows and drizzle with chocolate right before serving.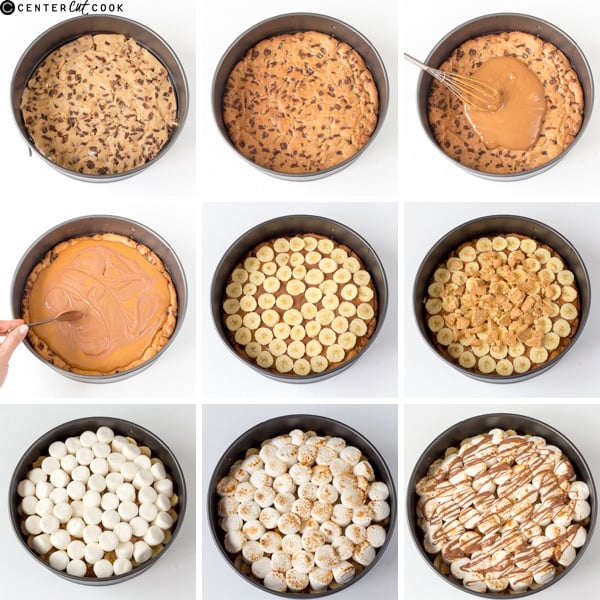 It's best eaten the same day – due to it having fresh bananas in there, but it will keep for a day or two, covered, in the refrigerator.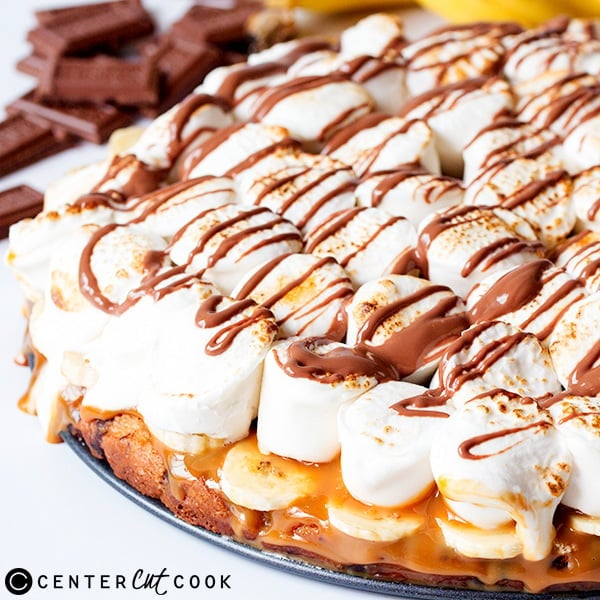 INGREDIENTS
18.5oz cookie dough (regular or chocolate chip)
13.4oz tin dulce de leche caramel sauce
3.5oz milk chocolate
3 medium sized bananas, peeled and sliced
4 full size Graham Crackers (about 2oz), roughly crumbled
14oz large white marshmallows
DIRECTIONS
Preheat the oven to 400f/200c. Cut the cookie dough into slices and push into the bottom of cake tin with a removable base measuring approx. 11" (28cm) diameter. You want to cover the whole of the base, so it looks like one giant cookie. Cook in the oven for 10-12 minutes until golden brown. Take out of the oven and leave to cool for 10 minutes
Pour the dulce de leche onto the cookie base and spread around, leaving a 1" border.
Melt the chocolate in the microwave in 30 second bursts (stirring in between each burst) or melt in a bowl over (but not touching) simmering water. Dot half of the chocolate onto the caramel and swirl around using a spoon.
Layer on the slices of banana, sprinkle on the crumbled crackers and then arrange the marshmallows on top.
Place under the broiler (or use a cook's blowtorch) until the tops of the marshmallows are light brown. Drizzle on the remaining melted chocolate, remove the sides of the cake tin and serve.
Serves: 12-14