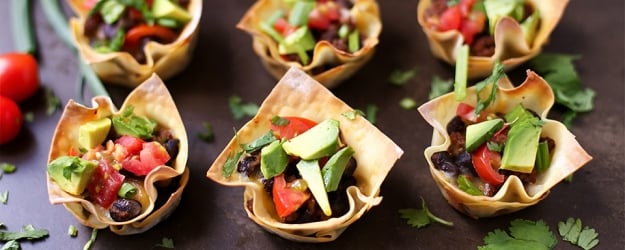 How cute are these taco cups? Or can we call them taco cupcakes? I recently made these for a friend who came over for lunch, and instantly knew these would be a huge hit with my family. She and her little boy devoured these, and wanted the recipe to make at home. We love our Taco Tuesday nights, and I always try to do something different each week. I usually always pack my kids' lunch boxes with leftover tacos, and they were giddy with excitement over these cute cups. My 9 year old daughter nicknamed them Taco Cupcakes and asked that her next birthday be a "taco" theme…..We'll have to see about that, but I took that as a big stamp of approval!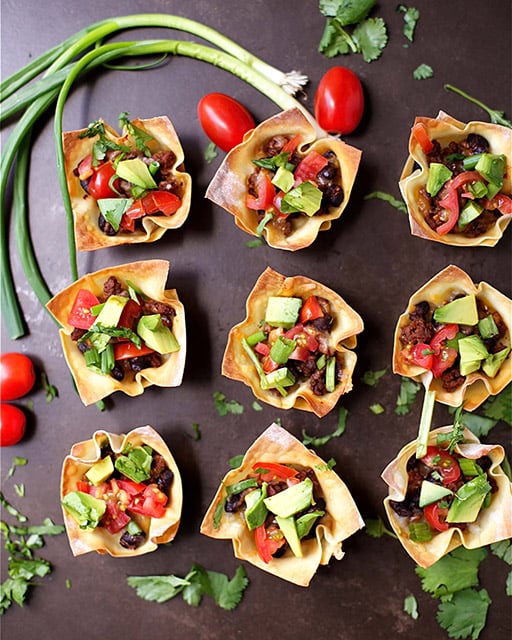 So these taco cups are made with wonton wrappers to give the cup a nice crispy texture, but they also have a nice soft touch is well. It's the perfect combination of crispy and soft tacos! The ground beef is perfectly seasoned and the addition of beans add a different texture, and more protein and fiber. These cups bake with the beef, beans, and cheese. they are baked with two layers of wonton wrappers, just so that the cups are nice and substantial. I realized quickly we would need 2 layers! Once they are complete, feel free to add in your own toppings such as sour cream, avocado or guacamole, cilantro, salsa, green onion, etc.
A few sides notes about this dish. You will need a 12 cup muffin pan to assemble everything properly, and be sure to use a non-stick spray to grease. I used my favorite taco seasoning from Trader Joe's to flavor the beef; feel free to use your own taco seasoning, or favorite store bought seasoning. Also, when looking for the wonton wrappers in your grocery store, be sure to check the produce aisle. I found the wrappers hiding in the refrigerated section there! Enjoy!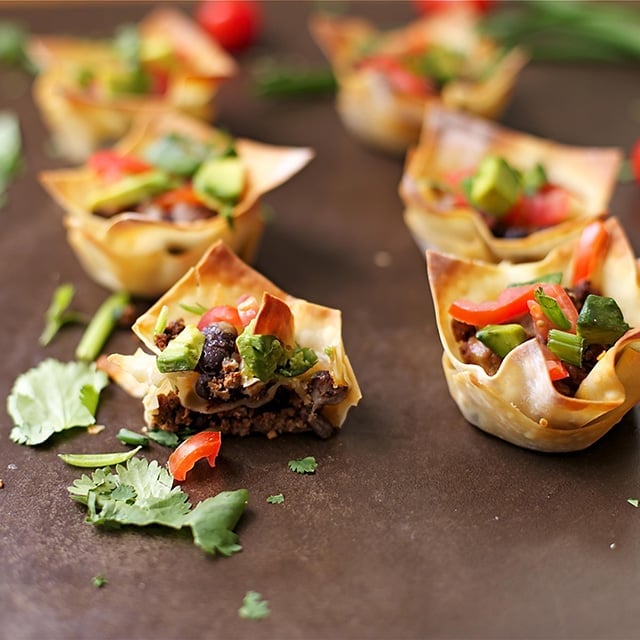 INGREDIENTS
1 lb ground beef
1 envelope of your favorite taco seasoning
2 tbsp tomato paste
1/2 cup chicken broth
2 tbsp apple cider vinegar
1/2 cup drained black beans
24 wonton wrappers
3/4 cup cheddar cheese
Sour cream (optional)
Guacamole (optional)
Chopped tomatoes (optional)
Green onion (optional)
Fresh cilantro (optional)
DIRECTIONS
Preheat your oven to 375 degrees. Spray a 12 cup muffin tin with a non-stick cooking spray. Set aside.
Now make the taco meat: over medium heat, saute your ground beef until cooked all the way (7-10 mins). Add in your seasoning, broth, and vinegar. Bump up the temperature to medium high for a few minutes and let the meat absorb the flavor. Now mix in the beans.
Assemble your muffins: start by layering one wonton wrapper over the bottom of each muffin tin. Fill each muffin tin with 1 tbsp of the meat/bean mixture, and sprinkle with a little cheese. Now add the next layer of a wonton wrapper, fill with another 1-2 tbsp of the beef mixture, and top with your final bit of cheese.
Bake in the oven for 12-14 minutes, or until the cups are toasty brown and crispy.
Remove from oven and add in any additional toppings. Serve hot.
Servings: 12