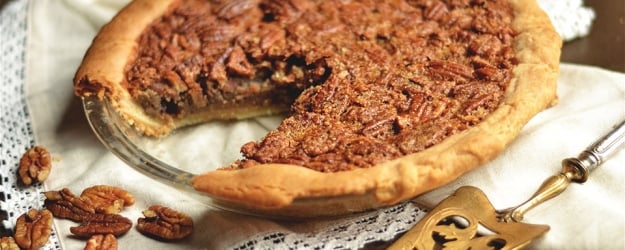 Does anyone else wonder how people made pecan pie before corn syrup? Pecan pie is my absolute favorite pie, and one of the only pies I actually enjoy. However, I have experienced an allergic reaction to corn syrup and have sworn it off forever! So what's a pecan pie loving girl to do? Pecan pie makes it's way to our holiday table for both Thanksgiving and Christmas. So the past few years, I've been making this buttery, brown sugar, and toasty pecan pie that the entire family goes crazy for! We love it, and I love that I can replace the corn syrup and it actually tastes so much better.
Pecan pie is a very sweet dessert. I might be stating the obvious, but what really helps this recipe come together is to use salted butter. This is normally not something I recommend in baking, but I found that even an addition of salt to the overall recipe wasn't enough. Salted butter brings out the toasty taste, cuts some of the overall sweetness, and only enhances the brown sugar & pecan flavor! Almost like a "browned butter" type of pie going on. Other things I love to with this pie is to use whole pecans, in addition to a small amount of chopped pecans. Use your favorite store-bought frozen crust to cut down on your prep time making this a super EASY pie.
Be ready to please your crowd, or family with this perfect sweet ending to your Holiday festivities. Go ahead and make a few pies so you can be sure to have leftovers. When I made this over Thanksgiving, I was a little disappointed that everyone gobbled it up without leaving any leftovers. I actually think it makes a delicious breakfast and afternoon snack with a cup of tea; I'm sure I'm not the only one! Enjoy!
INGREDIENTS
9 inch frozen pie crust
1/2 cup (1 stick) salted butter
3 large eggs
1/4 cup milk
2 cups packed dark brown sugar
2 tsp vanilla extract
1 cup whole pecans
1 cup chopped pecans
1/2 tsp salt
3 tbsp flour
DIRECTIONS
Preheat your oven to 350 degrees. Defrost your pie crust according to package instructions (may need to leave out at room temperature for up to 1 hour.
Generously grease a 9 inch pie plate. Lay your pie crust in your dish, crimping the edges with your fingers. Set aside.
Melt the butter and set aside to cool.
In a large bowl, whisk eggs and milk together. Slowly whisk in butter, brown sugar and vanilla until smooth. Fold in pecans, salt, and flour. Mix to combine.
Pour into pie shell. Bake at 350 degrees for 45-55 minutes (depending on oven). Crust should be golden brown, pie should be firm, but still slightly jiggly in the middle. It will set as it cools.
Serve at room temperature with whipped cream or vanilla ice cream.
Servings: 8