Where do I even start with this cake? I suppose we'll start with the name. Some people call it "Better Than Sex Cake" while others call it "Almost Better Than Sex Cake" or "Better Than Anything Cake." I'll let you decide which name suits this cake best for you. :) All you need to know is that it is sinfully delicious, it oozes with caramel and it comes together SO fast.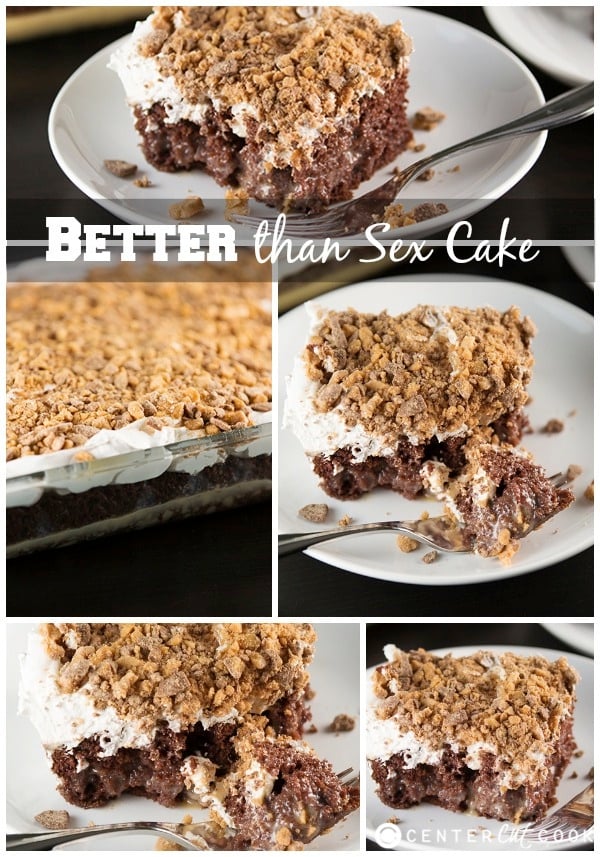 The first time I ever heard of Better Than Sex Cake, I was perusing one of the MySpace groups that I belonged to. Yeah, remember MySpace? And your top friends? And Tom? And finding cool themes for your page? Woah, seems so long ago, doesn't it? This was probably around 2004ish, shortly before Facebook entered the scene. Anyhow, I belonged to a recipe group and a bunch of people were talking about this cake. I'm not gonna lie, the name sucked me in and I found myself in the kitchen putting together what has turned out to be one of our all-time favorite cakes.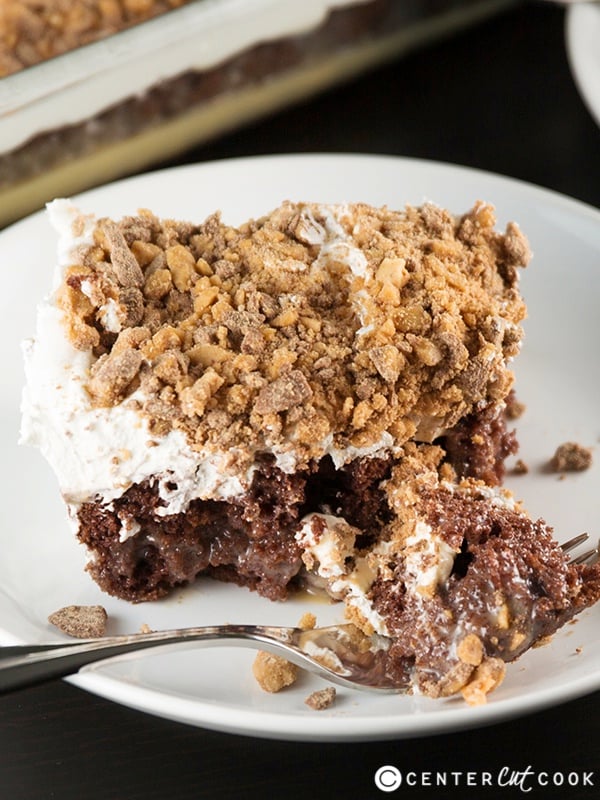 There are several variations of this cake, floating out there on the interwebs. This is the first version I tried, and that saying rings true here, "if it ain't broke, don't fix it." We love this cake as-is, so I've never tried any of the other variations out there. It's simple, all you need is one box of Devil's food cake mix, 1 container Cool Whip, some sweetened condensed milk, caramel, and Heath bar pieces (toffee/chocolate chunks). The result, as I mentioned, is SO sinful, and SO delicious, it will be hard to have just one piece.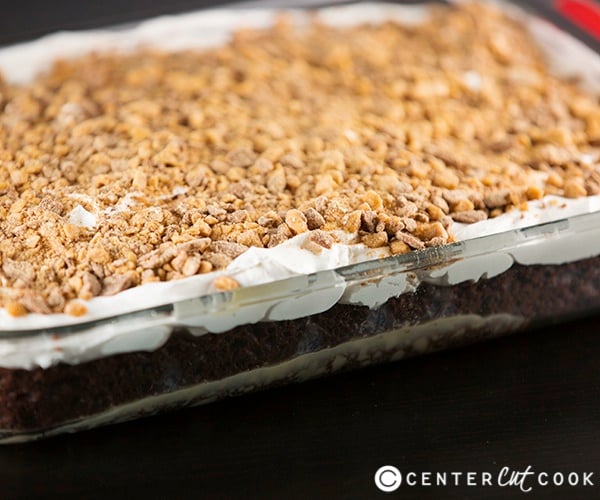 Enjoy!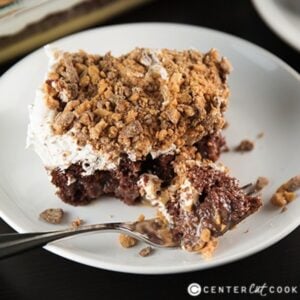 Ingredients
1

box

Devil's food cake

Baked according to package directions

8

oz

Cool Whip

1

can

sweetened condenses milk

1

bottle

caramel ice cream topping

10-12 ounces

1

package

Heath bar candy pieces

found in the baking aisle by the chocolate chips
Instructions
Bake devil's food cake in a 9×13 pan according to package directions. Let cool.

In a large bowl, combine caramel and sweetened condensed milk.

Using the end of a wooden spoon, poke holes in the cake every couple of inches.

Pour the caramel/sweetened condensed milk mixture over the top of the cake so that it fills all of the holes.

Spread Cool Whip over the top of the cake.

Sprinkle Heath bar peices on top. Enjoy!
Notes
Store leftovers in the refrigerator.