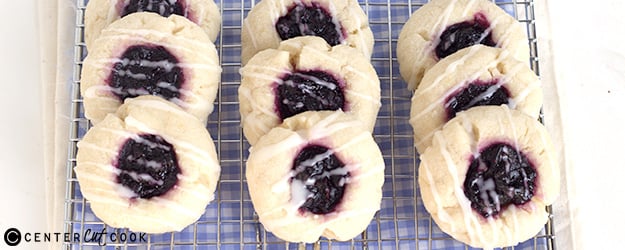 I'm not going to lie, I have a growing love for thumbprint cookies. I think the combination of the soft shortbread and jam has me sold that these kinds of cookies are the best ever. I also was.. errr.. AM a huge fan of those half moon shaped super soft and super sweet cookies that have the thin layer of strawberry or raspberry jam in the center. These Blueberry lemon thumbprint cookies are better than those even.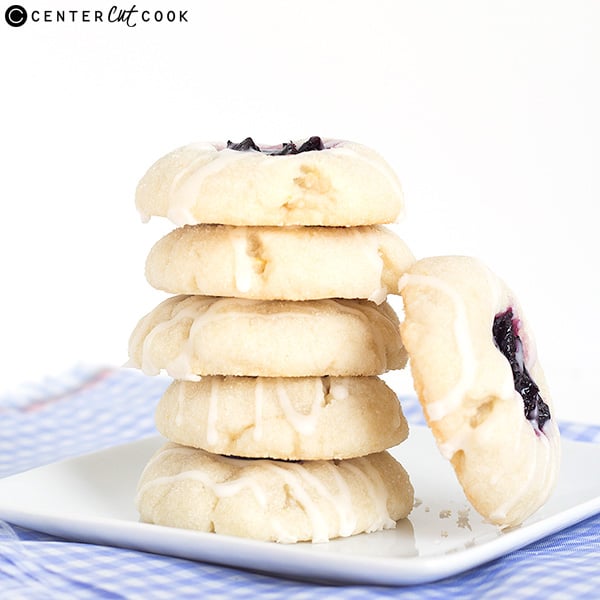 I've coated the shortbread cookie itself in sugar. I think you could really even amp up the lemon flavor more with a lemon infused sugar. Add some lemon zest to about 1/4 cup of granulated sugar and let it sit overnight. I'm sure that it doesn't even need to be that long to get the lemon flavor in the sugar, but leaving it overnight would guarantee some incredible lemon flavor.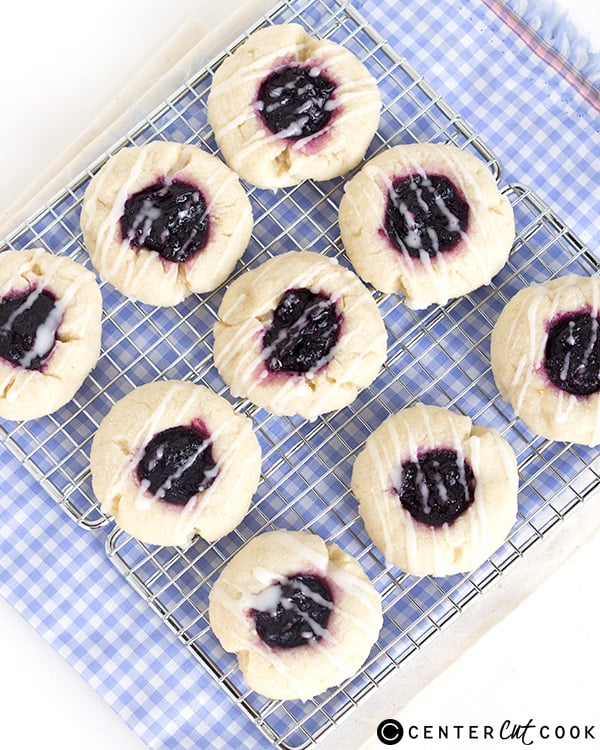 I chose blueberry jam, because I had made a homemade blueberry jam a week or so ago. If you feel blueberry is hard to find, raspberry or strawberry would also go great with the lemon infused shortbread cookie.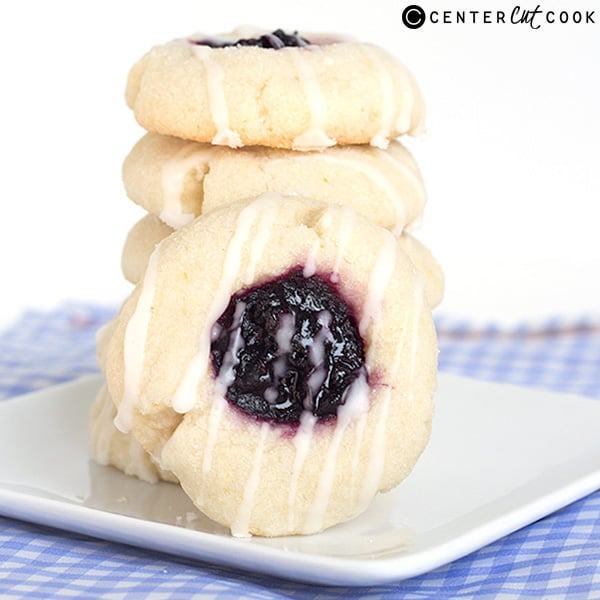 COOKIE INGREDIENTS
GLAZE INGREDIENTS
COOKIE DIRECTIONS
Preheat oven to 350 degrees. Line a baking tray with parchment paper.
In a mixing bowl, add in the butter and 3/4 cups granulated sugar. Mix on medium until light and fluffy.
Add in the lemon zest and lemon juice. Mix until incorporated.
Add in the flour and mix on low until just incorporated.
Add the remaining 1/4 cup of granulated sugar in a shallow bowl.
Scoop out the cookie dough using a small cookie scoop. Roll the dough between your palms.
Roll the ball of dough in the granulated sugar.
Place on the prepared pan. Repeat with 11 more balls of cookie dough.
Using your thumb, press a nice circle into the center of the dough. Try to keep the hole even so the jam doesn't bubble out.
Add about 1 teaspoon of blueberry jam in the center of each cookie.
Bake in the oven for 12 – 13 minutes. The edges will be slightly golden. Let cool completely.
GLAZE DIRECTIONS
In a small dish, add in the powdered sugar, milk and lemon extract. Stir with a spoon until combined.
Using the spoon, flick the glaze back and forth on the tops of the cooled thumbprint cookies.
Let the glaze dry completely before storing. It will take about 30 minutes. Store in an air tight container.