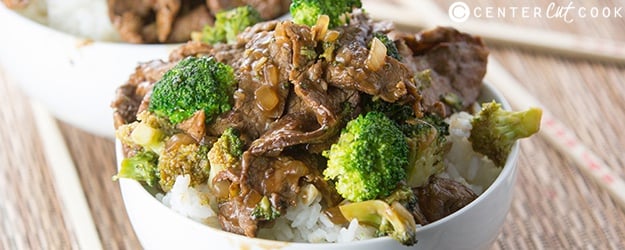 Broccoli and Beef is such a classic recipe that so many people regularly order from Chinese take-out restaurants, yet it is incredibly easy to make at home. Not only is it easy to make, it's also super flavorful and dare I say….better than what you might get from a restaurant like Panda Express. Plus, you can feel good knowing what is going into the recipe. I like to serve this Beef and Broccoli stir fry over rice but you could certainly serve it over noodles if you wish.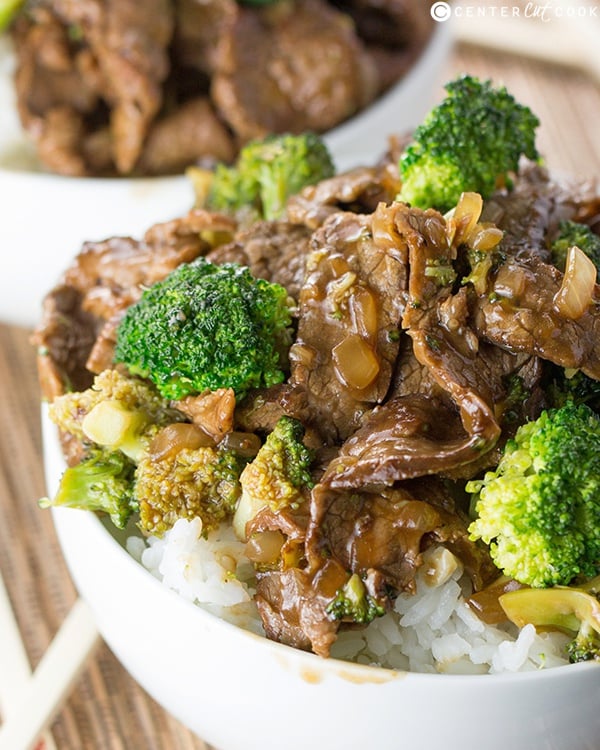 You will use flank steak for this recipe which has a reputation as being a tough cut of meat. However, if you follow my marinade instructions and slice the beef super thin, the beef will be ultra tender and delicious! You will want the meat to sit in the marinade for at least six hours, so plan ahead. You can prep the marinade the night before, then place the meat in the marinade in the morning and by the time you come home from work, it'll be ready for you to use!
One tip I'd like to share with you in regards to cutting the beef is to place the flank steak in the freezer for about 10-15 minutes before you're going to slice it. The meat will firm up just a bit, enough to make it a little easier to cut. Also, make sure you have a nice sharp knife before you start cutting the beef. If you don't have a knife sharpener, I'd recommend this Wusthof Asian Edge Knife Sharpener for Santoku knifes.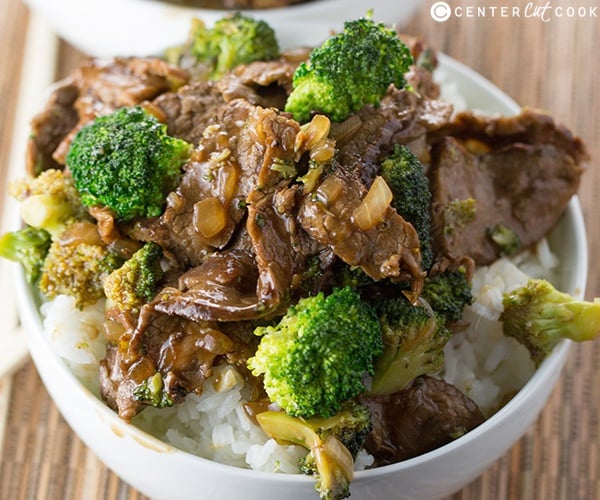 Aside from making sure you marinate the meat and slice it thin, the other key element to this Broccoli Beef stir fry is the sauce. It comes together quickly with pretty basic ingredients, but it's so flavorful and delicious. And as I mentioned, you can serve this over rice or noodles. Tip: Cook your rice in chicken broth instead of water for extra flavorful rice!
If you enjoy Chinese take-out as much as we do, you are going to love this recipe. And if you haven't tried my recipe for Sweet and Sour Chicken, you're missing out! It's another winner.
Enjoy!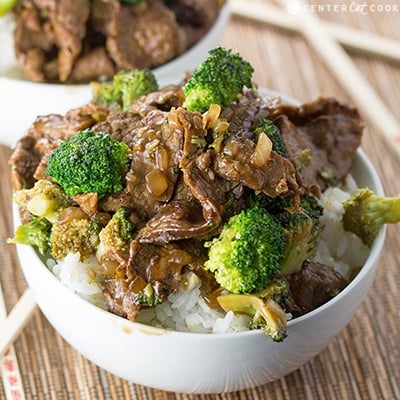 *Note: Prepare the marinate in the morning so that the flank steak can sit in it for at least 6 hours!!!
MARINATE INGREDIENTS
BEEF & BROCCOLI INGREDIENTS
1 pound marinated flank steak, cut into very thin strips
4 cups broccoli florets, cup into bite-sized pieces
1/2 of a small onion, diced
2 gloves garlic, minced
3 tablespoons cornstarch, divided
1/2 cup water
2 tablespoons vegetable oil, divided
1/3 cup reduced sodium soy sauce
2 tablespoons light brown sugar
1/4 teaspoon ground ginger
1 tablespoon chopped fresh cilantro
Salt and pepper to taste
MARINATE DIRECTIONS
Combine all marinate ingredients in a gallon sized ziplock bag. Use a fork to poke holes in the flank steak on both sides. Place the piece of meat in the bag with the marinate. Allow to sit for at least six hours in the refrigerator.
BEEF AND BROCCOLI DIRECTIONS
Slice marinated flank steak into very thin strips.
In a small bowl whisk together 2 tablespoons corn starch, and 1/2 cup water. Toss beef in this mixture and allow to sit for about 5 minutes.
Heat 1 tablespoon oil in a large non-stick skillet or wok (high heat), and stir fry beef for about 2 minutes, or until it is cooked through. Remove the beef from the pan and set aside.
Add another tablespoon of oil to the pan, if needed, and stir fry onion, and broccoli for a few minutes. Add in garlic and cook a minute or two longer.
While the broccoli is cooking, combine sauce ingredients – 1/3 cup soy sauce, brown sugar, ginger, and 1 tablespoon corn starch. Mix well.
Add beef back into the pan with the broccoli, onions, and garlic. Reduce heat, and stir in sauce. Simmer for a few minutes, until it has thickened. Stir in chopped fresh cilantro.
Adjust seasonings to taste and serve immediately over steamed rice.
Recipe from
CenterCutCook