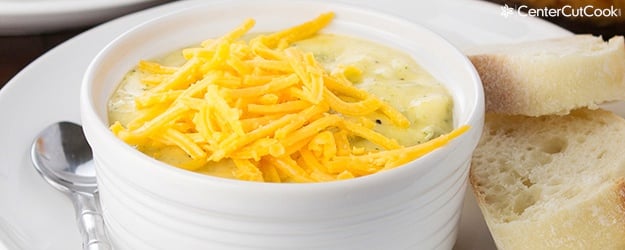 If I had to pick one of my favorite soups, broccoli cheddar and cream of broccoli would be very high on the list. For years I had been missing out on this wonderful soup! As a kid, I didn't give broccoli the time of day because I thought it was disgusting which meant I never even tried broccoli soup (I used to be really bad for not trying something because I *thought* I wasn't going to like it, even before tasting it). It wasn't until I started dating my now husband, and was eating dinner with his family that I tried my first bowl and fell in love. His Mom had cooked broccoli soup for dinner and not wanting to be rude, I just ate it. From that point on, broccoli cheddar soup has been my fave.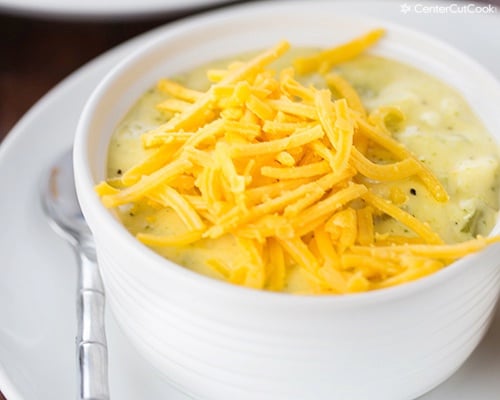 Here's what I like about this recipe. For starters, this recipe is tweaked from one that I found that claims to be a Jason's Deli copycat, however, I've also gotten feedback that it tastes similar to the Broccoli Cheese soup at Panera. I don't know how far spread Jason's Deli is to know if you've even heard of it, but they probably have the best broccoli cheddar soup, ever! This recipe comes together quickly, and leaves you feeling satisfied.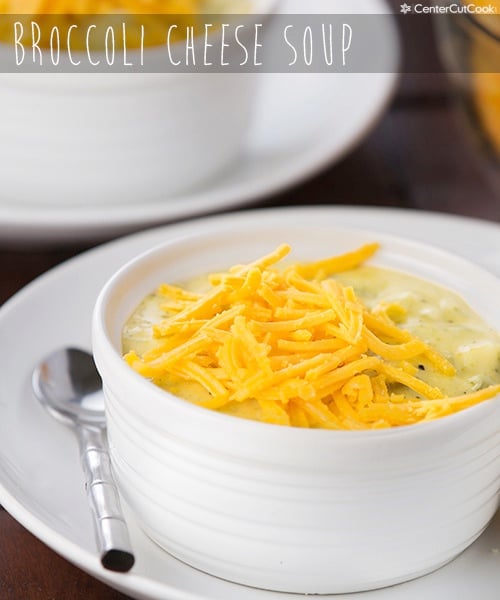 The only "downside" is that it calls for Velveeta. It's not that I don't like Velveeta, I do! This kinda goes along with my feelings on cream soups. Velveeta is SO processed that ideally, I would like to find an amazing recipe that uses real cheese. There are plenty of them out there, but the result is never what I'm looking for in a broccoli cheddar soup. With this recipe, the Velveeta helps give it the rich creamy texture that I love. Thanks to a little feedback from some of you, I decided to try and add some fresh sharp cheddar to the recipe to compliment the Velveeta and it was just perfect!
There ya have it, my go-to recipe for Broccoli Cheese Soup! I hope you enjoy it as much as we do!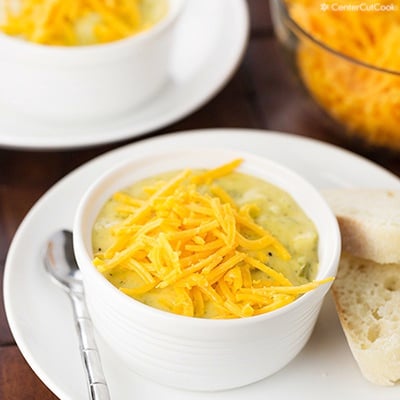 INGREDIENTS
1/2 stick butter
1 onion diced
Handful of baby carrots cut into small sticks
2 stalks of celery, diced
3 cups chicken broth
1 cup half and half
1 cup milk
2 heads fresh broccoli, chopped
1/3 cup cornstarch
1/4 teaspoon black pepper
1/4 teaspoon garlic powder
1/8 teaspoon dried thyme
Pinch of nutmeg
8 ounces Velveeta cheese, cubed
1 1/2 cups sharp cheddar cheese, shredded + additional for garnish
1/2 teaspoon salt
DIRECTIONS
In a large stock pot, melt butter over medium heat.
Saute' onion in butter until onions are translucent, about 3-4 minutes.
Stir in chicken broth, half and half, broccoli, baby carrots, and celery. Bring to a boil, then reduce heat and simmer for 10-15 minutes or until broccoli is soft and tender.
In a small bowl, whisk together milk and cornstarch. Pour this mixture into the soup pot and stir until soup starts to thicken (3-4 minutes).
Stir in pepper, garlic powder, thyme, nutmeg, and sea salt.
Drop the heat to low and stir in cubed Velveeta and sharp cheddar cheese.
Continue stirring until all of the cheese has melted.
Top each bowl of soup with a little extra shredded cheddar cheese and serve immediately.
Recipe adapted from
Rooted in Atascocita