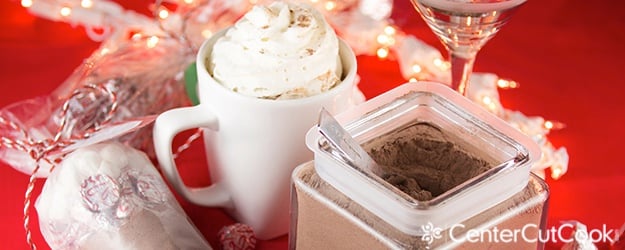 I don't know about you, but I am always trying to think of cute creative gift ideas for friends and neighbors during the holiday season. And because hot cocoa is one of those things that just about anyone at any age enjoys, I decided to make an easy awesome Hot Cocoa Mix that could be packaged up and given as a gift!
Today I'll be sharing a recipe for homemade hot cocoa mix that I made with Candy Cane Hershey's Kisses Chocolates. It can be given as a gift in a jar to keep it super simple, or, you can also package it in cone shaped bags tied together with a whisk. It's a great way to "whisk" everyone you love a very Merry "Kissmas."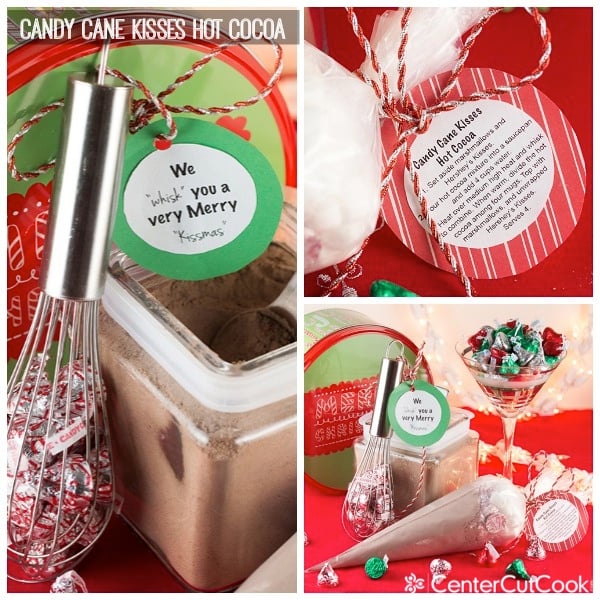 To make things even more exciting, I've once again (have you tried my Easy Peanut Butter Cup Fudge yet?) teamed up with a group of fabulous bloggers who have worked hard to come up with more incredible recipes using Hershey's Kisses Chocolates and Reese's Peanut Butter Cups to assist with your holiday baking. There will be a link to all of these yummy recipes at the bottom of this post!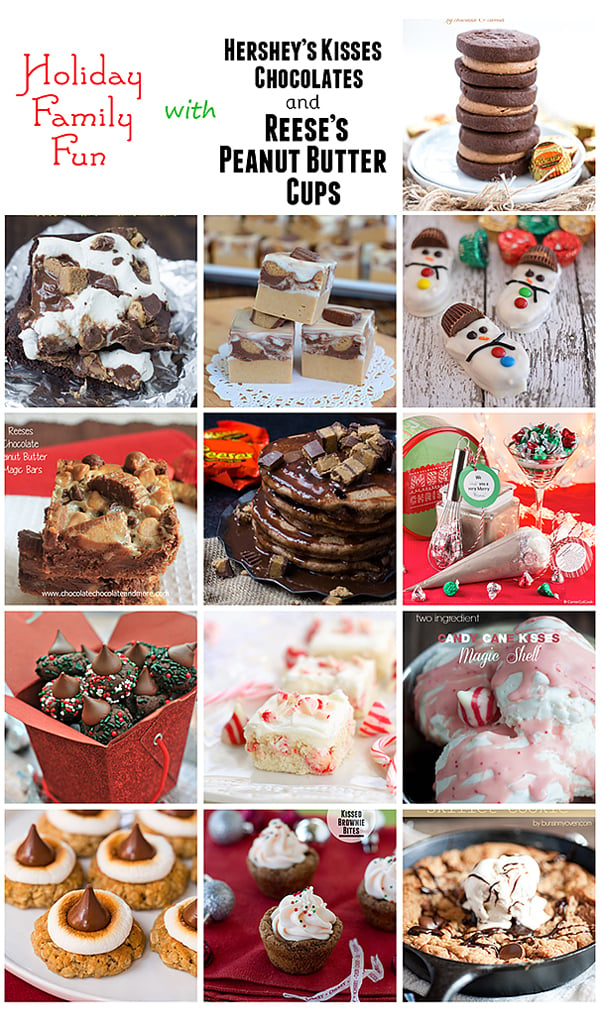 Now let's talk about this hot cocoa, shall we? It comes together super quick with the help of a food processor.
HOW TO ASSEMBLE HOT COCOA MIX IN A CONE
What you need:
To assemble:
Start with Cone Shaped Treat Bags (buy here) – you can also use piping bags if you have them on hand (like this).
Fill each cone-shaped bag with 1 cup hot cocoa mix (recipe below).
In a separate little bag (I like to use fold-top sandwich bags), fill it with a few extra Hershey's Kisses Chocolates and 1/3 cup mini marshmallows. Fold over the top and place the bag on top of the hot cocoa mix.
Use ribbon to secure the cone-shaped bag shut.
Fill a whisk with Candy Cane Hershey's Kisses. Cover the Whisk with cellophane wrap so that the candy doesn't fall out and secure with a ribbon.
Click here for the link to the free printable to download the tags that I used – 1 tag says "We "whisk" you a very Merry "Kissmass" and the other lists the instructions for the hot cocoa mix. I cut out the tags and glued them to festive paper.
Tie the whisk together with the hot cocoa mix and give as a great gift to friends and neighbors!
Of course, you can always just make the hot cocoa mix to enjoy at home! I also make a triple batch to have enough for neighbors, and enough for us to enjoy too. Just store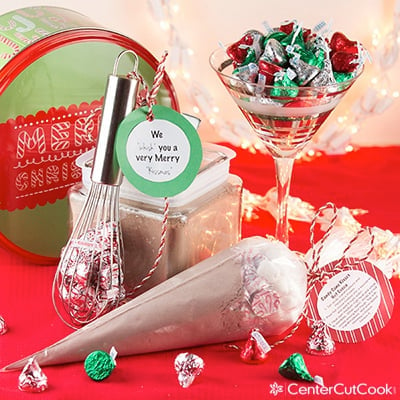 INGREDIENTS
DIRECTIONS
Pulse all ingredients in a food processor until the Candy Cane Hershey's Kisses Chocolates are finely ground.
Store in an air-tight container. For serving, in a small saucepan combine 1/4 cup hot cocoa mixture with 1 cup water or milk over medium heat. When the hot cocoa mixture has dissolved and is nice and hot, pour into a cup and top with marshmallows and extra Candy Cane Hershey's Kisses Chocolates!
Recipe adapted from
Cook's Country