I have to admit that I don't particularly like eggnog on it's own. I think it's the thick texture and the sweetness- it's just not for me. But I love baking with it because I love all the flavors in it- vanilla, nutmeg, cinnamon- they are all perfect for Christmas. It adds such great flavor and moisture to these muffins and everybody loves them! Even my dad, a self-proclaimed eggnog hater- LOVED them!
These muffins are so simple to make and don't require a mixer at all. Mixed in one bowl, by hand, and in the oven in just minutes! I used the same baking trick that I used with my Pumpkin Banana Muffins. The first 5 minutes I bake them at a high heat to get them to rise high, then lower the temperature and finish baking them. That makes them have that pretty dome on top that looks like their from a bakery. No flat muffins here!!
Once they're done cooling I top them with a simple glaze. Eggnog is used in that as well to really make the flavors stand out. The muffin is moist, sweet, and the spices make it so delicious! This would be perfect with a cup of coffee, hot cocoa and of course a glass of eggnog!
Turning eggnog into a muffin is truly amazing! Add these to your baking list this year- you will not be disappointed!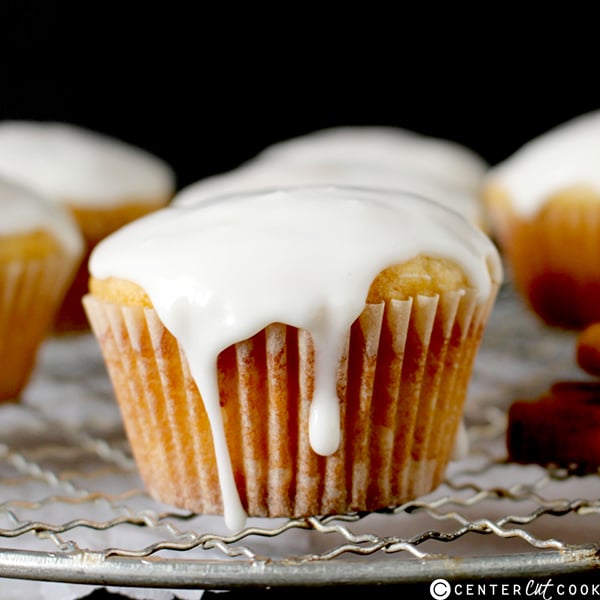 MUFFIN INGREDIENTS
1/2 cup butter, room temperature
1 cup sugar
1 1/2 cups eggnog
2 eggs
2 1/2 cups flour
2 teaspoons baking powder
1/2 teaspoon cinnamon
GLAZE INGREDIENTS
MUFFIN DIRECTIONS
Preheat oven to 425° and line 2 muffin pans with 18 liners. Set aside.
In a large bowl, combine butter and sugar and stir until smooth.
Add egg nog and eggs and mix completely.
Add flour, baking powder, and cinnamon and stir until no dry pockets remain, but don't overstir.
Divide evenly between the 18 prepared muffin cups.
Bake for 5 minutes at the high temperature, then lower the temperature to 350°- keeping the muffins in the oven, and continue to bake for 15-17 more minutes.
GLAZE DIRECTIONS
Once muffins are completely cooled, mix powdered sugar and eggnog in a small bowl until smooth. Spoon evenly over each muffin.
Servings: 18