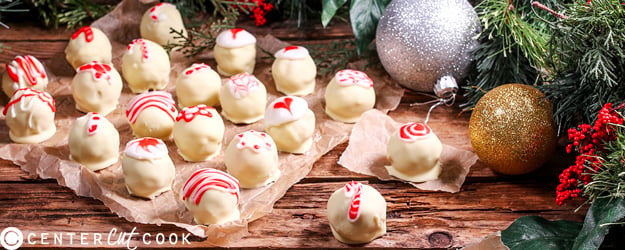 So simple to make, these truffles have a beautiful creamy-buttery taste that comes from melted white chocolate, a little cream cheese and finely crumbled shortbread biscuits.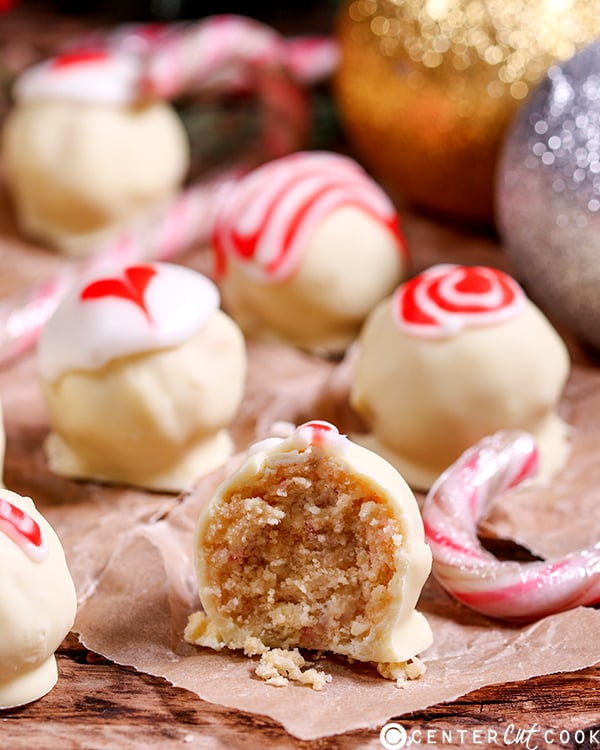 I use this as a base for lots of different types of truffles, and then add in whatever else I fancy. Sometimes it's peanut butter, sometimes orange zest, It even works great with cinnamon and lightly cooked apple.
These particular truffles are spiked with crushed candy canes, and each one is a mouthful of Christmas!
6 candy canes is the perfect number to get a noticeable minty taste that isn't too overpowering, however, you can add a little more if you want a really minty flavour. Just taste the truffle mixture as you go until you get it just the way you like it.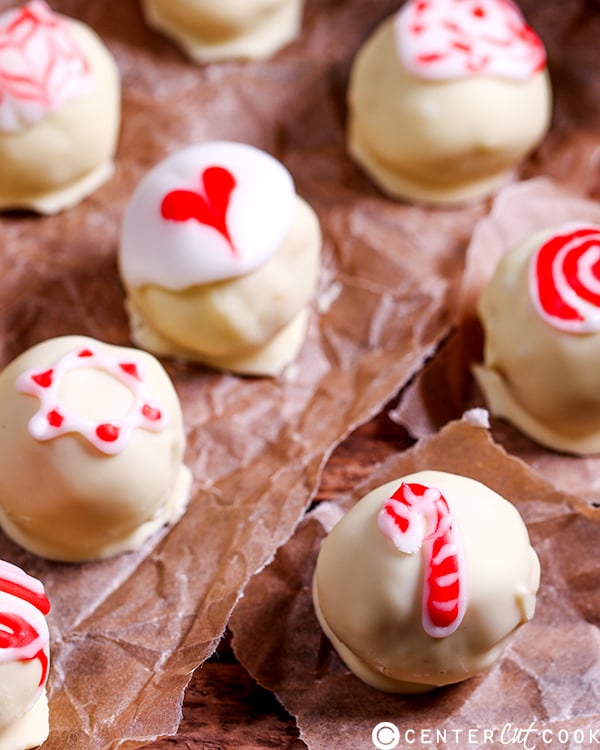 I love to top these truffles with Christmas icing – just a simple mixture of confectioners' sugar, milk and food colouring paste piped into festive shapes. If you don't want to use icing, crushed candy canes also look great sprinkled onto the truffles before the chocolate sets.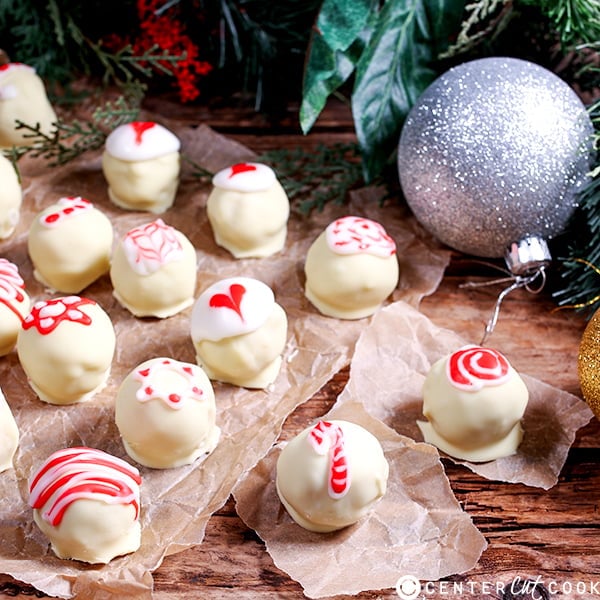 MAIN INGREDIENTS
2 oz full-fat cream cheese, room temperature
2 Tablespoons confectioners' sugar
6oz all butter shortbread biscuits, finely crumbled (I place mine in a bag and crush them with a rolling pin)
6 candy canes, crushed to tiny pieces
3.5oz white chocolate, melted
CHOCOLATE COATING AND ICING TOPPING INGREDIENTS
7oz white chocolate, sifted
1 cup confectioners' sugar
1/2 cup confectioners' sugar
3 tbsp milk
Food colouring paste
DIRECTIONS
Place the cream cheese and confectioners' sugar in a small bowl and mix together until combined. Stir in the crumbled shortbread and crushed candy canes, and then mix in the melted white chocolate. Cover the bowl with plastic wrap and place in the fridge for an hour.
After an hour, take the mix out of the fridge. Line a plate or tray with baking parchment. Scoop out heaped teaspoons of the mix, place in your hand and roll into a ball. Place on the parchment. Repeat until all of the mixture is used up. Place back in the fridge to chill for 30 minutes.
After 30 minutes, take the shortbread balls out of the fridge. Dip each ball in melted white chocolate. The easiest way to do this is to place a shortbread ball on a small fork, then dip in the white chocolate and spoon more white chocolate over the top until the whole ball is covered. Lift out the ball and allow any excess chocolate to drip off. Gently slide the ball onto a tray lined with baking parchment. Repeat until all the balls are covered in chocolate, then place in the fridge whilst you mix the icing.
Placing the confectioners' sugar in a bowl and whisk in 2 tbsp of milk. Add little more if required until you get a thick paste that holds its shape for 5-6 seconds when you lift the whisk. Split the icing into separate bowls and mix in different food colouring pastes as required. Spoon the icing into piping bags and pipe patterns onto the top of truffles. Allow to set for 15 minutes before serving.
Servings: 20-25