I bet nobody can resist these sticky gooey caramel and apple pie cookies, whether it's July or December! If you are a big fan of apple pies then these cookies are going to blow your mind. These are sort of like mini pies but in cookie form. I love making them, especially for kids who go crazy about them. Dunked in milk, or topped with some whipped cream these cookies are absolutely adorable.
Making the pie crust from scratch can be a little time consuming so I just use store bought because with these mini cookies, it works. I was too lazy to do the lattice work either, so I just cut the pie crust into strips and placed it. Once it bakes, they don't come apart and work perfectly like that too.
What I love the most is how that sticky caramel layer looks when I bite into these. I made these for my cousins the other day and the whole thing was polished off in minutes. It's also perfect for breakfast. I'd know, because this has been breakfast for the last two days!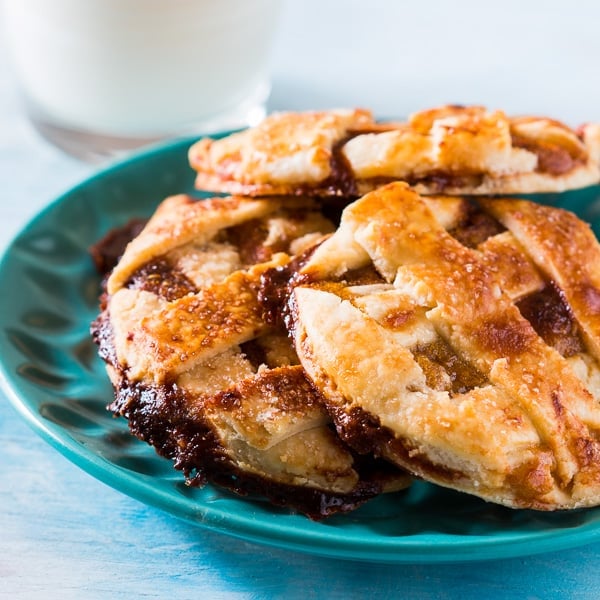 INGREDIENTS
1 box Pie Crust (2 sheets)
3/4 cup Caramel Sauce
1 1/2 cup Apple Pie filling, chopped up
1 Egg White
Sugar for sprinkling
DIRECTIONS
Pre-heat oven to 350 degrees.
Line a baking sheet with parchment paper and set aside.
Layer one pie crust first with caramel sauce and then with apple pie filling. With the other pie crust, cut strips and place them on top of the first pie crust 1/4 inch apart.
Use a 2.5 inch cookie cutter to cut the pie. You should get about 10-12 rounds. You could either bake the uneven sides (I do) or leave them as is.
Whisk together 2 tablespoons water with the egg white, and brush the cookie tops with this egg wash. Sprinkle with sugar and bake for 20 minutes till the crust is golden brown.
Servings: 10-12 Cookies