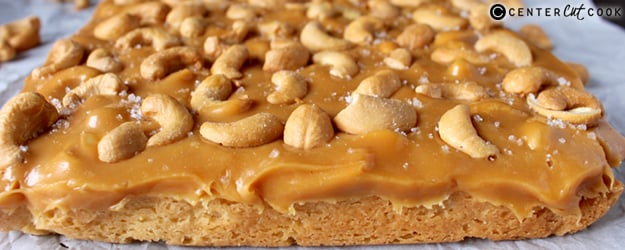 These bars are inspired by one of my favorite ice cream combinations. There is a local store that serve donuts, fresh apple cider, and homemade ice cream. I know, it's a weird combination, but you can always get a huge ice cream cone for less than $2! My dad and I have gotten their ice cream many times and I noticed the caramel cashew one time and knew I needed to try it. Cashews are my favorite nut and I love caramel on anything. I fell in love with the combination- salty, sweet, and just perfect together. I turned that combination into bars and used my favorite cookie as the base- shortbread!! It is so easy to make and melt-in-your-mouth delicious! It's very lightly sweetened which is good because the caramel adds all the sweet you'll need.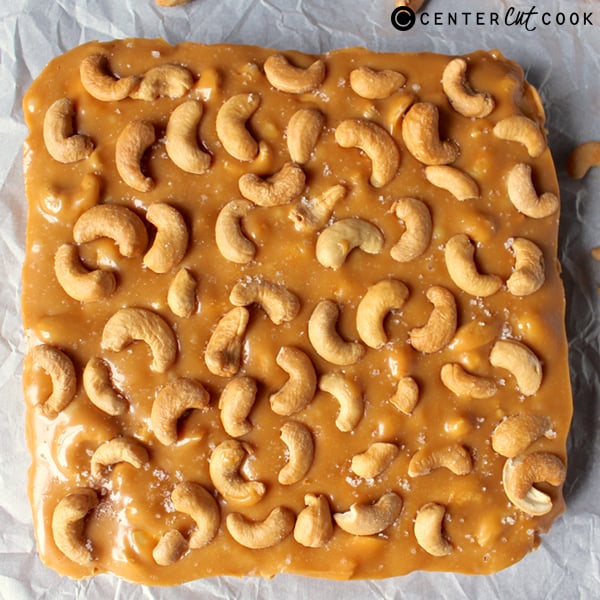 I highly recommend lining the pan with foil and spraying it. Caramel can get kind of messy and that makes for easy clean up. The shortbread comes together so fast. Mixed in one bowl, by hand, and in the oven in under 5 minutes. It is simple, but so delicious! Then the caramel layer is even easier. Melted caramels with cashews mixed in. I like to use unsalted cashews and sprinkle the top with a little coarse sea salt or Fleur de Sel. It is that perfect combination of salty and sweet that is so addicting.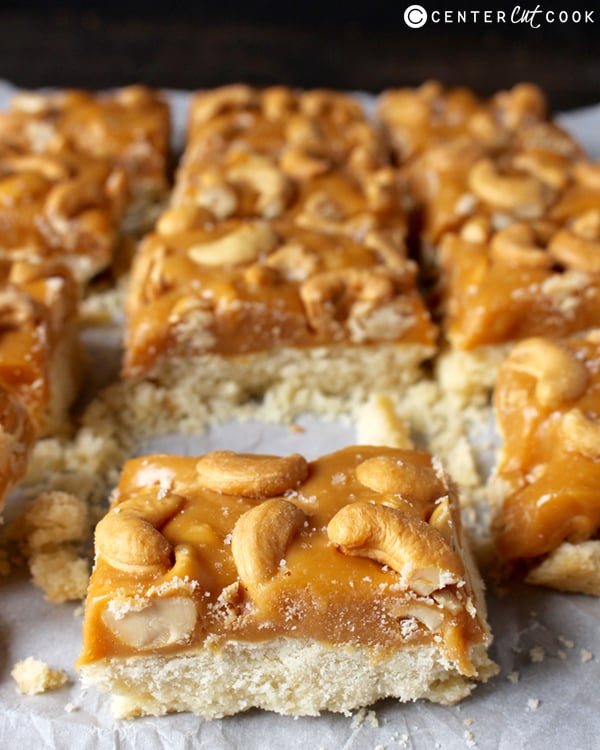 You will love how easy and delicious these bars are! The caramel is soft and rich, the shortbread is delicate and buttery, and the cashews add crunch and texture. I know you'll love these as much as we do!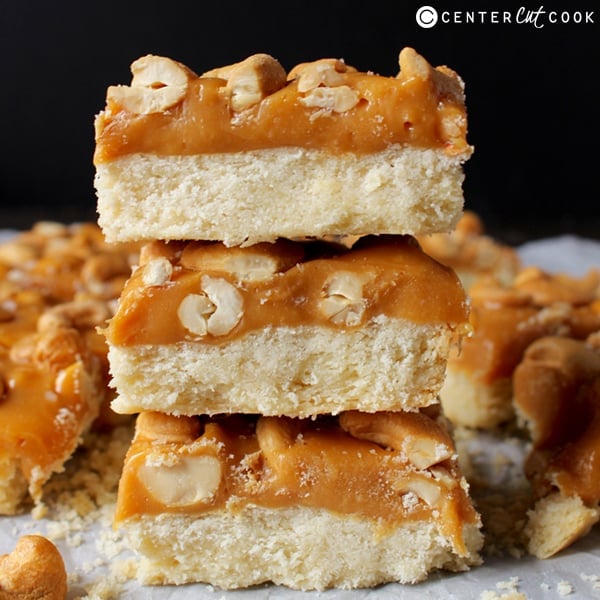 SHORTBREAD INGREDIENTS
12 tablespoons butter (1 1/2 sticks), room temperature
1/2 cup powdered sugar
1 1/2 cup flour
1/4 teaspoon salt
CARAMEL LAYER INGREDIENTS
11 oz caramels (1 bag, or about 1 3/4 cup measured)
2 tablespoons heavy whipping cream
1 cup unsalted whole cashews
Sea salt or Fleur de Sel for sprinkling, if desired
SHORTBREAD DIRECTIONS
Preheat oven to 350° and line a 9×9 pan with foil. Spray with non-stick spray and set aside.
In a large bowl, combine butter, sugar, flour and salt. Mix until completely combined.
Press into the bottom of the pan and bake for 20-22 minutes or until just lightly brown around the edges.
Let cool completely before topping with caramel.
CARAMEL LAYER DIRECTIONS
In a large, microwaveable bowl or measuring cup, combine caramels and whipping cream. Microwave in 20 second intervals, stirring in between. It should take about 1 1/2 minutes until it is completely smooth, but every microwave is different.
Mix in half of the cashews and carefully pour over the shortbread crust. Spread evenly and top with remaining cashews.
Top with salt if desired. If using salted cashews, go light on the salt.
Servings: 12