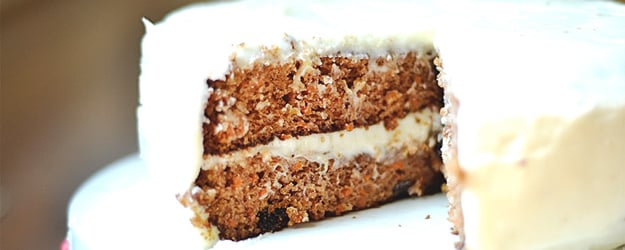 Chocolate cake is my absolute favorite dessert. However, If there is any dessert on earth that could make me cheat on chocolate cake, it would be carrot cake. I absolutely love a perfect carrot cake with cream cheese frosting! It makes a fabulous birthday cake, is perfect for any holiday or celebration, springtime, or just because you feel like eating cake. You'll want this "just because" cake recipe in your back pocket. I promise it will get used often.
So what exactly makes this the BEST Carrot Cake EVER? For starters, it's two layers of deliciously moist yet dense cake. It's packed with comforting spices, fresh carrots, and raisins. And sandwiched in between is a thick layer of luxurious lemon-y cream cheese frosting. Moisture, texture, and spice make this an irresistible cake that everyone will love and want you to make. Just add a glass of milk, and life is complete.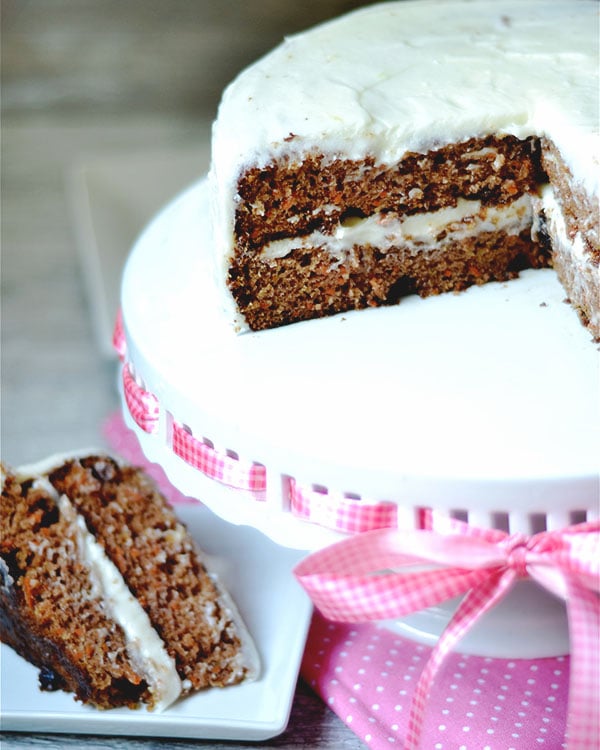 A few particular things about this cake. I've talked about moisture being essential to a delicious carrot cake. The best way to have a perfect moist carrot cake is to use fresh carrots and grate them (the store bought shredded carrots are too dry). Brown sugar and canola or vegetable oil are the two other moisture ingredients to enhance the flavor. An addition I have made that I have also enjoyed is toasted pecans. If that is something you love, add in 1 cup chopped toasted pecans. The best news about this cake is it actually tastes better over time!! Feel free to make a day before! The cream cheese frosting will set between the layers to make this even more moist. Finally, the cream cheese frosting needs to have real lemon juice (not the stuff that comes out of a plastic lemon). The lemon flavor is subtle, but pairs so well with the spices! If you are unsure about the lemon flavor, you can always omit and add a little vanilla extract in it's place.
I can't wait for you to dig in! Find something wonderful to celebrate and make this for someone you love. It's my almost 6 year old's birthday this weekend and he has asked for this to be a part of his celebration. It's always a crowd pleaser!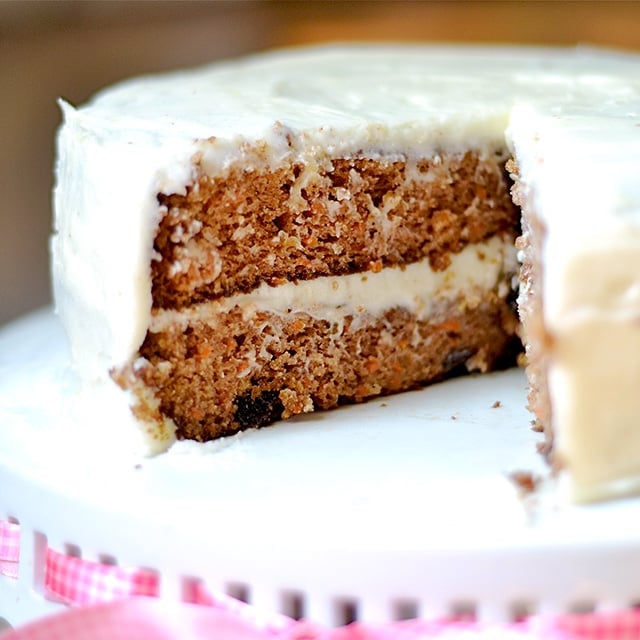 CAKE INGREDIENTS
FROSTING INGREDIENTS
16 oz cream cheese (softened to room temperature)
1/2 cup unsalted butter (softened to room temperature)
4 cups confectioners' sugar
1 tsp lemon zest
2 tbsp lemon juice
DIRECTIONS
Preheat oven to 350 degrees. Butter and flour two round 9-inch pans, set aside. You can also line the bottoms of the pan with parchment paper.
Sift together flour, baking soda, baking powder, cinnamon, salt, allspice, and cloves.
In another bowl, whisk together the eggs, oil, sugar, brown sugar, and buttermilk until blended.
Slowly pour in dry ingredients to wet. Fold in carrots, raisins, and pecans (is using).
Divide the batter evenly between two pans.
Bake until a toothpick inserted comes out clean, about 25-30 minutes.
Let cool in the pans for 15 minutes and then invert onto wire racks to cool completely.
Make the frosting by beating together cream cheese and butter using an electric mixer. Reduce speed, add the confectioners' sugar and beat again until smooth. Add lemon zest, lemon juice, and beat until well blended.
To decorate, place one layer on a platter and spread 1 cup frosting over the top. Place the second layer on top and spread the remaining frosting over the top and sides of the cake.
Cake will hold at room temperature for several hours. Refrigerate if storing overnight.
Servings: 10