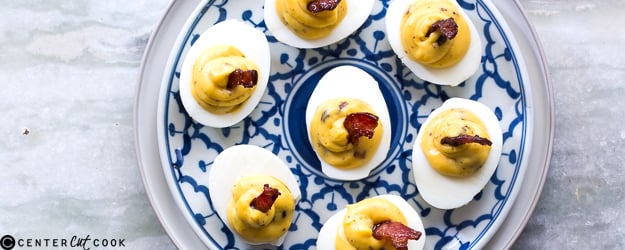 Super Bowl's over and now we need another reason to party. These cheddar bacon deviled eggs are the perfect excuse!
They are smokey from all the bacon and creamy from the cheddar. I love deviled eggs in any form, because they are perfectly sized finger food, look really pretty and are okay with the vegetarians too. But these are by far my favorite.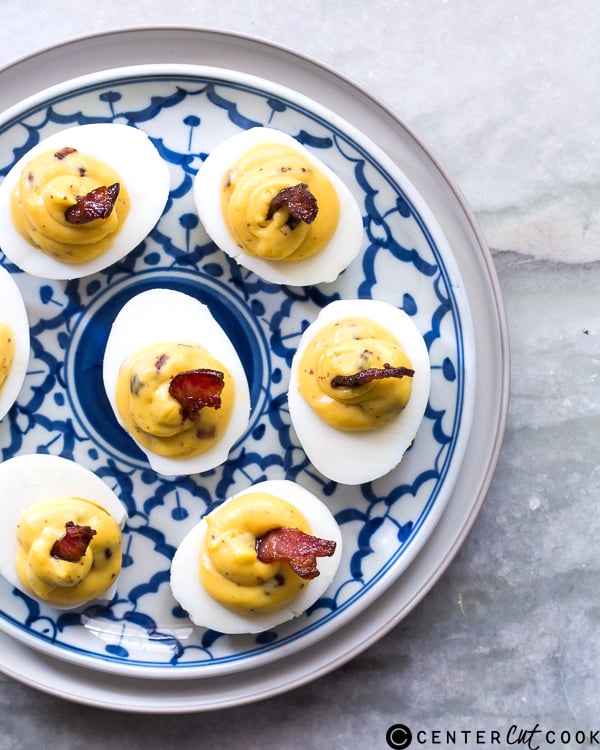 The bacon really takes these deviled eggs up a notch or two and cheddar adds to the smokiness. I don't wait for Easter to make them and they end up making an appearance at most parties these days.
For deviled eggs, it's important to boil the eggs just right. To get perfectly hard boiled eggs, put eggs in a pot with water and bring it to a boil. Once the water starts boiling, switch off the flame and cover the pot for 12 minutes. Soak the eggs in cold water to stop them from cooking further, and peel.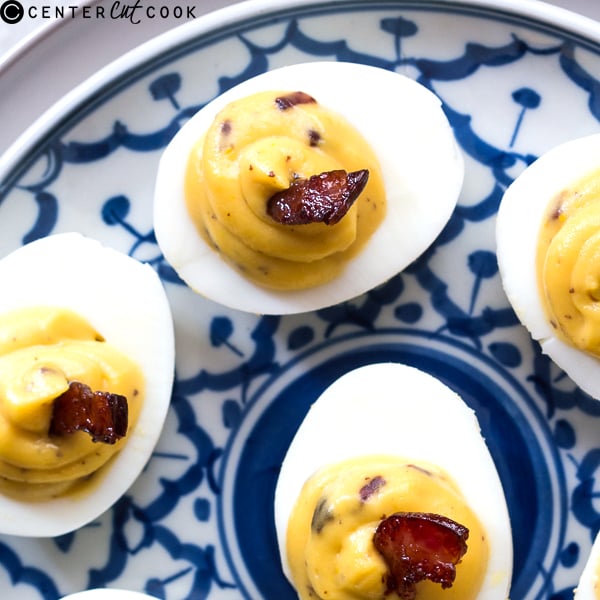 INGREDIENTS
10 Boiled Eggs
1/2 cup Mayonnaise
1 1/2 tablespoons Dijon Mustard
1/2 cup Cheddar
4-5 Bacon Strips, finely chopped
Extra bacon for topping
DIRECTIONS
Peel the boiled eggs and slice them in half lengthwise.
Carefully scoop out the yolks and add them to a blender along with mayonnaise, mustard and cheddar. Blend till smooth.
Cook bacon till crisp and remove with a slotted spoon. Mix the bacon bits in the egg mixture.
Put the mixture in a piping bag and carefully pipe the filling into each egg half. Top with extra bacon and serve. If not serving immediately, refrigerate till ready to serve.