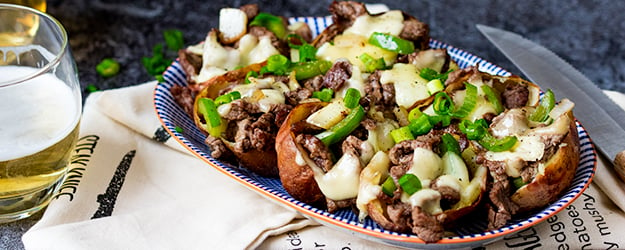 Take a look at the ingredients, then buy double. These cheesesteak potato skins go so fast you'll definitely wish you'd made more!
We often fall into the trap of using the same fillings for potato skins such as cheese and bacon or chili and sour cream. Now I've tried these cheesesteak skins it's already down on the list to add to the regular recipe rotation! I love them, the kids love them and my carnivore of a husband has never been happier!!
I used ribeye steak for this recipe. If you place it in the freezer for 30-45 minutes to firm up (but not freeze completely), you'll find it's really easy to cut into very thin slices. These thin slices along with the marbling of the ribeye ensures a tender, melt-in-the-mouth taste.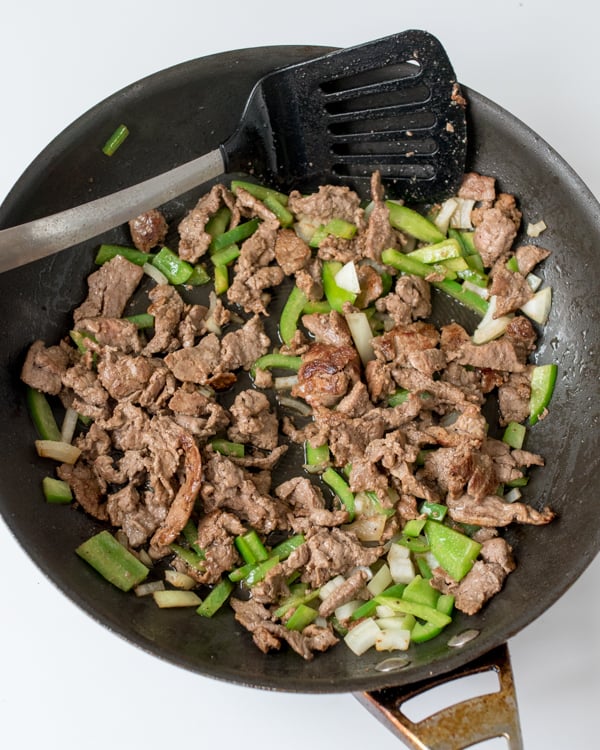 Use your favorite cheese for the topping. Provolone is great (unfortunately they don't sell it where I live) and so is gouda, but I'd even be tempted with cheddar or manchego.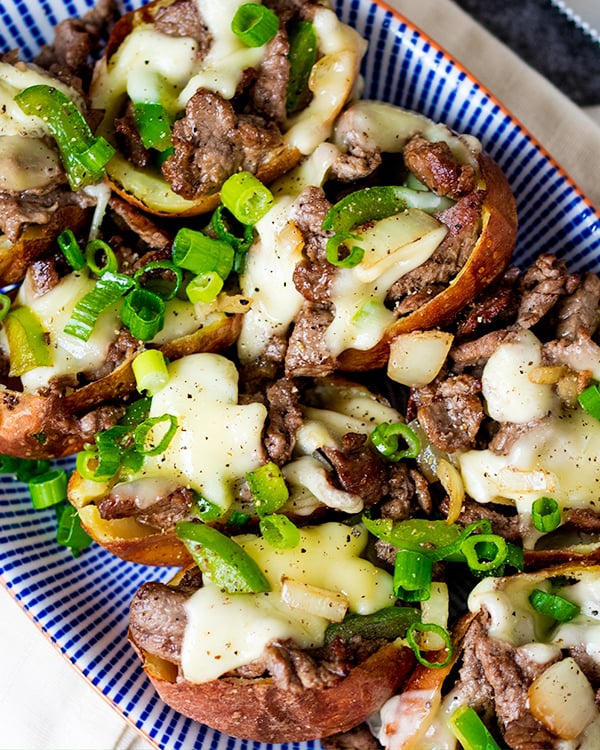 Enjoy, and make sure you save that scooped out potato for later – it'll make great mash!
INGREDIENTS
1 pound ribeye steak
4 baking potatoes
1 tbsp vegetable oil
1/4 tsp salt
1/4 tsp black pepper
1/4 tsp garlic salt
1 green bell pepper, chopped
1 brown onion, peeled and chopped
8 thick slices gouda cheese
Small bunch of scallions, chopped
DIRECTIONS
Preheat the oven to 375f.
Place the ribeye in the freezer for 30-45 minutes to firm up.
Meanwhile, prick the potatoes with a fork and place in the oven for 50-60 minutes until crispy on the outside and tender in the middle.
Remove from the oven (leave the oven on), and carefully slice each potato in half. Scoop out most (but not all) of the potato and put to one side (you can use the scooped out potato in another dish). Place the potato skins on a baking tray, cut side up.
Take the steak out of the freezer and cut into very thin slices against the grain of the meat. Heat a large skillet on a high heat, then pour the oil over the steak slices. Sprinkle on the salt, pepper and garlic salt and mix everything together with your hands.
Carefully place the steak into the hot pan and cook – breaking the steak up with a spatula a few times during cooking. When the steak is just a little pink, add the green bell pepper and onion to the pan. Cook for a further 3 minutes until the vegetables have softened slightly. Turn off the heat.
Fill the potato skins with the steak mixture and top each with a slice of gouda. Place back in the oven for 3-4 minutes to melt. Take out of the oven and top with the chopped scallions before serving (you can fry the scallions for 1 minutes in the pan if you like them a little softer).
Servings: 4