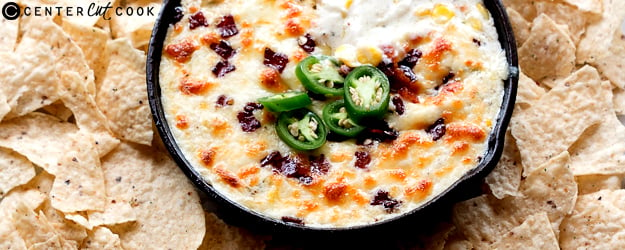 I'm sure you know by now that I love Bacon, what with all these bacon recipes in the last few months – Chicken in Creamy Bacon Sauce, Egg and Bacon Breakfast Casserole and Cheddar Bacon Deviled Eggs. It is definitely one of my favorite ingredients to cook with because bacon makes everything better! And this cheesy bacon corn jalapeno dip is no less. It's the solid dip that you can count on. It's that dip that finishes first at the party and it's that dip that everyone loves! I guess it's clear how much I love it.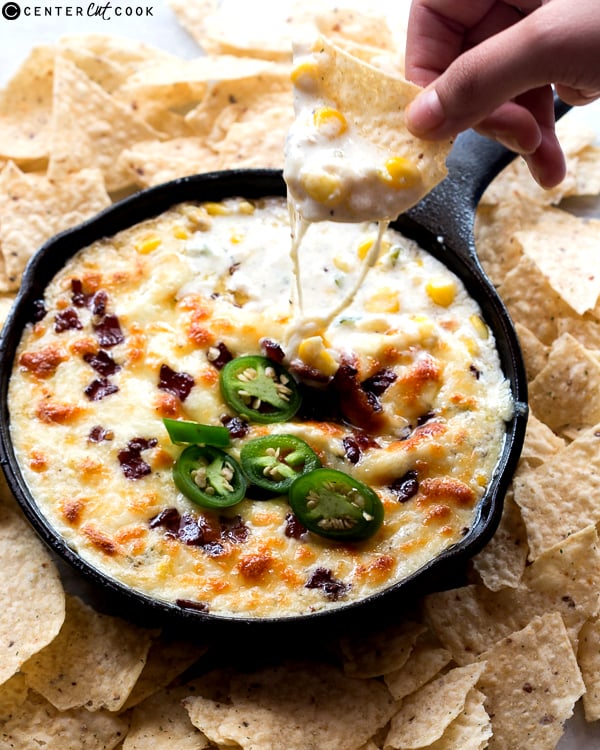 The best part about this dip is that you can make it ahead and leave it in the refrigerator till your guests are about to arrive. When you are ready to serve, bump it in the oven for 15 minutes and you are good to go.
I've used fresh corn in this recipe, but frozen or canned works too. I make this dip in a 8 inch skillet but you can easily double or triple the recipe based on the number of guests you have over.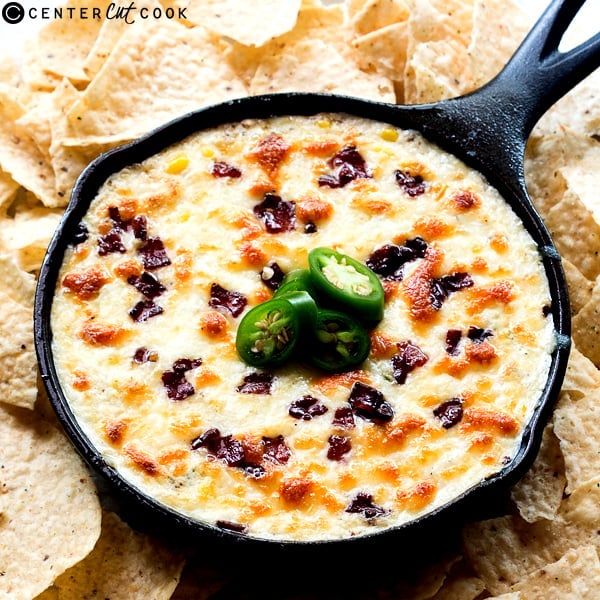 INGREDIENTS
8 Bacon strips, chopped
2 cup Corn
1 Jalapeno, deseeded and chopped
1 cup Cream Cheese
1/2 cup + 1/4 cup Cheddar or Mozzarella, shredded
2 tablespoons Milk
Salt and Pepper to taste
DIRECTIONS
Pre-heat oven to 400 degrees.
Heat a cast iron skillet and cook the bacon till golden brown.
Remove the bacon with a slotted spoon into a bowl. Discard the bacon fat, but don't wash the skillet.
In the bowl, add rest of the ingredients and mix, reserving 1/4 cup shredded cheese and some bacon for topping.
Transfer mixture to the skillet and top with remaining cheese and bacon.
Bake for 15 minutes or until the cheese starts browning slightly.
Servings: 4-6