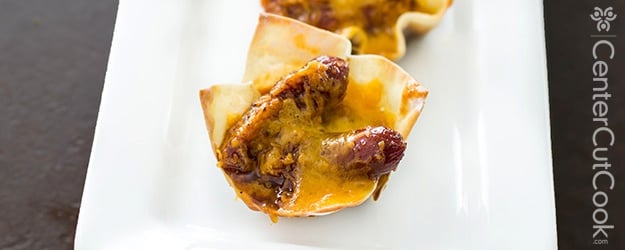 When it comes to little smokies, we've tried it all! From the slow cooker recipe for little smokies with grape jelly and chili sauce, to little smokies wrapped in crescent rolls (you know, pigs in a blanket?). And of course, we're huge fans of Bacon Wrapped Little Smokies with a brown sugar glaze! I thought we had tried every variation, until I came up a way to use up the leftover wonton wrappers sitting in my fridge. Meet Cheesy Little Smokie Cups, a fun new way to make cocktail weiners at home!
You'll start by heating your oven to about 425F. While the oven is heating up, arrange wonton wrappers in a cupcake tin. Bake for 4-5 minutes, or until the edges start to turn brown. You'll need to do two batches for a total of 24 little cups.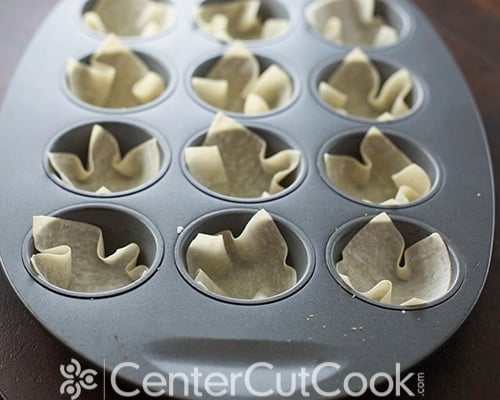 Next, prepare the filling for the cups which consists of cooked little smokies (about 24 ounces), 3/4 cup bbq sauce, and about a 1/2 cup of cheese. The little smokies I used were a brand called Bobak's (these guys make delicious sausage products!), and they were longer than your typical little smokies, so I cut them all in half. Stir the mixture together, then divide it among the wonton cups.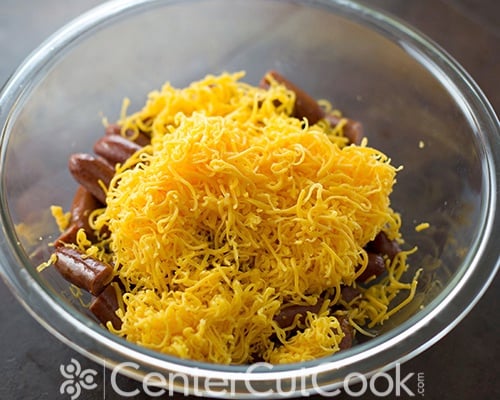 Sprinkle a little extra cheese over the top of each cup, then pop 'em in the oven for about 3-4 minutes, or until the cheese has melted. The hubby was a huge fan of these things! They look all tiny and cute, but it's easy to keep eating them. Before you know it, you've consumed 10 of 'em and you're left wondering where they all went!
If you're serving these for a crowd, you'll definitely want to double the recipe because they go quick! Who knew crispy little wonton cups filled with little smokies, BBQ sauce and cheese could be so addicting? If you really wanted to go all out, cook up some bacon to chop up and toss in the mixture. Add these to the list of little smoky appetizers you'll be making the next time you entertain!
INGREDIENTS
24 ounces little smokies (cut in half if they are long)
3/4 cup bbq sauce of choice
1 cup cheddar cheese, divided
24 wonton wrappers
DIRECTIONS
Pre-heat your oven to 425 degrees F.
Cook little smokies according to package directions.
Arrange wonton wrappers in a muffin tin. Bake for 3-4 minutes or until the edges are brown and crispy. You'll need to do two batches to bake all 24 wonton cups.
In a bowl combine half of the cheese, 3/4 cup bbq sauce of choice, and cooked little smokies. Divide the mixture evenly among the 24 wonton cups.
Sprinkle the remaining cheese on each cup.
Arrange the filled wonton cups on a baking sheet and bake for 3-4 minutes, or until the cheese is melted.
Recipe from
CenterCutCook