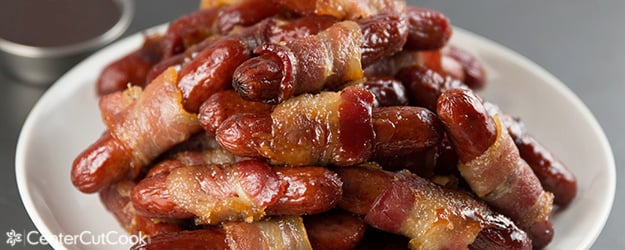 Fall is my favorite time of year for so many reasons, but mainly football, good food, and hoodies. Although not in that order. If I ordered it by order of importance it'd go hoodies, good food, and football…. namely Cyclone football (Iowa State…) and my beloved Chicago Bears!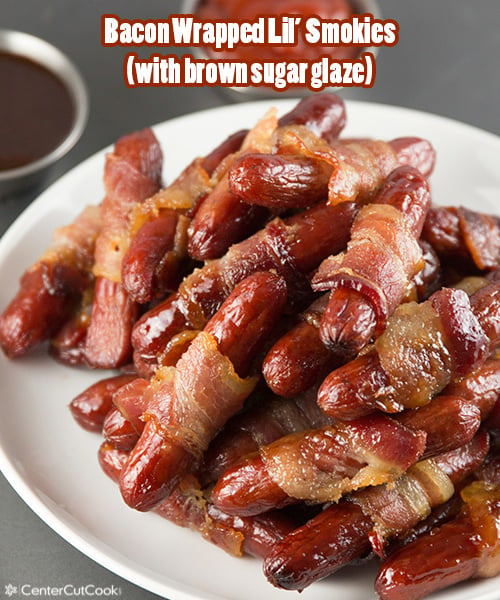 Since good food and football go hand in hand, I thought I'd share one of my favorite go-to recipes for football season… because well, if you're anything like me, you'll be searching for food ideas for your next tailgate party! Bacon Wrapped Little Smokies in a brown sugar glaze is a favorite in this house!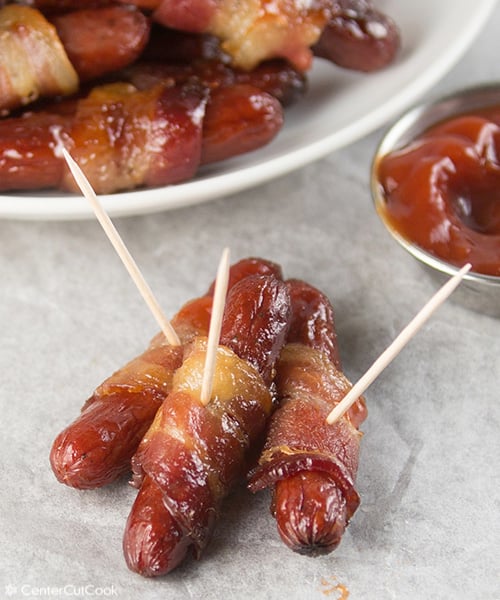 The method is simple, strips of bacon get cut into three or four pieces. Then, each piece of bacon gets wrapped around a little smokie sausage and secured with a toothpick. When all of the little smokies are enveloped in bacon, they get placed on a rimmed baking sheet and topped with a bunch of brown sugar. As they bake, the bacon crisps up, and the brown sugar turns into this ooey gooey glaze that's addicting!
I serve these babies with spicy ketchup on the side, but truth be told, they are good as- is, plain and simple! Happy tailgating, and Go Cyclones! :)
Little Smokies seem to lend themselves perfectly for entertaining. I've served them at parties simply heated with ketchup or BBQ sauce for dipping, I've also made the crock pot/ slow cooker recipe with the grape jelly – you know which one I'm talking about, right?
Whichever way you decide to enjoy Little Smokies, you can't go wrong. Ideal for a crowd, and perfect finger food, they are always a hit!
Q: What are some of YOUR favorite foods to enjoy while watching sports?
Thank you so, SO much for following along, reading, commenting, sharing and trying my recipes! I appreciate YOU so much! :)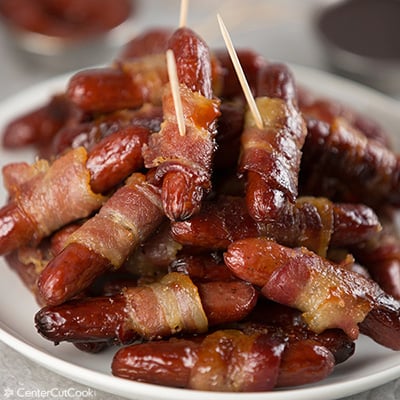 LITTLE SMOKIE INGREDIENTS
1- 16 ounce package little smokie sausages ( I like the beef/cheddar variety)
10-16 ounces bacon
1 cup brown sugar
SPICY KETCHUP INGREDIENTS
1/2 cup prepared ketchup of your choice
1/4 teaspoon cayenne pepper
1/4 teaspoon red pepper flake
1/4 teaspoon garlic powder
LITTLE SMOKIE DIRECTIONS
Pre-heat your oven to 350 degrees.
Cut strips of bacon into 3-4 pieces so that each piece of bacon will fit around a little smoke.
Wrap a strip of bacon around a little smoke and secure it with a toothpick.
Place the bacon wrapped little smokies on a rimmed baking sheet.
Sprinkle 1 cup brown sugar over the little smokies.
Bake in the oven for 35-40 minutes, or until the bacon is crisp, and the brown sugar has turned into a glaze.
SPICY KETCHUP DIRECTIONS
In a small bowl, combine ketchup, cayenne pepper, red pepper flake, and garlic powder. Ideally, allow it to sit for a couple of hours so that the flavors can meld together.