This is your usual lasagna dinner, all spiced up with Mexican flavours and you will never go back to the regular kind again! We absolutely mexican dishes at home and in our attempt to jazz up our regular lasagna dinner, the husband suggested we add some salsa and taco seasoning to the ground beef. That's how this experiment started, and after a few tweaks we knew we had a winner.
It's a pretty simple recipe and follows all the rules of lasagna making starting from browning your ground meat, after which we add some of your favorite salsa and some taco seasoning to it. It simmers for a few minutes and is done. We also whisk in some cream cheese and thyme together for the extra cheesy goodness that goes between the layers.
Finally all you need to do is layer the lasagna. We alternate between ready for the oven lasagna sheets, which are then layered with cream cheese and the group meat and salsa. Everything is finally topped with lots of shredded cheese and baked. That'll there is to it, really which makes it perfect for a weeknight meal!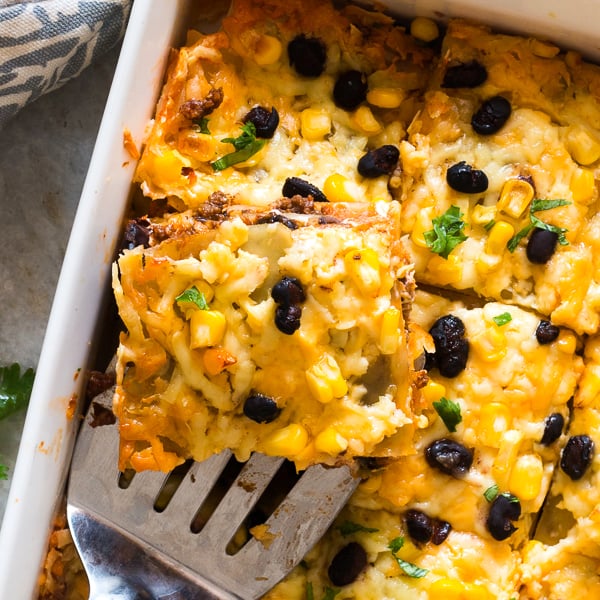 INGREDIENTS
12 Lasagna Sheets
1 pound Ground Meat
1 can Salsa
1 tablespoon Taco Seasoning
1 can Black Beans, drained
1 cup Cream Cheese
1 tablespoon dried Thyme
1 cup Shredded Cheddar Cheese
DIRECTIONS
Pre-heat oven to 375 degrees.
Heat a skillet and add ground meat to it. Saute till the meat is golden brown and add the salsa, beans and taco seasoning. Simmer for 4-5 minutes and switch off the flame.
In a separate bowl, whisk together cream cheese and thyme till combined.
To assemble the lasagna, grease a 9X3 baking pan and line with 4 lasagna sheets. Spread 1/3 of the cream cheese over the lasagna sheets and sprinkle with 1/3 of the ground meat mixture.
Repeat this process till you have 3 layers. Finally, sprinkle with top shredded cheese and bake for 30-35 minutes till bubbly.
Wait 10 minutes before slicing and serving the lasagna.