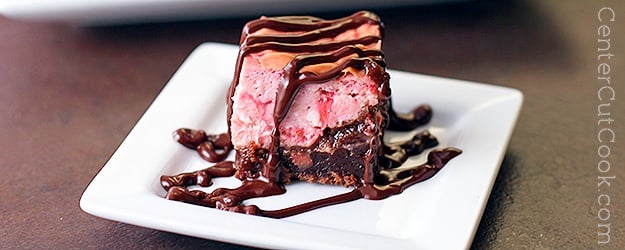 Where do I even begin with these Cherry Cheesecake Brownies? Should we start with the fact that there's a soft chewy brownie on the bottom of this decadent dessert and it's topped with decadent layer of cherry cheesecake? Sure, that's a good place to start!
You begin by making this fabulous brownie batter and pressing it into a 9 x 9 inch pan. The dimension of the pan DOES make a difference here. If you use an 8 x 8 pan, you will need to adjust the baking time. You see, we're working with a cheesecake layer here, and cheesecake is sort of finicky.
I lined the pan with foil in both directions and let the foil hang over the sides. This made it easy to lift the brownies out of the pan to cut, once they were done.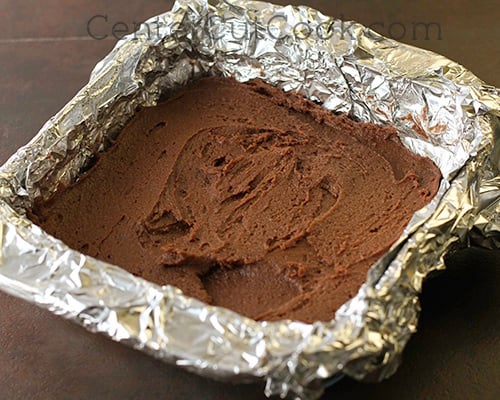 I got the idea for this recipe from the Ghirardelli website. I had bought a bag of 60% Cacao Bittersweet Chocolate Baking Chips a couple of weeks ago, and needed to find a way to use it. I went to peruse their website and came across these Cherry Cheesecake Brownies!
Then comes the cherry cheesecake layer. It's so important not to over mix the cheesecake mixture! You'll want to mix up the cream cheese really well before you add in the eggs. If you over mix once you add the eggs in, you may end up with the cheesecake layer being cracked.
What makes this cherry is the addition of cherry pie filling. Mmmm mmmmm.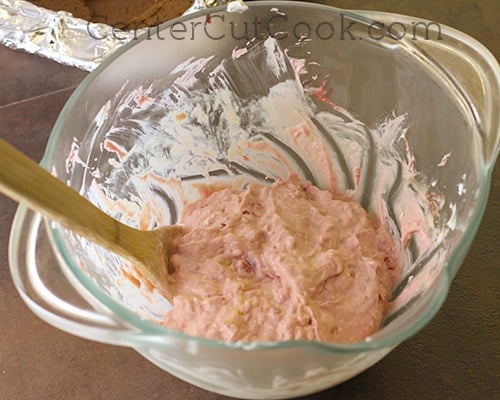 After you've made the cheesecake layer, you pour it over the brownie layer and smooth it out. Then into the oven it goes! It'll need to bake for about 55 minutes to 1 hour and 5 minutes. It's a long bake time! You'll know it's done when most of the cheesecake is set-up. It'll be perfectly done when there is a small section in the middle that's still wobbly.
If your cheesecake cracks, no worries. It'll get topped with a chocolate drizzle which will hide any cracks from being seen! I've mentioned it numerous times, but I'll say it again. I am NOT an expert. I am learning each day I'm in the kitchen! Cheesecake is one thing I have not perfected yet. Honestly, the cracks really don't bother me much, especially when it's something like this where it's not just a cheesecake, but brownies AND cheesecake!
One of the most important steps you will take when making this cheesecake is allowing it to cool. It will need to cool for one hour at room temperature, and then an additional 2 hours in the refrigerator! Patience is a virtue, and you'll get plenty of practice waiting for this cheesecake to cool!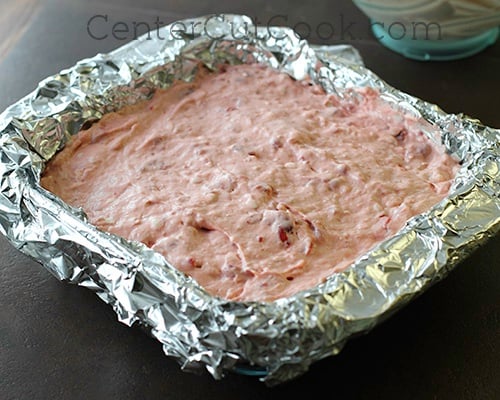 After you've practiced patience and have allowed it to cool for the entire 3 hours, you'll cut it into squares and drizzle it with a yummy chocolate drizzle.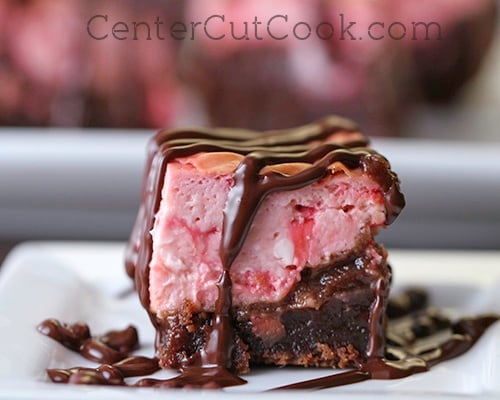 Holy moly this is good stuff! Chocolatey and soft with a cheesecake layer oozing with cherry flavor!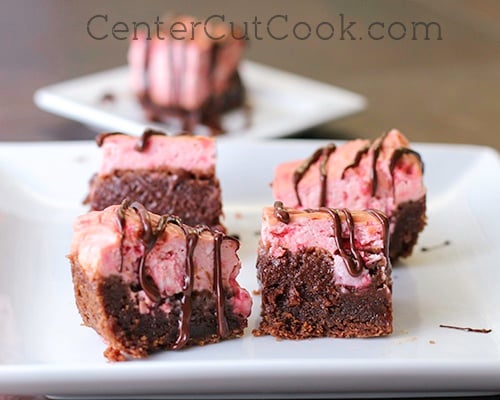 And look how pretty this looks! Talk about a perfect treat for entertaining. It looks so impressive, doesn't it?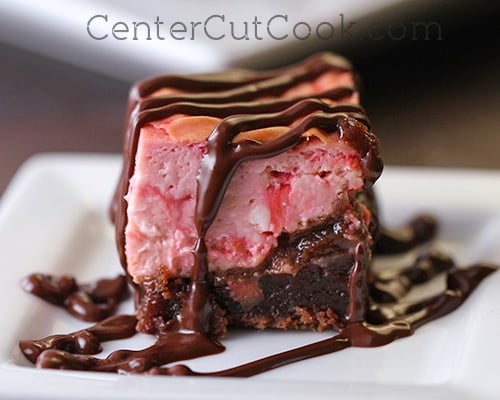 BROWNIE LAYER INGREDIENTS
CHEESECAKE LAYER INGREDIENTS
CHOCOLATE DRIZZLE INGREDIENTS
1/4 cup semisweet chocolate chips
1 teaspoon butter
DIRECTIONS
Pre-heat your oven to 350 degrees. Line a 9 x 9 inch pan with foil. Hang the foil over the edge of the pan to create handles so that it will be easy to lift the Cherry Cheesecake Brownies out of the pan when they have cooled.
Spray the foil with non-stick cooking spray.
Place 3/4 cup Ghirardelli 60% cacao bittersweet chocolate baking chips and butter in medium sized microwave safe bowl. Heat for 1 minute on 50% power and stir. Then heat for 20 seconds at a time until the mixture is melted and smooth. Stir in-between every time you add 20 seconds. Allow the mixture to cool for about 10 minutes in the refrigerator.
When the chocolate mixture has cooled, add in sugar. Then add in eggs, one at a time, and vanilla. Mix well.
In a large bowl, sift together flour, baking soda, and salt. Combine the chocolate mixture into this dry mixture and use a large wooden spoon to combine. Pour this mixture in the bottom of your prepared 9 x9 inch pan.
With a mixer, beat cream cheese until light and fluffy. Add in cherry pie filling, and vanilla extract and mix well. Then, add in eggs and stir by hand until just combined. Do not over mix once you've added in the eggs!
Spread the cheesecake layer over the brownie batter and smooth it out.
Bake in the oven for 55 minutes to 1 hour and 5 minutes or until it's cooked through. You will know it's done when the majority of the cheesecake layer is set. There should still be a small 2-3 inch section in the middle that will be wobbly.
Allow the Cherry Cheesecake Brownies to cool for 1 hour at room temperature, then transfer it to the refrigerator and allow it to cool for 2 hours.
After the three hour cooling periods, slice into squares.
Create the chocolate drizzle by combining 1/4 cup semisweet chocolate chips with 1 teaspoon butter. Melt for around 30 seconds, or until it's completely melted. Pour the mixture into a ziplock bag. Cut the tip off the ziplock bag and pipe the chocolate mixture over the Cherry Cheesecake Brownie squares.
Recipe adapted from
Ghirardelli