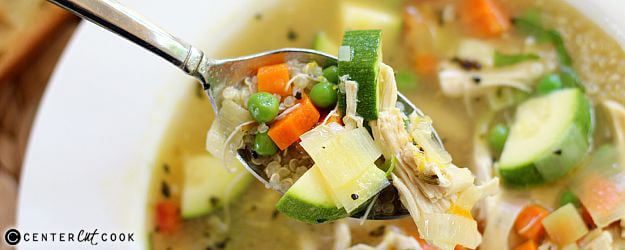 This recipe changes up a few of the classic chicken soup ingredients and I think you're going to love these variations. Adding quinoa to the soup rather than the usual noodles or rice makes for a gluten-free, nutrient packed option. If you haven't used quinoa in your soup recipes yet, this is one that's sure to help you make the plunge. The cooked quinoa adds a nice texture and mild flavor, plus it won't get soggy or break down like pasta and rice tends to when served as leftovers.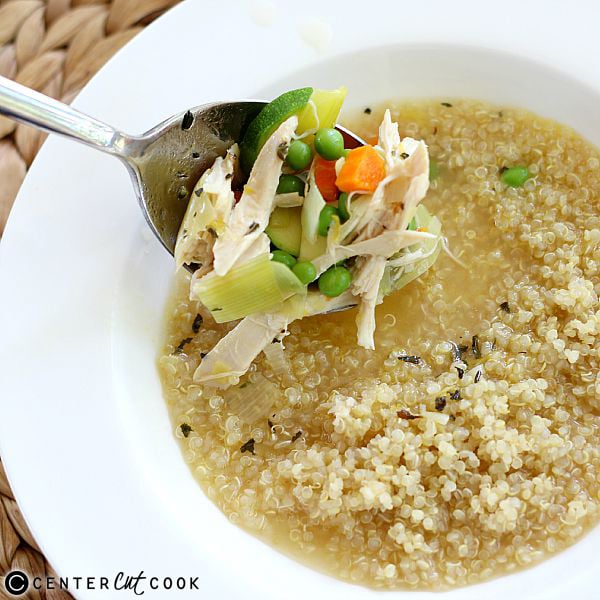 Other less than typical ingredients include the use of leeks rather than onions. Leeks have a milder onion flavor than their onion cousins, so they're a great option. Classic ingredients of carrots and garlic are added, but not so classic is the last minute toss of zucchini, red peppers and petite peas, along with some fresh lemon zest and juice. The method for adding these ingredients at the end ensures a fresh tasting soup that's comfort food in a snap! This soup is seasoned with herbs de Provence, which is a blend that includes thyme, savory, lavender, rosemary and fennel. Most major grocery stores carry herbs de Provence, but you can also make your own. Just before serving, the soup gets another fresh ingredient of basil leaves which add a peppery depth to the soup. If you don't have fresh basil on hand, feel free to use dried or skip this step altogether.
Using leftover or rotisserie chicken and fresh yet simple ingredients, Chicken and Quinoa Soup is ready for the table in only 30 minutes but the taste is slow-simmered goodness. It doesn't get much better than that!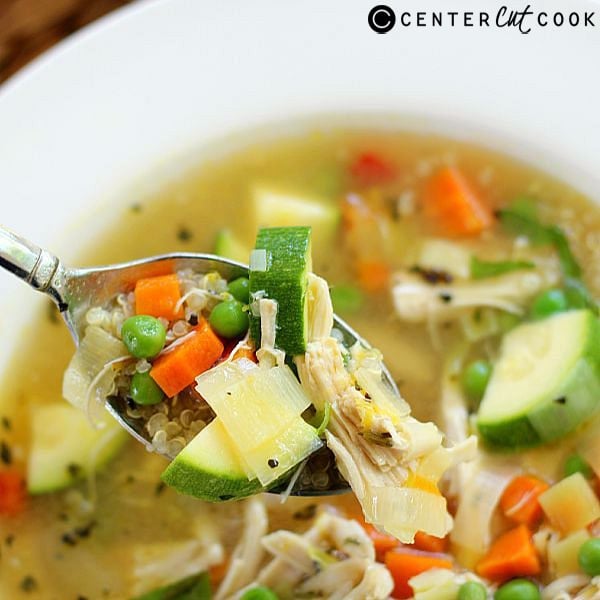 MAIN INGREDIENTS
1 tablespoon olive oil
2 tablespoons butter
1 leek, quartered and sliced (about 1/2 cup)
2 carrots, peeled and diced small
2 cloves garlic, minced
1 teaspoon salt and freshly ground black pepper, to taste
1 teaspoon herbs de Provence
6 cups chicken broth, heated
1 cup fresh or frozen peas
1 cup zucchini, diced small
1/2 cup red bell pepper, diced
2 cups cooked chicken, shredded or cubed (rotisserie chicken is great, white and dark meat)
2 teaspoons lemon zest
2 tablespoons fresh lemon juice
2 cups cooked quinoa
GARNISH INGREDIENTS
1/4 cup chopped, fresh basil leaves
Freshly grated Parmesan cheese
DIRECTIONS
Place a medium-large soup pot over medium heat; add in the olive oil and butter, and once melted, add the sliced leek and diced carrots, cook for about 3 minutes, until the leeks start to become translucent.
Add in the garlic, and stir about 30 seconds to release the garlic flavor, add the salt, some black pepper, and the herbs de Provence; stir to combine.
Pour in heated chicken broth and bring to a gentle simmer; cover and cook for about 15 minutes, until carrots are tender.
Remove pot from the heat, add the peas, diced zucchini, red bell pepper, chicken breast, and the lemon zest and juice. Stir to combine, and allow the peas and zucchini to become crisp-tender and bright green in the hot stock, about 3 minutes. Check to see if additional salt or pepper is needed.
To serve, add about 1/2 cup of the cooked quinoa to each bowl, then spoon some of the soup over top; sprinkle with fresh basil and Parmesan cheese, if desired.
Servings: 4