If you're a fan of easy, healthy, and quick chicken dinners, you're gonna love this Chicken Bruschetta. Not only does this meal take less than 30 minutes to prepare, it's fresh, vibrant, and a delicious way to change up your normal chicken dinner recipes.
Plus, look how pretty!
First off, bruschetta is one of the best appetizers ever, right? So…why not toss it over some lean protein? It just makes sense.
Personally, I like this recipe with grape tomatoes because they stay crisper and are a little more acidic than other tomatoes. But, you can use any tomatoes you happen to have – if you have some fresh tomatoes from the garden this summer, those will work just as perfectly and will really pop in this recipe.
I also highly recommend you get the fresh mozzarella at the store – if you've never tried it before, it's better than any bagged mozzarella you've ever had and is totally worth every single penny. I never buy any other type of mozzarella.
Try this tasty and healthy bruschetta chicken and enjoy all those fresh summer flavors tonight!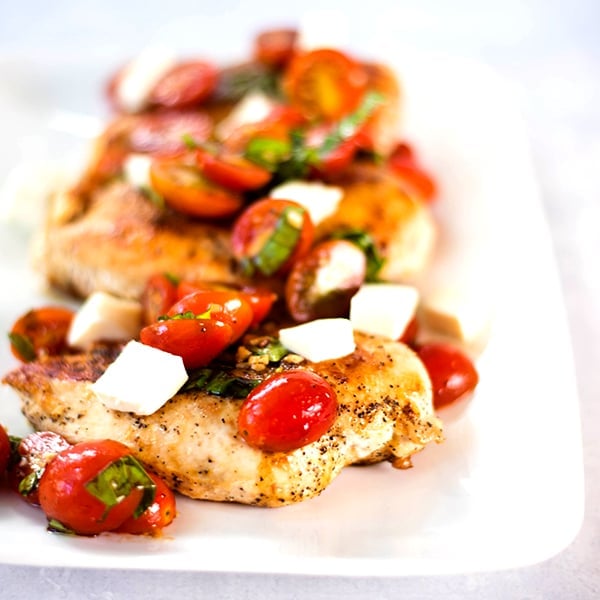 INGREDIENTS
4 chicken breasts, seasoned with kosher salt and black pepper
3 tbsp. olive oil, divided
2 tbsp. balsamic vinegar
1 1/2 cups grape tomatoes, halved
1 garlic clove, minced
8-10 basil leaves, chopped
1/2 cup fresh mozzarella, diced
1/2 tsp. kosher salt, plus more to season chicken
1/4 tsp. black pepper, plus more to season chicken
DIRECTIONS
Combine 2 tbsp. olive oil, 2 tbsp. balsamic vinegar, tomatoes, basil, and garlic in a small mixing bowl and set aside.
Heat the remaining olive oil in a large skillet over medium-high heat. Season the chicken and cook in the hot oil until well-browned and cooked through, about 5-8 minutes per side.
To serve, divide the tomato mixture over the cooked chicken and then add the diced mozzarella cheese.
Serve immediately.
Servings: 4