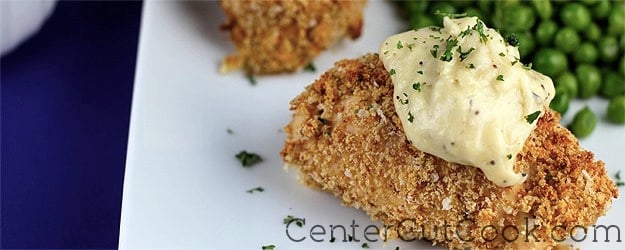 This is going to sound like an advertisement for Perdue Chicken, but it's not, I promise. The way this Chicken Cordon Bleu Rollups recipe originated all started with a little mistake I made at the grocery store. Perdue boneless skinless chicken was on sale for a pretty good price on my last visit, so I decided to stock up. The grocery store only had 4 packages left, so I took what they had. When I got home, I realized one of the packages was actually the thin sliced boneless skinless chicken breast.
I didn't have anything planned to do with thin cuts of chicken so it took some thinking to figure out what to make. I finally came up with Chicken Cordon Bleu rollups and once I got rolling with the recipe, I was actually happy Perdue offers the thin cuts. They were SO easy to work with, and it was much easier than trying to thinly slice chicken on my own! This recipe turned out so good that I'm trying to figure out other recipes I can make with the stuff.
Traditional chicken cordon bleu has been one of my favorite meals, so I wasn't quite sure how these non-traditional rollups would work out. I started with the thin slices of chicken breast laid out on wax paper. Then I seasoned the chicken, folded a piece of thin sliced deli ham and a piece of cheese in half, placed it on the chicken, rolled it up, dredged them in flour, an egg wash, and fresh bread crumbs, and then baked them in the oven. Once they were done, I topped each rollup with a homemade parmesan pepper cream sauce. The result? Absolutely phenomenal! It took me about 35-40 minutes from start to finish and was worth every minute.
*I started with a package of 6 chicken slices which was a little over a pound of meat. This yields 6 servings.
PS: Happy Valentine's Day! :)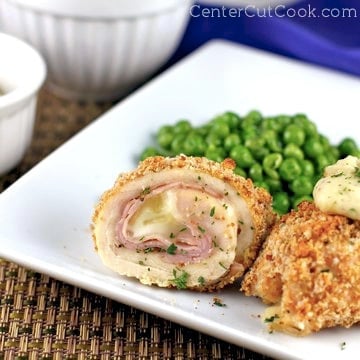 CHICKEN INGREDIENTS
6 pieces of thin sliced chicken breast about 1/4″ thick
Salt, pepper, and garlic powder for seasoning
6 thin slices of deli ham
6 thin slices of deli cheese (I used provolone- swiss would be another good choice)
1 egg
1/2 cup flour
1 cup fresh bread crumbs (I took 2 slices of whole wheat bread and used my food processor to crumble them).
Handful of panko bread crumbs – optional
PARMESAN PEPPER SAUCE INGREDIENTS
2 tablespoons butter
2 tablespoons flour
1 cup milk
1/2 teaspoon coarse black pepper
1/4 teaspoon salt
1 teaspoon dijon mustard
1 tablespoon cream cheese
1/3 cup fresh parmesan cheese – grated
DIRECTIONS
Pre-heat your oven to 400 degrees and lightly grease a baking sheet.
Place slices of chicken on a large piece of wax paper.
Sprinkle both sides of each piece of chicken with salt, pepper, and garlic powder.
Fold a piece of deli ham in half or in thirds so that it fits on the chicken.
Fold a piece of cheese in half (I used provolone) and place on top of the ham.
Tightly roll up each piece of chicken jellyroll style (or if you don't know what jellyroll style means, think of it as you're rolling up a sleeping bag).
In three shallow pans, place flour in one, egg in another, and fresh bread crumbs/panko bread crumbs in the last.
Dredge each piece of chicken in flour, then roll it in egg, and finally, surround it with fresh bread crumbs. Use toothpicks to close the ends so that the cheese doesn't leak out when it bakes. Place each piece of chicken seam side down on your lightly greased baking sheet.
Bake in a 400 degree oven for 25 minutes.
While the chicken is baking, prepare the parmesan pepper sauce by melting butter in a saucepan.
When butter has melted, add in flour and whisk vigorously. Slowly pour in one cup of milk and continue stirring until it has thickened. Add in salt, pepper, dijon mustard, cream cheese, and parmesan cheese. Continue to stir until the cheese has melted and all of the ingredients are incorporated. Allow to simmer for a few minutes over medium-low heat.
When the chicken rollups are done baking, cut each piece in half (or leave whole, but it looks cool to see the inside!) and top with a spoonful of parmesan pepper cream sauce.
Enjoy!
Recipe adapted from:
A CenterCutCook Original!