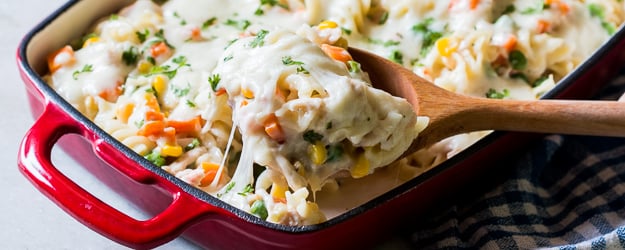 Let's get this straight – this chicken pot pie noodle casserole is soon going to become your go to recipe, no matter what time of the year! It's one of those dishes that gets the family to eat together. Imagine a large casserole in the middle of the table that everyone reaches out for, a salad on the side, maybe some warm, crusty bread – isn't that what family meals are made of?
Most chicken noodle casseroles border on unhealthy because they'll ask you to open a can of chicken soup and pour that in. But this one is made from scratch including the creamy sauce. And it's not difficult at all – probably add 10 minutes to cooking time which isn't so bad, right when you've got a healthier version of this dinner favorite?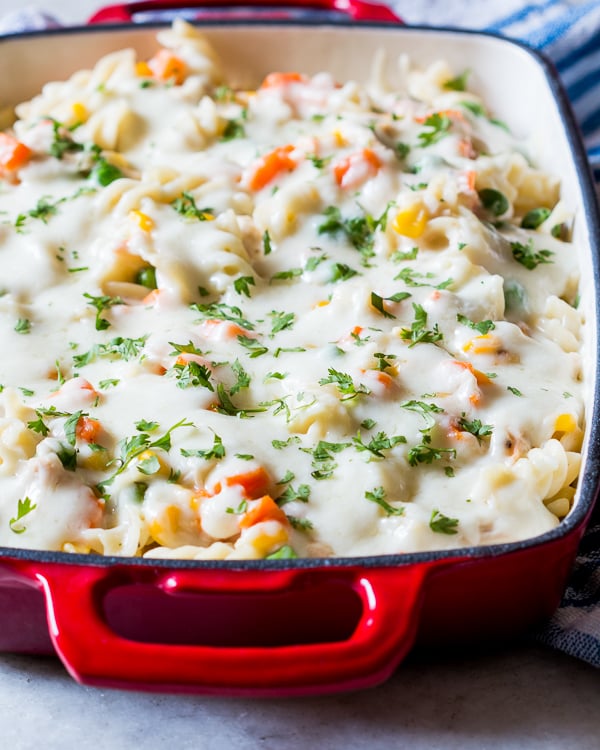 I like to call this a chicken pot pie noodle casserole because it really is a cross between pot pie and chicken noodle soup without the crust and without the unhealthy canned soup.
This recipe is also very forgiving and you can change things up as you like. Use egg noodles or your favorite pasta. Switch up shredded chicken for rotisserie chicken if that's what you have on hand. Add some fresh herbs to your sauce or add an extra serving of vegetables. It's easy, cheesy, creamy, warm and comforting apart from being soooo tasty that you'll be making it every other week!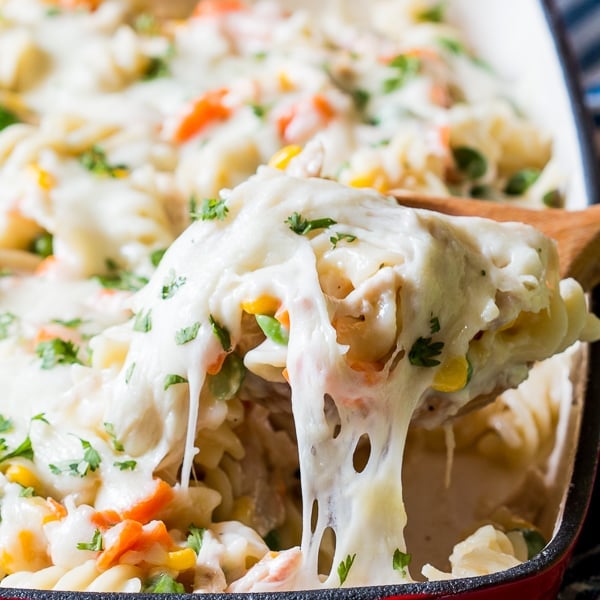 INGREDIENTS
1/2 pound Egg Noodles or Pasta of your choice
3 tablespoons Butter
3 Garlic cloves, minced
3 tablespoons All Purpose Flour
3 cups Whole Milk
2 cups diced Vegetables (Beans, Carrots, Corn and Green Peas)
3 cups shredded Chicken
1/2 teaspoon dried Thyme
Salt and Pepper to taste
2 cups Shredded Cheese
DIRECTIONS
Pre-heat oven to 350 degrees.
Cook noodles according to package directions till al dente.
In the meanwhile, heat butter in a large pot and add minced garlic to it. Saute for 30 seconds and add flour. Cook the flour for a minute and pour in milk slowly while whisking continuously. Continue whisking till the sauce starts thickening up.
Add vegetables to the pot, along with thyme, salt and pepper. Simmer vegetables in the sauce for 4-5 minutes.
Mix in shredded chicken, noodles and 3/4 cup cheese.
Pour the mixture into a casserole dish and top with remaining cheese. Bake for 10-12 minutes till the casserole is bubbling and the cheese is melted.
Servings: 4-6