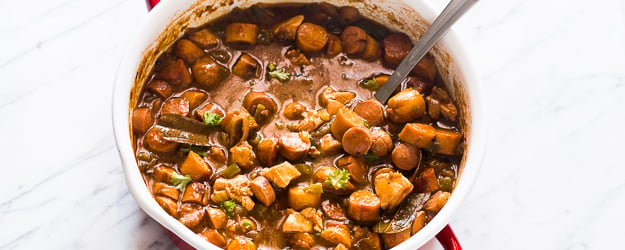 I recently made this chicken sausage gumbo at home when the husband got back from a trip to New Orleans raving about the food. He described it in perfect detail and made me promise that we would start a diet of Shrimp Po'boys and Gumbo. I haven't complained because once we tried them at home, I knew exactly why he loves them so much.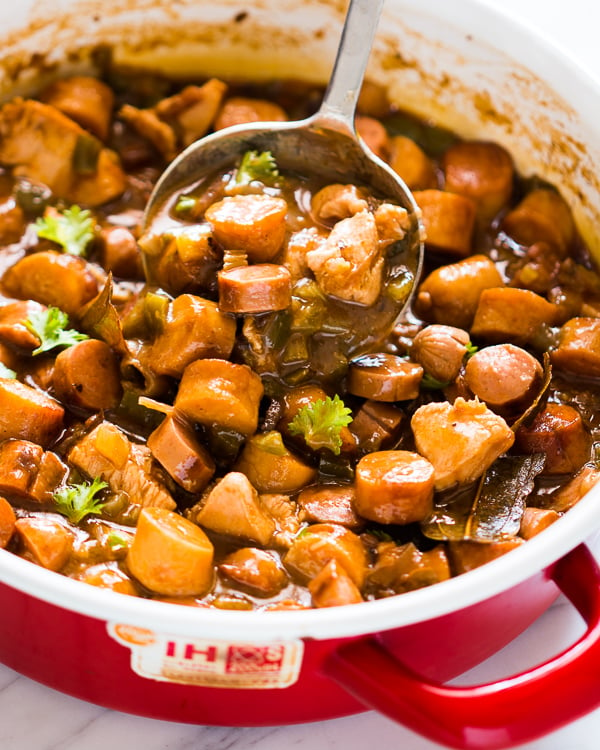 Some of you might think that this is a long, laborious process but very honestly, it's not that bad and if you have some extra time on a weeknight, you can easily fit this in. If you don't, make this during the weekend and you have meals for the entire week. I really love slurping this up on it's own, but a bowl of steamed rice on the side does wonders. I've also tried this with sticky rice, polenta and brown rice and each time this chicken sausage gumbo really stands out!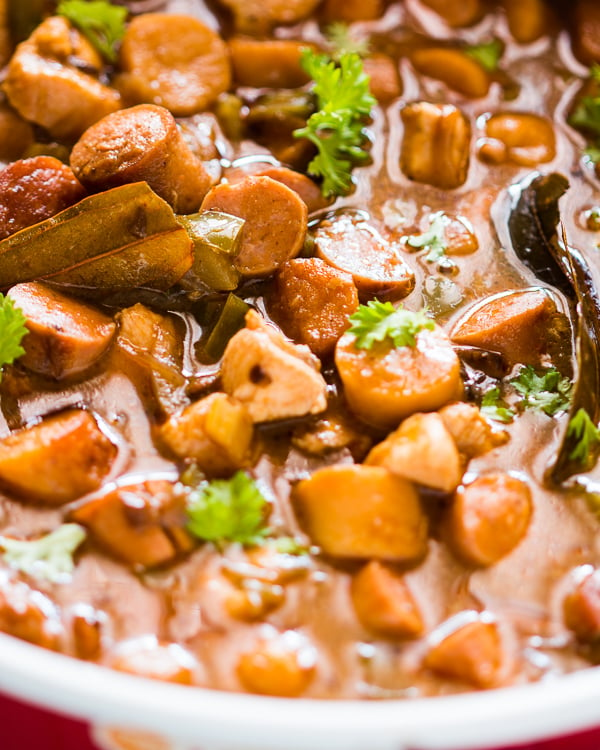 Next up on the list is a seafood gumbo which I'm sure will be even better than this one, but till we give you a recipe for that one, give this easy chicken sausage gumbo a go!
INGREDIENTS
1/2 cup Oil
1.5 pounds Chicken Sausages, cut into 1/2 inch rounds
1 pounds boneless chicken thighs, diced
1/4 cup All Purpose Flour
6 Garlic Cloves, minced
1 cup diced Onions
1/2 cup diced Celery
1 cup diced Bell Peppers
1/2 cup sliced Okra (optional)
2 Bayleaves
1 teaspoon Paprika
1 teaspoon Cayenne Pepper
1/2 teaspoon ground Black Pepper
1 tablespoon Worcestershire Sauce
1 tablespoon fresh thyme leaves
5 cup low sodium Broth
Salt to taste
Freshly chopped Parsley for topping
DIRECTIONS
Heat half the oil in a dutch oven and add the chicken sausages. Fry on all sides till they are golden brown. Remove with a slotted spoon and drain on paper towels.
If using okra, add it to dutch oven and fry it till it's slightly crisp. Remove on another plate and set aside.
Add the remaining oil and add flour. Cook the flour on a low flame for 6-8 minutes and cook while stirring occasionally till its golden caramel in colour.
Add garlic, onions, celery and okra along with bay leaves, paprika, cayenne pepper, black pepper to the pan. Saute for five to six minutes till the vegetables are soft, and add the thyme leaves (discard the stems), chicken, worcestershire sauce, salt and broth. Add the broth slowly to the pan while whisking continuously.
Simmer uncovered for an hour, and top with chopped parsley before serving.
Servings: 6-8