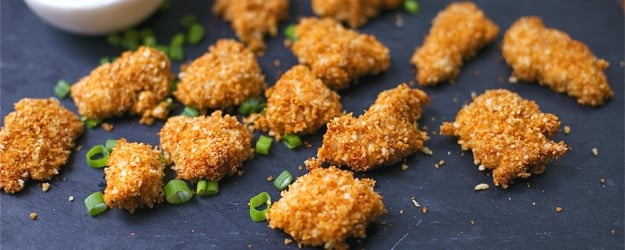 I have quite an obsession with anything flavored chipotle. I love the spicy and smoky taste! So whenever I get a chance to add some chipotle flavor to any of my dishes, I am all over it. Recently, I was making my tried and true crispy chicken bites, aka "popcorn chicken", and was slathering a chipotle BBQ sauce all over it. Then it occurred to me to add plenty of my favorite adobo sauce to my crispy chicken batter to spice things up a bit. It was deliciously tangy, without too much spice, but loaded with a flavor that my kids loved too! So much that we were able to pack these fun little bites in their lunchbox the next day.
I will caveat this recipe and let you know that our family variation of popcorn chicken is baked and not fried. I actually prefer this method for a few reasons: It's healthier, and the best part…… it's much easier. I use 2lbs of chicken breast in this recipe, and keeping an eye on frying 2lbs of chicken bites would require a few batches. By baking the chicken, I can spread it over one roasting pan and toss it in the oven; much lower maintenance! The crispy panko breadcrumbs still give us that crispy texture without having to fry.
To get even more flavor out of these yummy little chicken bites, it's best to marinate the chicken for at least 2 hours in the buttermilk/chipotle pepper mixture. I also like to cut them into pretty small pieces, about 1 inch, but if you choose to do larger tenders, the flavor is very similar! I also added in a few spices to the Panko mix to kick it up a notch. If you have little ones who like less spicy, you can tame that down and cut on the amount of adobo sauce that you add to the mixture. These are delicious served with some Chipotle flavored BBQ sauce to dip!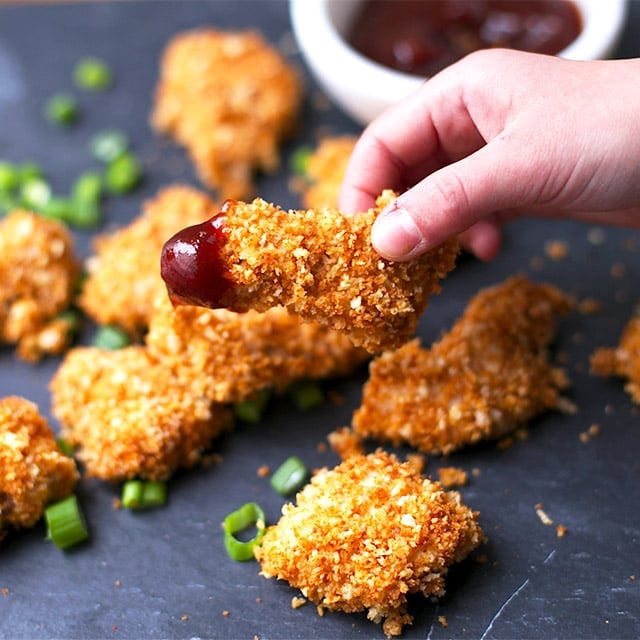 INGREDIENTS
1 cup buttermilk
3 chipotle peppers in adobo sauce, chopped finely
3 tbsp adobo sauce
1/2 tsp salt
1 egg
2 lbs chicken breast, cut into 1 inch pieces
1.5 cups Panko breadcrumbs
1 tsp chipotle spice
1/2 tsp cumin
1/2 tsp salt
DIRECTIONS
Begin by making your marinade: whisk egg with buttermilk, peppers, and adobo sauce. Sprinkle in salt. Place chicken pieces into marinade in a large ziplock bag or air tight container. Let marinade for at least 2 hours (up to 8 hours).
When ready to cook, preheat oven to 375. Gently grease a large roasting/cookie sheet with non-stick spray.
In shallow dish or large ziplock bag, add panko, spices, and salt. Mix together.
Gently place chicken inside the the mixture and mix to coat each piece of chicken.
Spread chicken over the sheet pan, and place inside the oven.
Bake for 20-25 minutes (depending on oven), until the outside is browned and crispy.
Serve with your favorite sauce.
Servings: 6