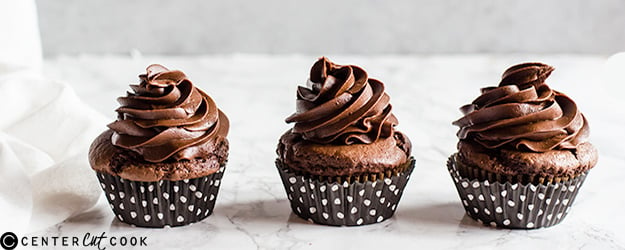 Rich, chocolate cupcakes with a surprise cheesecake filling. You are never going to want another cupcake after you try these chocolate cheesecake cupcakes.
If I were to list my favorite desserts, it would be anything chocolate, cheesecake, and a really good cupcake. So putting them together to create this chocolate cheesecake cupcake was the most obvious thing to do.
My favorite thing to do with cupcakes is to add a surprise filling inside. It's just the best way to layer another flavor and texture into one little bite. A velvety no-bake cheesecake filling makes a luscious melt-in-your-mouth filling that will have you taking bite after bite. The cheesecake also helps to balance out the rich, almost fudge-like flavor of the cupcakes so you have the perfect balance of flavors. To match the velvet cheesecake, I used a truffle-like chocolate frosting that is irresistibly smooth and so easy to make.
The oil and sour cream add to the richness and moistness of the cake, but you still need to be careful not to overbake the cupcakes otherwise the tops will dry out and even become a bit crunchy at the edges, and no one wants that! If you don't have sour cream, you can try using nonfat plain Greek yogurt, or buttermilk. Sour cream happens to be my favorite way to make these chocolate cheesecake cupcakes. It adds to much flavor and makes the cupcakes incredible
You may look at the ingredients and think it's too much. Trust me, most of the ingredients repeat and are all mostly pantry items. The cupcakes come together quickly. To shorten the time even more, I like to put my cupcakes in the freezer for a few minutes while I make the filling and frosting.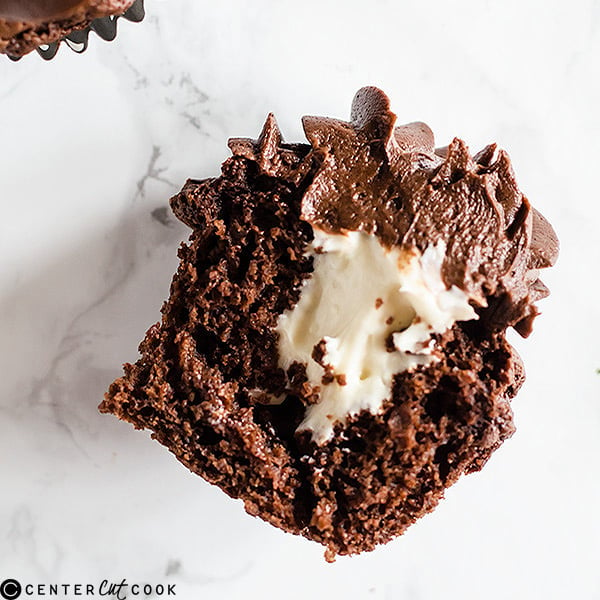 CHOCOLATE CUPCAKE INGREDIENTS
CHEESECAKE FILLING INGREDIENTS
CHOCOLATE FROSTING INGREDIENTS
1/2 cup unsalted butter
1/3 cup Dutch processed cocoa powder
2 1/2 cups powdered sugar
Pinch of salt
1/4 cup heavy cream
CUPCAKE DIRECTIONS
Preheat the oven to 350 degrees F. Line a muffin tin with cupcake liners.
Beat together the oil, chocolate. eggs, sugar, sour cream, vanilla, and vinegar together until well combined.
Mix together the flour, baking soda, and cocoa powder, and salt together in a separate bowl.
Slowly add the flour to the wet ingredients and mix until just combined.
Fill the cupcake liners 3/4 of the way full.
Bake for about 20 – 25 minutes, or until the tops are springy and a toothpick inserted comes out clean.
Leave to cool completely.
CHEESECAKE FILLING DICRECTIONS
Beat the cream cheese until smooth and silky.
Beat in the sugar, lemon, vanilla, and pinch of salt and beat until smooth.
Fit a piping bag with a round tip and fill with the cheesecake.
Cut out the centers of the cupcakes and fill with the cheesecake.
CHOCOLATE FROSTING DIRECTIONS
Beat the butter until creamy.
Add the cocoa powder and powered sugar one cup at a time, mixing well between each addition.
Add the salt and heavy cream and mix until smooth and creamy.
Fit a piping bag with a star tip and fill with the frosting. Frost the tops of the cupcakes.
Servings: 12 cupcakes