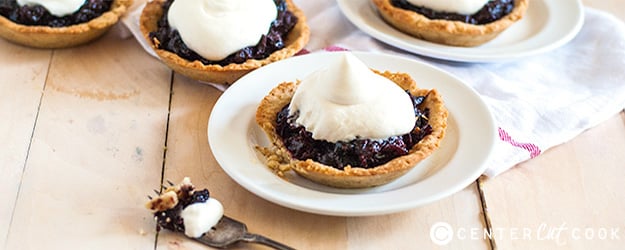 Baking fails are a nature of the kitchen. It is impossible to go through life without having at least a dozen baking fails in your life. It doesn't make you a bad baker. Some things just weren't meant to be. How you handle baking fails, however, that can be very telling of your character. Now, I am not always the most composed person once I fail in the kitchen. There have been times you could catch me sitting on the kitchen floor sobbing and picking at an overflowed brownie with a fork; other times I am more resilient, stubborn, and determined to make things work out. This is tart is the result of one of those times.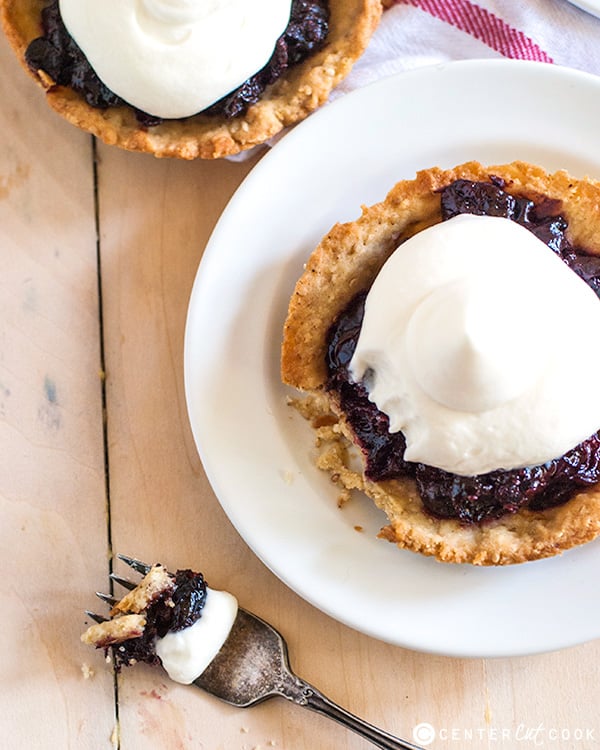 I was pouring over the Baking with Julia cookbook and found a recipe for sesame almond pie crust and I knew I needed to try it. Julie recommended pairing it with a chocolate ganache filling, and I know almonds and cherries are BFFs, so I decided to mix them together in my pie. When I got to baking the pie, I over mixed the butter and the crust became too moist to work with, even after chilling. No problem, I'll just add more flour. It won't be as tender, but it will be workable. I manage to get the bottom crust looking great, but the top just wouldn't work. That's okay. It will be more beautiful to see the filling anyway. I bake it and forget to cover the edges of the pie and the edges completely burn. (insert screams here) What is wrong with me?! No matter, I still have the rest of the dough and can use that to make smaller tarts and transfer the cooked filling into those once they are baked up. Finally. Something delicious I can work with.
The recipe calls for toasted sesame. You can toast your own sesame, but I am a little lazy and bought pre-toasted sesame which you should be able to find right along with the regular sesame. Julia's recipe also calls for you to grind your own blanched almonds, but I simply used almond flour to keep things simple. To get the dough right, please do not over mix the butter into the flour. You want larger pieces of butter in the dough. If you find very large chunks, you can work them in by hand. Although my filling was already cooked when I first made the pie, I retested it using the method I describe below. The dough is enough for a single pie crust, and you can bake it as such (just remember to increase bake time). Otherwise use a regular tart pan – you may have a small amount of pie dough left over. You can roll that out and place decoratively over the tarts if desired. I recommend pairing the tart with almond-scented whipped cream as shown, but it tastes delicious without it too.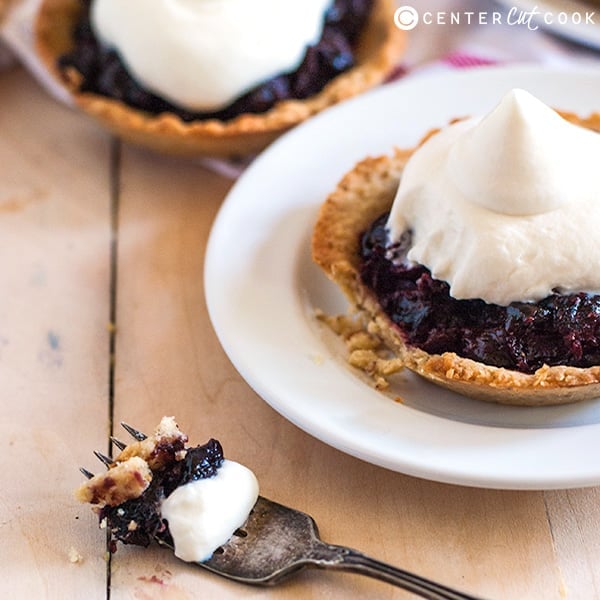 INGREDIENTS
1/3 cup almond flour
1/4 cup lightly toasted sesame seeds
1/4 cup sugar
1 cup all-purpose flour
1/8 teaspoon ground cinnamon
1/8 teaspoon salt
1/8 teaspoon finely chopped lemon zest
1/2 cup unsalted butter, cut in cubes and chilled
1 large egg, cold
1 teaspoon vanilla extracts
FILLING INGREDIENTS
1lb cherries, pitted and cut in quarters
1/4 cup corn starch
1/4 cup sugar
1/4 teaspoon lemon zest
1/2 teaspoon almond extract
1/2 teaspoon vanilla extract
1/4 teaspoon salt
1/2 cup chopped chocolate (I used a mix of dark and milk chocolate)
DIRECTIONS
Preheat the oven to 350 degrees F.
In a food processor, mix together the almond flour, sesame seeds, and sugar together. Pulse a few times to lightly chop and mix. Add the flour, cinnamon, salt, and lemon zest. Pulse to combine.
Slowly add the butter and mix until the mixture resembles crumbs. If there are larger pieces of butter, that is okay.
Lightly beat the egg and vanilla extract in a small bowl and mix into the food processor until just combined.
Turn out the dough onto a lightly floured surface and divide into seven balls. Roll out each ball until it is approximately ¼ inch thick. If you find it difficult to roll out, even after adding more flour to the top of the dough, you can try chilling the dough for 30 minutes to an hour. Place the dough into the tart pans, some overhang is okay as the dough will shrink slightly while baking. If there is too much overhang, feel free to trim.
Prick the bottoms of the tart using a fork several times.
Mix the ingredients for the filling together and evenly distribute among the tarts. Bake for about 20 – 25 minutes, or until the tart crust is a golden brown and the filling is bubbly. Allow to cool completely before removing the tarts. Serve with fresh whipped cream (I recommend adding ¼ teaspoons of vanilla and almond extract to the whipped cream for some added flavor).