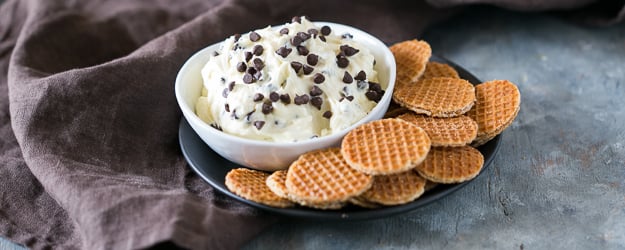 There is nothing like this chocolate chip cheesecake dip in the world. Yes, it's that good and so addictive! It has all the right flavours of a chocolate chip cheesecake but better because it's a dessert dip.
I love dessert dips because they double up as appetizers and desserts, so you can actually have dessert before you even start your main course which is always such a win win in my book.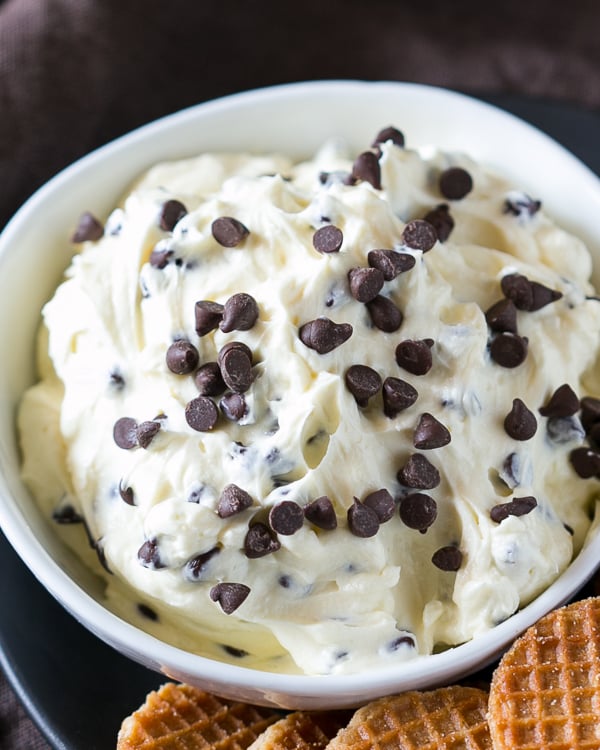 This ones a really easy dip with just five ingredients and super quick to whip up. You just need your cream cheese and butter at room temperature so that whipping is not a mammoth arm wrenching task. We love serving it with stroopwafels, salted crackers and even lady finger cookies. If you want a healthier touch (as if!), try serving it with strawberries or a fruit of your choice on skewers. Imagine that combination – strawberries and this chocolate chip cheesecake dip – it's perfect!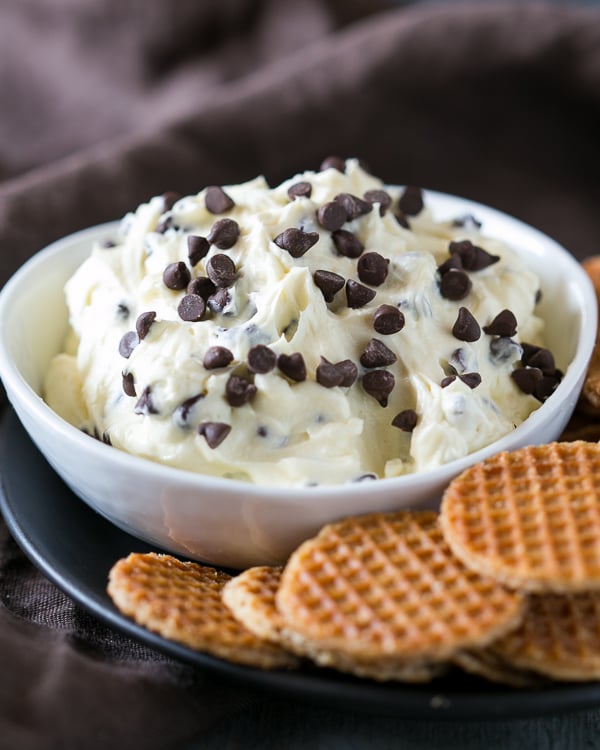 This holiday season we have a long list of parties planned and we are planning to try a new dessert dip at every one of them, starting with this chocolate chip cheesecake dip which really tops my list. We've made it so many times, which is not such a good thing, because the husband and I end up polishing it off in one sitting. So bad for our waistline. But it's holiday month right? So maybe it's alright. At least that's what I like to think.
If you are making this dip, you can always make it ahead and refrigerate for a bit till your guests arrive. It's even better cold.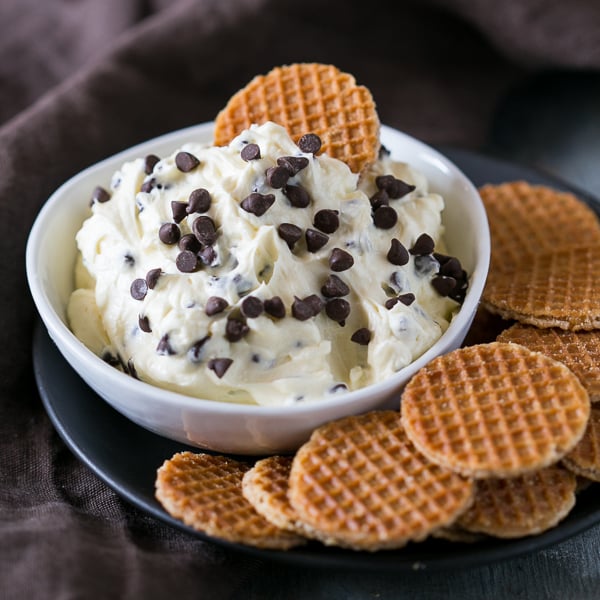 INGREDIENTS
8 ounce block of cream cheese, at room temperature
1/2 cup Butter, at room temperature
2 tablespoons Heavy Cream
3/4 cup powdered sugar
1/2 teaspoon vanilla
3/4 cup mini chocolate chips
DIRECTIONS
Beat butter and powdered sugar together till light and fluffy.
Add cream cheese, heavy cream and vanilla and beat for another 30 seconds till combined. Fold in the chocolate chips and refrigerate for at least half an hour.
Serve with your favourite crackers or fruit skewers.
Servings: 3-4 people