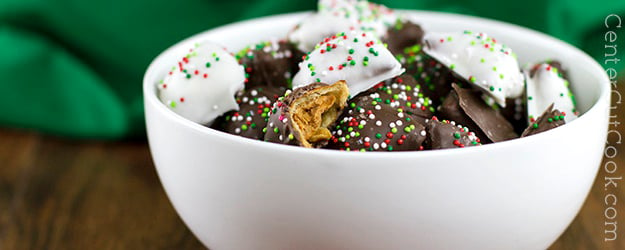 What could possibly be better than chocolate covered pretzels? How about Chocolate Covered Peanut Butter Pretzels!? I was first introduced to the concept of taking chocolate covered pretzels up a notch after seeing them at a store called Trader Joe's. Have you heard of Trader Joe's before? It's a specialty type grocery store that's not like any other store I've been in. I don't do my regular grocery shopping there, but I love to stop in every now and then and look for unique things to try. They've got these Oatmeal Dunker cookies that are super yummy, and a few other treats that I go back for. My hubby had tried these pretzels at work and said they were amazing, so I decided I'd buy a bag and try them for myself. The small bag was about $5.00 which seemed a little steep, but there's no doubt that they were a win.
Once I took a bite and realized all they did was coat peanut butter pretzels with chocolate, I decided I'd save my five dollars and coat my own peanut butter filled pretzels. Most grocery stores sells them these days, and Costco sells a huge container of 'em for cheap. And I mean, what's not to like? I knew this would be a hit with my family and friends and decided it was well worth it to make these guys for a holiday treat. Here's a picture of the container of peanut butter filled pretzels I buy at Costco:

The process is simple. I started by melting some chocolate almond bark in the microwave. Once it was completely melted, I started coating the pretzels, one at a time. I'd just toss a pretzel in the chocolate, use a spoon to help coat it, and then use a fork to lift it from the chocolate. I use a fork because the excess chocolate can easily drip off the pretzel between the prongs of the fork. Once the excess chocolate is removed, I carefully place the pretzel on a sheet of wax paper, sprinkle it with sprinkles, and allow it to firm up. Then it's just a matter of repeating the process over and over, and eventually switching to white almond bark if you want white candy coated pretzels. As a time-saving method, I'd typically coat about 6-8 pretzels at a time, then sprinkle them all with sprinkles. It's sort of tedious to do one at a time, but you can't do too many at a time, otherwise the chocolate hardens before you add the sprinkles and the sprinkles won't stick if the chocolate is firm.
Just a word of caution – these tasty little no-bake Christmas treats are addicting! I'm passing them out as Christmas gifts and sending my husband to work with some, just so they don't stay around my house. If I see them, I'll want to eat them! :)
INGREDIENTS
Peanut butter filled pretzels (I bought mine at Costco, but I've seen them at other grocery stores as well)
Almond Bark or Chocolate of your choice, melted
Sprinkles
DIRECTIONS
Line a baking sheet with wax paper.
Melt chocolate or almond bark according to package directions.
When melted, begin to coat peanut butter filled pretzels, one at a time. Allow excess chocolate to drip off. I use a fork to remove the pretzel from the chocolate because the excess chocolate is able to drip off easily. Place the coated pretzel on the cookie sheet that has been lined with wax paper.
If you're adding sprinkles, add them almost immediately after coating the pretzels so that they're added before the chocolate sets.
Allow the chocolate to firm up (only takes about 15-20 minutes) and enjoy!
Make as many as you'd like – I continued to coat pretzels until I ran out of chocolate.
Recipe idea from
Trader Joe's