Christmas is one of my favorite holidays. I love the idea of giving and taking time to be kind and take that extra mile for people. It's something I try to do the rest of the rest of the year, but it is nice to have a time when it becomes even more special. I also love holiday baking and the flavors we celebrate during the holiday season like gingerbread and eggnog. My favorite combination has to be chocolate peppermint which is why I had to make a chocolate peppermint bundt cake to share with you.
This cake is my favorite chocolate bundt cake recipe. It is unbelievably moist and rich with chocolate flavor. Whenever I want a nice weeknight dessert for the family, I always reach for this cake recipe. To make it more festive, I add a bit of peppermint extract, then top with crushed peppermints and chocolate coated pomegranates. The pomegranates are completely optional. They are just another touch of holiday flavor that I adore.
This chocolate peppermint bundt cake is perfect for any small holiday gatherings, or as a part of your dessert table during your Christmas feast. My only recommendation is to make two cakes because it will not last!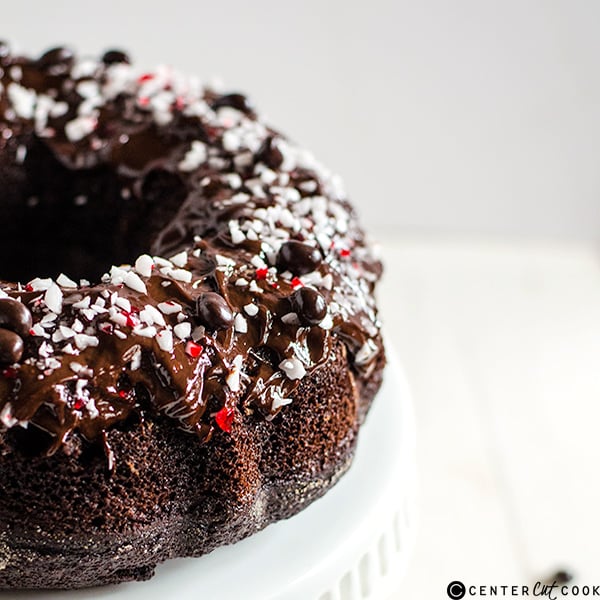 INGREDIENTS
DIRECTIONS
Preheat the oven to 350 degrees F. Grease and flour a bundt pan. Set aside.
Mix together the flour, sugar, cocoa powder, salt, baking powder, and baking soda. Set aside.
Mix together the yogurt, coffee, oil, eggs, and both extracts. Beat well until fully combined.
Slowly mix the flour into the wet ingredients and beat the mixture for about four minutes on medium speed. Stir in the chocolate chips.
Pour the batter (it will be liquidy) into the bundt pan and bake for 40 – 45 minutes, or until a toothpick comes out clean.
Allow to cool for about 10 – 20 minutes, and beat the sides of the bundt pan on the side of a counter or table to help loosen the cake. Turn the cake onto a wire rack and allow to cool completely.
While the cake is cooling, heat the baking chocolate and heavy cream in a microwave on half power for 45 seconds. Take out and mix. Heat for another 20 – 30 seconds on half power if the chocolate is not yet melted. Repeat as necessary until the chocolate is melted. Mix the chocolate and cream together until one creamy, chocolate color. Allow to cool in the fridge for 10 – 15 minutes, then pour over the top of the cake. Top with the crushed peppermint and pomegranate seeds, if using.
Servings: 10