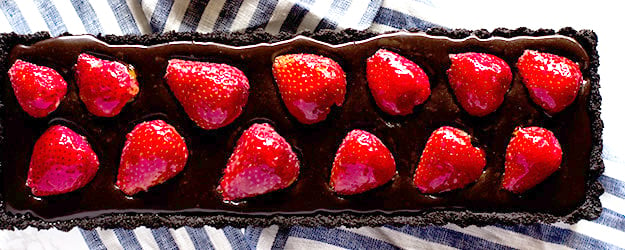 There is nothing like chocolate and strawberries together. I think it is one of my favorite treats to have and will often find myself dipping strawberries in chocolate when I have a sweet tooth late at night. Whenever I need to find a rich and decadent dessert that is still easy to put together, I reach for this chocolate strawberry tart. It is perfect because it's my favorite combination, and it is no bake! The whole thing takes just a few minutes to prepare. The hardest part about it is waiting for the chocolate to set!
My daughter loves the Oreo tart crust. It adds a nice familiar chocolate flavor that prevents it from tasting too "grown-up" and more of a crowd pleaser should you need to serve this to the young ones as well. My favorite way to serve this tart is to pipe small clouds of whipped cream between each strawberry and top with grated or shaved chocolate. My daughter loves to help with that part.
Typically, I use all dark chocolate if I am serving this chocolate strawberry tart to real chocoholics, but substituting half the dark chocolate with semi-sweet or milk chocolate gives it a sweetness that appeals to more people. If you don't have strawberries, you can substitute with any fresh berries or whatever fruit that is in season that you like to pair with chocolate!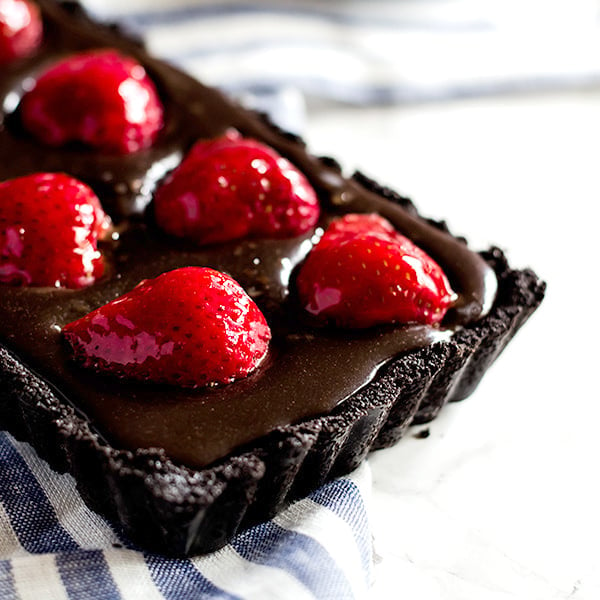 INGREDIENTS
10 oz (about 25) Oreos
1 cup unsalted butter, melted and divided
12 oz dark chocolate
3/4 cup heavy cream
1 teaspoon vanilla extract
5 strawberries
1/2 tablespoon apricot jam
1 teaspoon water
DIRECTIONS
In a food processor, blend the Oreos until they resemble fine crumbs. While the motor is running, add 1/2 cup of the melted butter. Blend until completely combined. Press into the bottom and sides of a 14 x 4 fluted rectangular tart pan. Place in the freezer while you work on the filling.
Melt the chocolate with the heavy cream and remaining butter and stir well to combine. Be careful to no aerate the mixture or else you will get a lot of bubbles when you pour the ganache into the tart.
Take out the tart pan and pour the ganache inside. Let it set in the refrigerator for about 20 minutes. While the tart is setting, hull and cut the strawberries in half lengthwise.
Take out the tart and place the strawberries slice side down. Mix the apricot jam and water together and brush on the strawberries. Leave in the refrigerator to finish setting for another 3 – 4 hours.
Top with powdered sugar and serve with whipped cream.