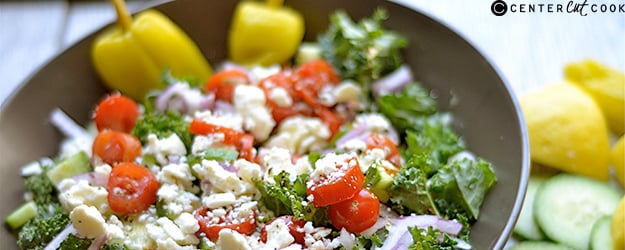 Get excited kale lovers!!! Yes, you can enjoy greek salad with your favorite greens. Even if they are not your favorite greens (I can tell you they are not mine), I promise you that may just find a new favorite way to eat kale. This is my absolute favorite way! And I am honest by saying that kale is not my favorite veggie, but because it's such a nutrient powerhouse and superfood, I am always on the lookout for ways to enjoy it. I am sure you are going to love this variation with the super crispy texture of chopped kale.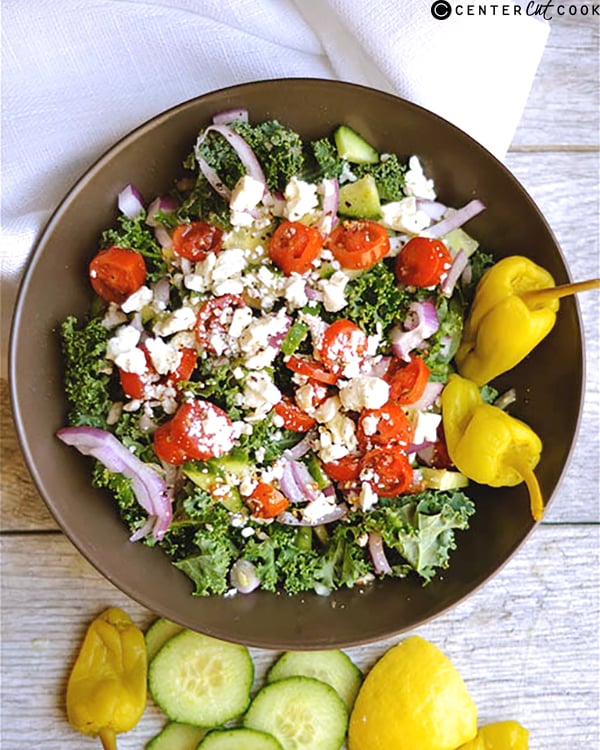 Greek salad is a staple in my house. I often throw it together last minute when I need a quick and easy lunch, or a side salad for dinner. And now that it's starting to get warm again, greek salad will definitely be making an appearance with all of my favorite grilled meats. I always keep the ingredients on hand, and can even whip together this salad really fast for an easy portable lunch.
The dressing is so easy and simple to throw together. No food processors or blenders required! Just shake up the ingredients in small covered dish, or whisk together. The dressing also holds well in the refrigerator for at least a week, so you can enjoy it for several days. To add more protein to your salad, feel free to dress it up with grilled chicken, chickpeas, flank steak, or even a piece of salmon. It would make the perfect complete dinner!
SALAD INGREDIENTS
1 large head of kale or bagged baby kale (about 10 oz)
6 inch cucumber
1 pint cherry or grape tomatoes
1/2 large red onion
3/4 cup crumbled feta cheese
1/2 cup kalamata olives
6 greek pepperoncinis
Lemon pepper for garnish
GREEK LEMON VINAIGRETTE INGREDIENTS
1/2 cup olive oil
1/3 cup red wine vinegar
Juice of 1 lemon (about 3 tbsp)
1 tsp dijon mustard
1 tsp ground pepper
1/2 tsp coarse salt
DIRECTIONS
Rinse and dry kale, cucumber, and tomatoes.
Chop kale, cucumber, red onion, tomatoes, and olives into small chunks and place inside a large bowl.
Top with pepperoncinis and feta cheese.
Place dressing ingredients inside a bowl and whisk together. Pour over salad and toss to coat all the ingredients. Sprinkle with lemon pepper for garnish and flavor.
Serve immediately or add additional protein: grilled chicken, chickpeas, steak, or salmon.
Servings: 4