I think that if I had the ability to change up the food pyramid, I would put guacamole right at the base of the pyramid as the foundation of every good diet. Everyone would be required to have at least 4 servings of guacamole a day. I'm not sure on the long term affects of that declaration, but I do know that we would be happier for it.
There are so many ways to do guac, but there is nothing like chunky guacamole in my opinion. You have all the texture and bright bursts of flavor. Not to mention it is totally easy to make since you aren't going crazy trying to get your avocado perfectly smooth. In my opinion, avocado should always be prepared chunky-style.
Many people wonder how some guacamole stays nice and green much longer than others. The secret is two-fold. First (and most important), use plenty of citrus. Second, keep any unused chunky guacamole in an airtight container. The acid in the citrus helps to keep the avocado from oxidizing, so if you are using nice, ripe avocado in your guacamole, it will retain it's vibrant color when you add enough citrus.
About the citrus, most people tend to use just lemon or just lime. I recommend using both. It gives you so much flavor. This will also help in letting you use more citrus for color retention without the taste any one citrus overpowering the other flavors in your guacamole.
The recipe is easily doubled or halved, and I highly recommend experimenting with different add-ins to match your particular tastes and preferences. Consider this more as a foundation recipe for you to customize as you wish!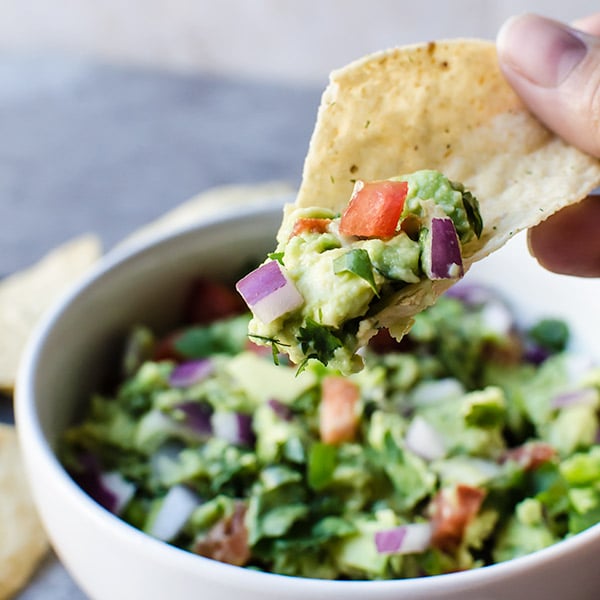 INGREDIENTS
2 medium hass avocados, ripe
1/2 a lemon
1/2 a lime
1 medium tomato
1/4 red onion
1 jalapeno (optional, but recommended)
2 tablespoons chopped cilantro
1/2 teaspoon kosher salt, or to taste
DIRECTIONS
Cut both avocados in half and remove the seeds. Rub each with either a lemon or lime. Lightly mash 1 1/2 of the avocados, then juice the lemon over the mashed avocado and stir together. It should still be mostly chunky and not completely smooth. Dice the remaining avocado half. Drizzle the lime over the diced avocado and set aside.
Dice the tomato and lightly dry off the excess juice. Dice the red onion. Cut the jalapeno in half and remove the seeds. Wash, then finely dice the jalapeno.
Stir in the tomato, onion, jalapeno, cilantro, and salt to the mashed avocado. Fold in the diced avocado.
Serve immediately, or store in an air tight container in the refrigerator for up to two days.
Servings: 2 – 4 people