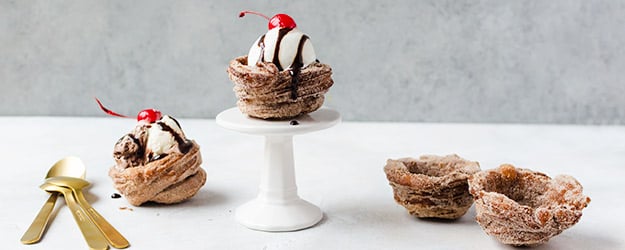 There seems to be a new food trend happening every five seconds and a lot of it seems a little too over the top (but still pretty amazing). One trend in particular, churro ice cream bowls, caught my eye a while ago and I haven't been able to get it out of my head until I eventually gave in.
Best. Decision. Ever.
As it turns out, churro ice cream bowls are as every bit amazing as they look in just about 1000 different videos you see of them on facebook. They are crisp and sweet and cinnamony. When you have a bowl that is still warm and it melts the ice cream a little, it is just incredible. The things of which dreams are made.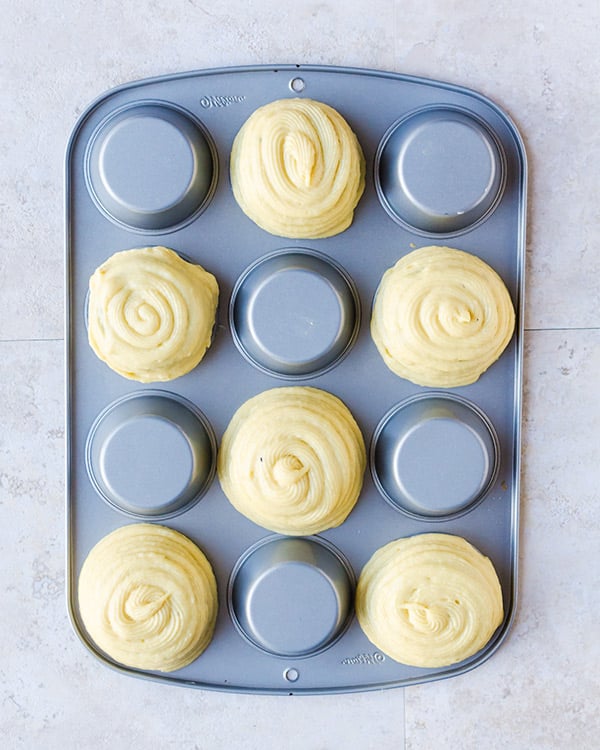 What is so great about this particular recipe is that you can double and halve the recipe easily depending on how many churro ice cream bowls you want to make. When doubling the recipe, please keep in mind that you need to pipe the churros one every other muffin tin well and the churros need to remain frozen as you batch fry them.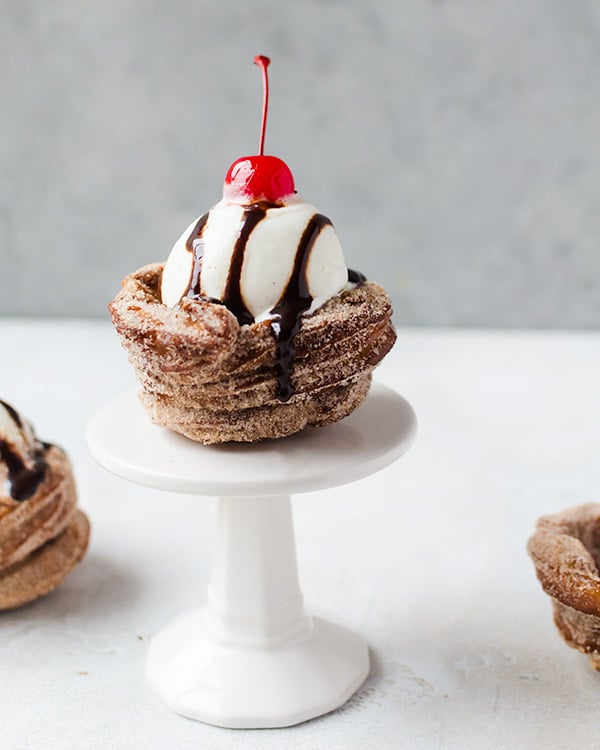 Unfortunately, churro ice cream bowls aren't as good when saved for later. They lose some of their crunch and tend to become more chewy and soft. If you do need to save them, I recommend keeping them in an airtight container, and for no longer than three days.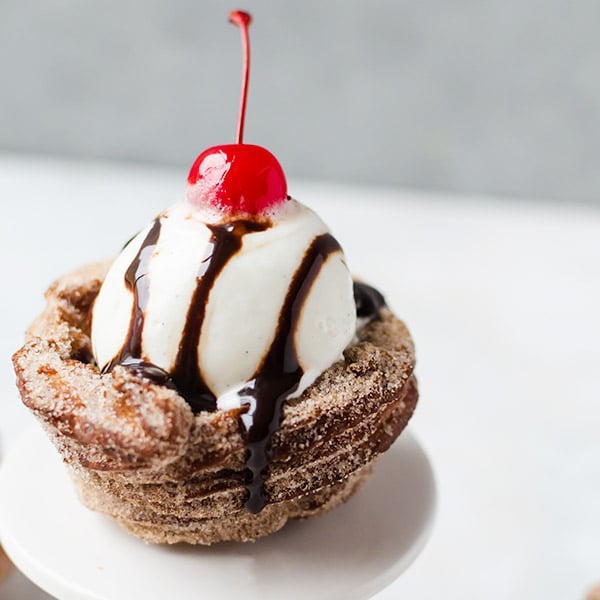 INGREDIENTS
DIRECTIONS
In a large saucepan, add the water, butter, and sugar. Heat until boiling.
Add the flour and salt, then mix until combined. Remove from heat.
Allow to cool for about 5 minutes, then stir in the vanilla and one egg. Beat until completely combined. This may take a minute or two. Beat in the second egg until completely combined.
Fit a piping bag with a star tip and fill with the churro dough.
Lightly grease the bottom of a muffin tin, taking extra care to get all the sides.
Pipe the dough on every other muffin tin well. I find it is easier to start at the bottom and end at the top.
Freeze for at least two hours. Gently loosen the churros off the muffin tin and put back in the freezer.
Heat oil in a large saucepan or deep fryer to 375 degrees F. The oil should be at least four inches deep. Line a wire rack with paper towels.
Take one or two of the churros bowls from the freezer and fry until it is a nice golden brown on every side. Leave on the wire rack. Repeat with the remaining churro bowls.
Toss the sugar and cinnamon together, then coat the bowls with the cinnamon sugar.
Fill with ice cream and any toppings. Serve immediately.
Servings: 5 bowls