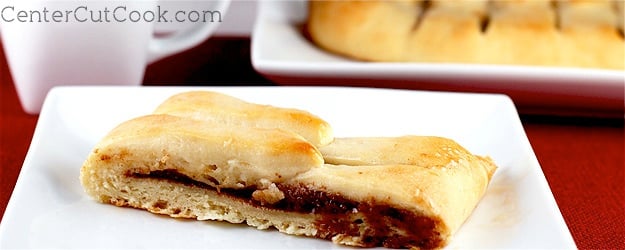 I've already talked about one of my favorite combinations consisting of cinnamon and sugar when I made these Cinnamon Sugar Muffins. It truly is one of my favorite combos, especially when it comes to pastries, desserts, and other breakfast treats. When I decided to make coffee cake this past weekend for breakfast, I had to decide between three options – cream cheese, fruit filled, or cinnamon sugar. All sounded lovely, but the Cinnamon Sugar Coffee Cake won.
Now, I've made coffee cake before, but I've never gotten all fancy and tried to do a braided coffee cake, mainly because it looked tricky, and sometimes I'm a wimp. It turns out, the whole braided look is so easy to achieve. I started with a basic slightly sweet dough, rolled it out into a 14 x 11 inch rectangle, and then began making cuts. Each line in the diagram below shows you where you should cut. Each cut was about three inches long and they were spaced about 1.5-2 inches apart.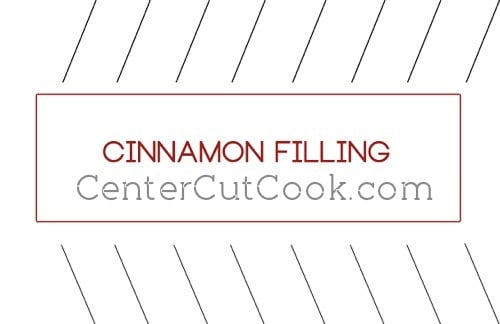 When I was done making the cuts, I spread a cinnamon sugar filling down the middle and then began folding the strips towards the middle to create the braided look. After 45 minutes of rising, my coffee cake was ready to bake. It didn't look perfect, but it still looked impressive. Once it was done baking, I drizzled it with a light glaze and it turned out fantastic!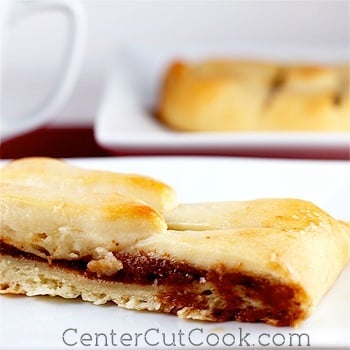 DOUGH INGREDIENTS
3 cups all purpose flour – divided
1/4 cup sugar
1 package quick-rise (instant) yeast
1/2 teaspoon kosher salt
1/2 cup milk
1/2 cup butter – softened
1/4 cup water
1/2 teaspoon vanilla
1 egg
CINNAMON FILLING INGREDIENTS
GLAZE INGREDIENTS
DIRECTIONS
In the bowl of your mixer with the dough hook attached, combine 2 cups flour, sugar, yeast, and kosher salt.
In a small saucepan, heat milk, butter, and water to 120-130 degrees. I didn't use a thermometer, I just heated it until right before it began to boil.
Add wet ingredients to the dry and beat until it's incorporated. Add in 1 cup flour, vanilla, and egg, and beat until the dough is smooth.
No need to knead, just form the dough into a ball, cover it, and let it rest for about 10 minutes.
While the dough is resting, combine the sugar, brown sugar, and cinnamon together for the filling mixture.
When dough has rested 10 minutes, roll it out into a 14 x 11 inch rectangle. (I flipped my cookie sheet over and rolled the dough out on it to help me get the correct shape.)
Begin making cuts 3 inches long on a diagonal about 1.5-2 inches apart. Refer to the diagram above for help.
Spread the cinnamon sugar filling mixture down the middle.
Begin folding over the strips of dough on an angle across the filling. Pinch the ends of the dough to seal in the cinnamon sugar mixture.
Grease a 14 x 11 inch pan and place the coffee cake on the pan
Cover the coffee cake and let it rise in a warm place (I put mine next to the pre-heated oven) for 45 minutes.
Pre-heat your oven to 375 degrees
Bake for 20-25 minutes or until the coffee cake starts to lightly brown.
While the coffee cake is baking, prepare the glaze by mixing together 1/2 cup confectioners' sugar and 1-2 tablespoons half and half or milk.
Allow the coffee cake to rest for a few minutes, then drizzle glaze over the top. Serve warm.
Recipe adapted from
Taste of Home