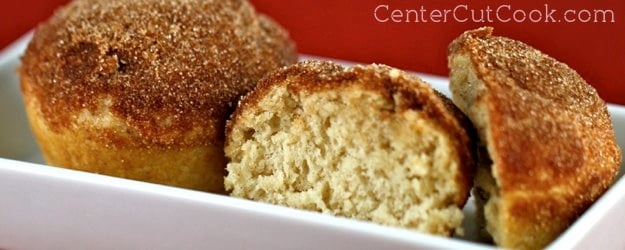 One of my all-time favorite combinations has to be cinnamon and sugar. This combo goes great on toast, with apple pie, on coffee cakes, and even sprinkled on top of hot cocoa. There's something comforting about it which is why I was so excited to come across a super simple recipe for cinnamon sugar muffins. I modified the recipe a bit to add a little more cinnamon. The result is perfect cinnamon sugar muffins that are best served fresh out of the oven! I like to serve them with crisp bacon on the side, along with a fresh fruit salad.
Let's talk for a minute about cinnamon. I think cinnamon is one of those ingredients that most people have in their stash of spices, yet not many people realize the health benefits it offers. Not only does it taste fabulous, it is also known to regulate blood sugar which is very helpful for anyone, but especially those with Type 2 Diabetes. There are other benefits cinnamon offers which you can checkout here.
Alright, now on to these delicious buttery cinnamon sugar muffins! I'd be surprised if you didn't already have all of the ingredients you need on hand, which is another reason I love them. Any delicious recipe I can make without needing to make a trip to the grocery store gets a gold star from me.
MUFFIN INGREDIENTS
1/3 cup butter, melted
1/2 cup sugar
1 egg
1 1/2 cups flour
1 1/2 tsp. baking powder
1/2 tsp. cinnamon
1/2 tsp. salt
1/4 tsp. nutmeg
1/2 cup milk
TOPPING INGREDIENTS
1/2 cup sugar
1 tsp cinnamon
6 tablespoons butter
INSTRUCTIONS
Pre-heat oven to 350 degrees.
In a bowl, mix together dry muffin ingredients. Add in wet muffin ingredients and stir well.
Lightly grease your muffin tin or prepare it with cooking spray.
Spoon enough batter into each muffin cup so that it is a little more than 1/2 full. You should get around 8 muffins out of this mixture.
Fill any empty muffin cups with a bit of water. This step helps ensure even baking.
Bake for 20-25 minutes until muffins start turning golden brown at the edges.
While the muffins are baking, prepare the topping mixture by combining sugar and cinnamon in a small bowl. In another bowl, melt 6 tablespoons of butter
When the muffins come out of the oven, dip each in butter, then in the cinnamon and sugar mixture.
Eat immediately! These babies are amazing fresh from the oven. They heat up well, but I'd take a fresh cinnamon sugar muffin any day!
Recipe adapted from Velvet Lava