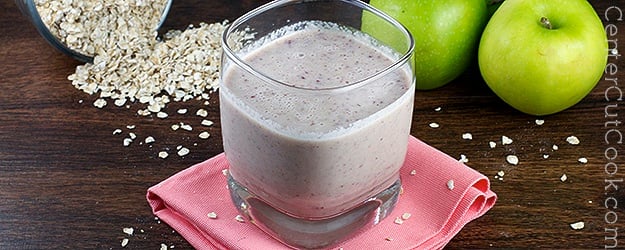 Ever since I bought my VitaMix Blender, I've been making smoothies like they are going out of style! While I love this High Protein Strawberry Smoothie, and this Strawberry Pineapple Smoothie, I regularly change things up to keep smoothies exciting. I do this by trying various combinations of fruits (berries, citrus, etc.), yogurts (greek), and liquids like orange juice and apple juice. And sometimes, I get really adventurous and throw things in like oatmeal and dried cranberries!
This Can-Apple Oatmeal Smoothie is the perfect combination of flavors! A crisp green Granny Smith Apple (I love the tartness of this particular apple for this smoothie), dried cranberries, cinnamon, yogurt, and oatmeal come together to give you the hearty type of smoothie you look for to keep you full all morning long.
Oatmeal is definitely not a typical ingredient found in a smoothie, but that's what I love about it. During winter months, warm oatmeal is one of my breakfasts of choice, so the thought of oatmeal in a smoothie was actually quite appealing. The only "con" about this delectable smoothie is that it doesn't exactly look pretty like some of the other smoothies I make. Any smoothie with berries in it usually looks so pretty! This smoothie has no berries, therefore the color looks pretty bland. Rest assured, however, while this smoothie looks bland, it is packed with flavor!
Whether you're looking for a healthy blended beverage for breakfast, or an afternoon snack that won't leave you feeling guilty, give this Cran-Apple Oatmeal Smoothie a try.
INGREDIENTS
1 small granny smith apple, washed and quartered
1/2 cup low-fat vanilla yogurt (I used Stoneyfield's organic low-fat vanilla yogurt)
2 tablespoons quick oats
A pinch of ground cinnamon
A small handful of dried cranberries
5 ice cubes
DIRECTIONS
Place all of the ingredients in the blender and blend on high until everything is combined and you have a smooth, creamy smoothie.
Add water if necessary, to thin out the smoothie to your desired consistency. I did not feel the need to add water to my smoothie.