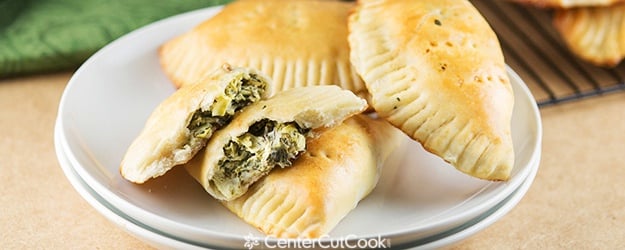 Hot Pockets. Let's talk about 'em, shall we? My college days involved more frozen food then I'd ever care to admit with one of my faves being Hot Pockets and Lean Pockets. Goeey cheese and ham stuffed in a pocket, and ready in just a few minutes always sucked me in as did the pepperoni pizza, and the turkey, broccoli and cheese flavors. Not the healthiest options, but when you're a college student on a limited budget, you do what you can do get by!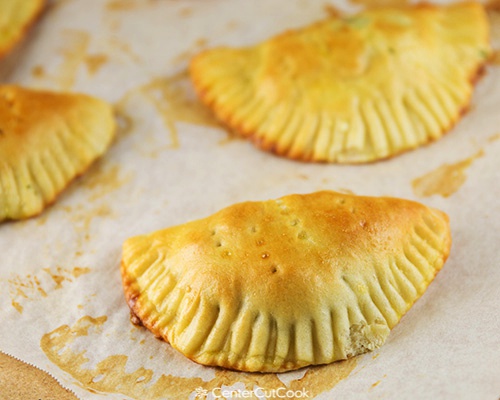 When I set out to make these homemade Creamy Artichoke Spinach Pockets, it never occurred to me that the recipe would turn out similar to a hot pocket. In fact, the word "pocket" never came to mind. All along, I thought I'd call this recipe "Creamy Artichoke Spinach Turnovers" ….until I took the first bite of creamy deliciousness and it occurred to me that it actually reminded me of a Hot Pocket! The word "turnover" was eliminated from the title and quickly replaced with "pocket." Call 'em whatever you'd like, all you need to know is that there are few things better than a soft pocket filled with creamy artichoke spinach dip!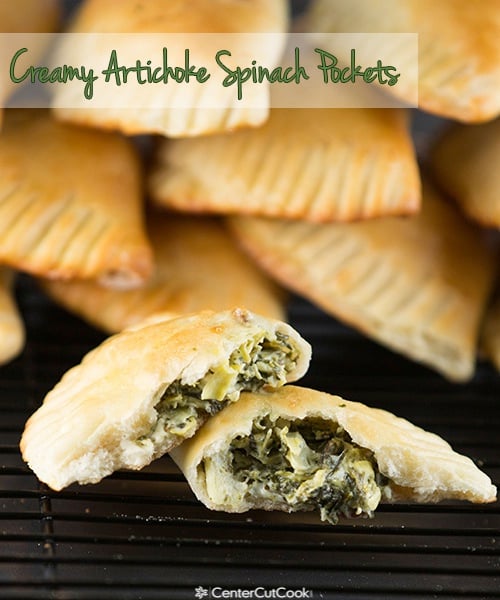 The concept is simple, you'll start by making the dough – no mixer is required for this one! Just a good ole wooden spoon, and your hands to do a little kneading. While the dough is rising a bit you'll make the filling. If you've made artichoke spinach dip before (You need my Four Cheese Warm Spinach Artichoke Dip in your life!), this filling is essentially the same deal – artichokes, spinach, cream cheese, garlic, and a little parmesan cheese.
The dough will get divided up into 16 pieces, then each piece will get rolled out into a 4 inch circle. You'll plop a heaping tablespoon of filling on one side of the dough, then fold it over and use a fork to pinch the edges shut. To get that beautiful golden brown color on top, you'll want to brush each pocket with egg wash which is simply an egg mixed with a little water.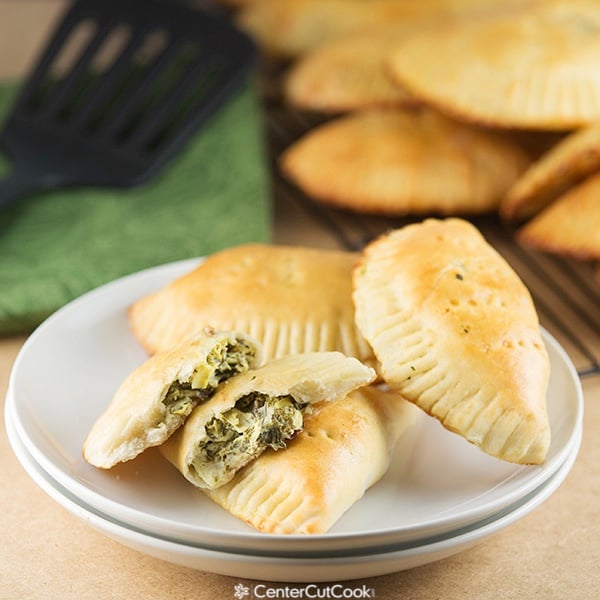 After about 15-20 minutes in the oven, you'll have 16 beautiful, golden brown, Creamy Artichoke Spinach Pockets just begging to be eaten!
*Tip 1: Sometimes I add crispy cooked bacon to the artichoke spinach mixture and it's awesome!
*Tip 2: Be sure to drain the spinach really well, otherwise you will end up with a watery mixture. Sometimes I use a clean kitchen towel to squeeze out as much liquid as possible, but I've also found that a potato ricer works well too.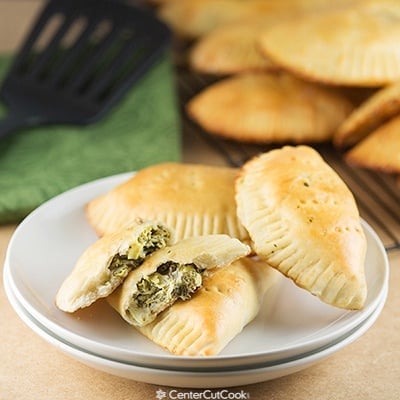 DOUGH INGREDIENTS
FILLING INGREDIENTS
4 slices crispy bacon, crumbled *Optional
6 ounces artichoke hearts, chopped
10 ounces frozen spinach, thawed and drained really well
8 ounce package cream cheese, softened
1 cup shredded parmesan cheese
1/2 teaspoon dried basil
1 garlic clove, finely minced
1 egg, lightly beaten
1 teaspoon water
DOUGH DIRECTIONS
In a small bowl, mix together yeast and 1 cup warm water. Set aside for about 10 minutes.
In a large bowl, combine 2 and 3/4 cup flour and 1 teaspoon salt. Add in water/yeast mixture, 2 tablespoons of olive oil and 1 tablespoon honey. Use a wooden spoon to mix well.
Sprinkle flour on a clean, dry surface and begin kneading the dough for about 3-5 minutes. Add in a little flour at a time, up to 1/2 cup until you're left with a smooth, elastic dough.
Form the dough into a ball and place in a lightly greased bowl. Cover and let the dough rise until it's about doubled in size. This typically takes about an hour.
POCKET DIRECTIONS
Prepare two large baking sheets by lining them with parchment paper or lightly greasing them.
Preheat the oven to 400 degrees.
Combine all of the ingredients for the filling in a large bowl – bacon, artichoke hearts, spinach, cream cheese, parmesan cheese, basil, and garlic.
In a small bowl, combine the lightly beaten egg with 1 teaspoon of water. Set aside.
Punch down the dough and divide it into 16 equal pieces. Use a rolling pin to roll out each piece of dough into a 4 inch square.
Place a heaping tablespoon of filling on one side of the dough. Fold the side without the filling over to create a pocket. Pinch the dough shut with your fingers. Use a fork to press along the edges to seal the pocket shut. Repeat the process until all 16 pockets have been made. Poke the top of each pocket with a fork a couple of times.
Arrange the pockets on the baking sheet, making sure to leave a bit of room between each pocket.
Allow the pockets to rise for about 15 minutes, then brush each with egg wash.
Bake for 15-20 minutes or until the pockets are golden brown.
Recipe from
CenterCutCook