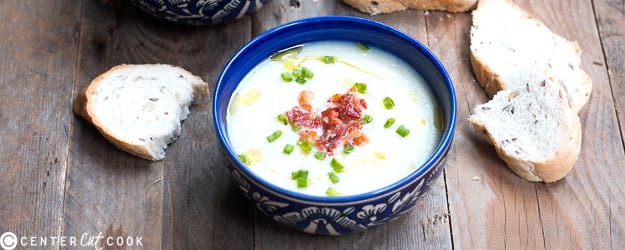 We've been serving this creamy cauliflower bacon soup at our dinner parties for a while now, because it's always a hit. It's also a sure shot conversation starter, because it'll keep everyone guessing. Parsnip, onion and even potato are some answers you'll get and they'll be shocked when you say it's made of cauliflower!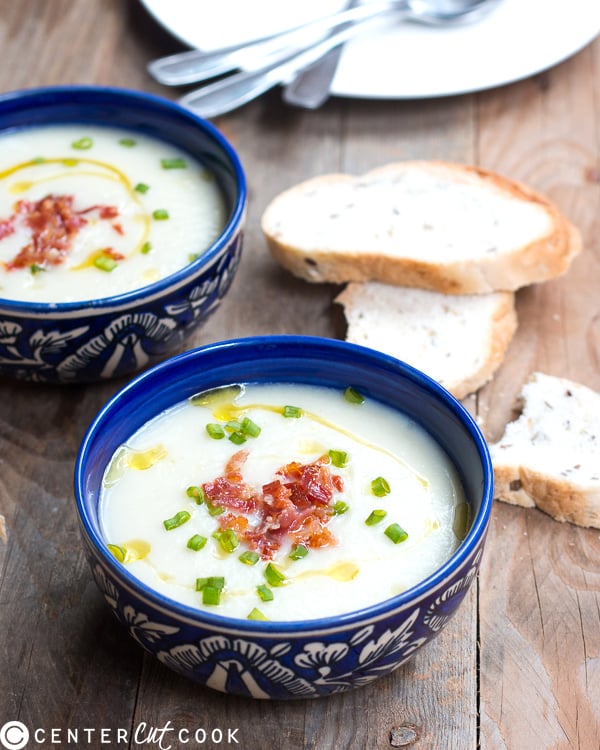 This soup is creamy, earthy and smokey, which are all wonderful flavours when you want comfort food. It's also really easy, and you'll be surprised to know that it has no dairy. Adding one potato is the secret to the creamy, luscious consistency of this soup.
With a short ingredient list, this soup can be perfect for a busy weeknight dinner. Or you could serve it at your next party, like we did. You can skip the bacon if you are vegetarian. Or top it with croutons for extra crunch. Broil it for a few minutes with some cheese if you are into that sort of thing. But we like to keep it simple with a drizzle of olive oil and crispy bacon bits on top.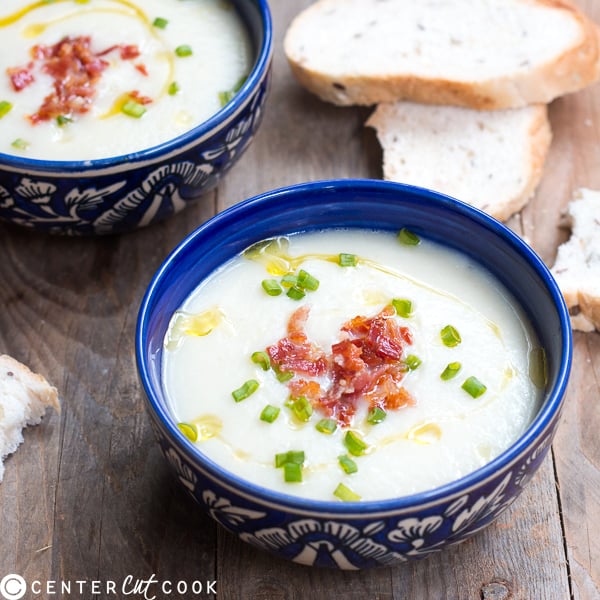 INGREDIENTS
5 strips of Bacon, chopped finely
4 Garlic cloves, minced
1 large Onion, chopped
1 whole head of Cauliflower, washed and cut
1 Potato, peeled and chopped
1 quart low sodium Vegetable Broth
Olive Oil for topping
DIRECTIONS
In a large pot, saute bacon till crisp. Remove bacon with a slotted spoon and set aside.
In the remaining bacon fat, add bay leaf, garlic and onions. Saute till the onions are softened (don't brown them).
Add cauliflower, potato and broth to the pot. Bring it to a boil and lower to a simmer. Cook until the cauliflower and potatoes are soft, which will take around 20 minutes. Remove from heat.
Remove the bayleaves and blend the soup in small batches in a blender, or use an immersion blender to blend the soup.
Add bacon to the soup and mix, while leaving a few bits for topping.
Serve hot topped with bacon bits and a drizzle of olive oil.