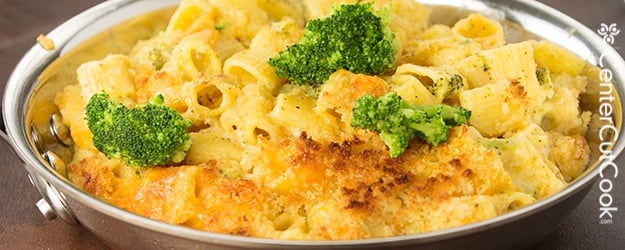 I am a complete sucker when it comes to macaroni and cheese which means it is serious business in this house when I am attempting a new recipe. It is not taken lightly, by any means, no siree, which is why when I tell you that this could possibly be my most favorite macaroni and cheese recipe ever, you better believe it's going to be good! Put aside that blue box, friends, and give this recipe a try!
One of the most important elements to good macaroni and cheese is… the cheese! For this recipe for Creamy Four Cheese Baked Pasta Skillet, I used havarti (creamy, rich, delicious) combined with tangy provolone, sharp cheddar cheese, and cream cheese for the creaminess it adds! Even if you do not like cream cheese, no worries, you do not taste it. I simply added it for the overall creaminess it adds to the dish. May I also suggest that you shred your own cheese? It makes quite a bit of difference in terms of taste and its ability to melt and become all ooey and gooey! And please, do NOT leave out the havarti. It adds something to this recipe that can't be replaced by any other cheese (raise your hands, Havarti fans!). I use my food processor to shred the cheese and it makes the process so much quicker!
You'll start by making the sauce in a nice big skillet that's also oven-safe (you'll be popping it in the oven at the end!). The sauce consists of sautéing shallots and garlic in a bit of olive oil and butter. Then you'll add some flour to make a roux. Stir in a little milk, then whisk whisk whisk. I've found that your sauce will be chunky, and grainy if you don't whisk really thoroughly during this step! You'll add in most of the cheese (reserve a bit to add to the top), reduce the heat, and stir until you have a thick, creamy, melty cheese sauce!
Oh, and let's not forget the pasta! While you're making the sauce, cook about a pound of rigatoni for about 8 minutes. You don't want it completely cooked because it will finish cooking once you pop the skillet in the oven. I wanted to smuggle in some veggies, so I tossed in about 10 ounces of frozen broccoli right along with the pasta as it cooked.
When the pasta/broccoli is cooked, you'll stir the pasta into the cheese sauce, then top the skillet with the reserved shredded cheese. Melt 3 tablespoons of butter to stir in with about 1/2 cup panko bread crumbs, then sprinkle the panko mixture over the top. Pop it into the oven for about 30 minutes. If you want the panko to brown even further, broil it for just a few extra minutes. When it's done, you'll be left with this:
Oh-so-cheesy, delicious, Creamy Four Cheese Rigatoni Skillet! I reserved a couple of the broccoli florets for garnish, just because they looked so bright and green and pretty. Just a word of caution though, be EXTRA careful when you remove the skillet from the oven because it is super hot. I'm used to being able to grab the handles on my pots and pans without getting burned, so I ended up with a nice little burn on my hand. Also, if you didn't catch my tip earlier, make sure you are using an oven-safe skillet. If yours is not, transfer everything to a baking dish before you bake it.
This recipe serves 4-6 people, and is best eaten fresh. While it heats up fine as leftovers, it is definitely best to eat it shortly after it comes out of the oven! Enjoy!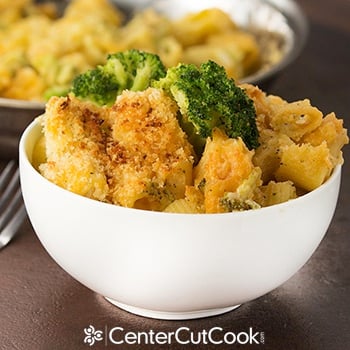 INGREDIENTS
1 pound rigatoni (I used the mezzi rigatoni – the smaller ones because it's great for baked dishes)
10 ounces frozen broccoli (omit if you'd like)
1/2 tablespoon olive oil
5 tablespoons unsalted butter
1 shallot, finely chopped
3 cloves garlic, minced
1/4 cup all-purpose flour
2 cups milk (I used 1%)
1/4 teaspoon salt, 1/4 teaspoon black pepper
8 ounces havarti cheese, grated
8 ounces provolone cheese, grated
8 ounces sharp cheddar cheese, grated
4 ounces cream cheese, softened
1/2 cup panko bread crumbs
3 tablespoons melted butter
DIRECTIONS
Pre-heat your oven to 375 degrees.
Cook pasta for a few minutes less than package directions. If you'd like broccoli in your pasta, add frozen broccoli to the boiling water when you add the pasta to cook. Drain and set aside.
In a large oven-safe skillet, melt 5 tablespoons unsalted butter with 1/2 tablespoon olive oil over medium. When the butter is melted, sauté the shallot until tender. Add in the garlic and cook for a minute more, until fragrant.
Sprinkle in 1/4 cup all-purpose flour and whisk well. Allow the flour/butter mixture to cook for just a couple of minutes.
Slowly whisk in milk. Whisk really thoroughly to eliminate any clumps! If you do not whisk well, you will end up with a grainy sauce. Season with 1/4 teaspoon salt and 1/4 teaspoon black pepper.
When the milk is well combined with the roux (that's the flour/butter combo), reduce the heat to low and stir in the cream cheese. Reserve about 1 cup of shredded cheese, then stir in the remaining cheese. Continue stirring until you have a smooth, creamy cheese sauce.
Add the cooked pasta and broccoli to the skillet with the cheese sauce. Adjust seasonings according to taste. Sprinkle the reserved cup of cheese over the skillet
In a small bowl, combine 1/2 cup panko bread crumbs with 3 tablespoons melted butter. Sprinkle this mixture over the top of the skillet.
Bake for 30 minutes. If the crispy panko topping isn't browned to your liking, broil it on high for just a few minutes until it's browned to your preference.
Allow the baked pasta skillet to cool for a few minutes before serving.
Recipe from
CenterCutCook