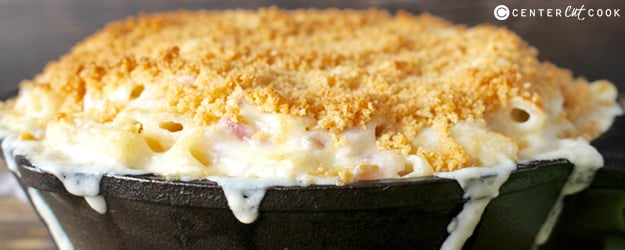 This mac and cheese is super creamy, and because it is baked in one pot, it's perfect for a weeknight meal.
This does have a crumb topping, but it is delicious with or without it. Personally, I like mac and cheese plain, but my husband thinks the crumb topping is a must to make it like a true jalapeño popper. I used some gluten free cheesy crackers that I crushed and it goes great with the pasta and adds a nice crunch. I have used panko in the past and that works great too.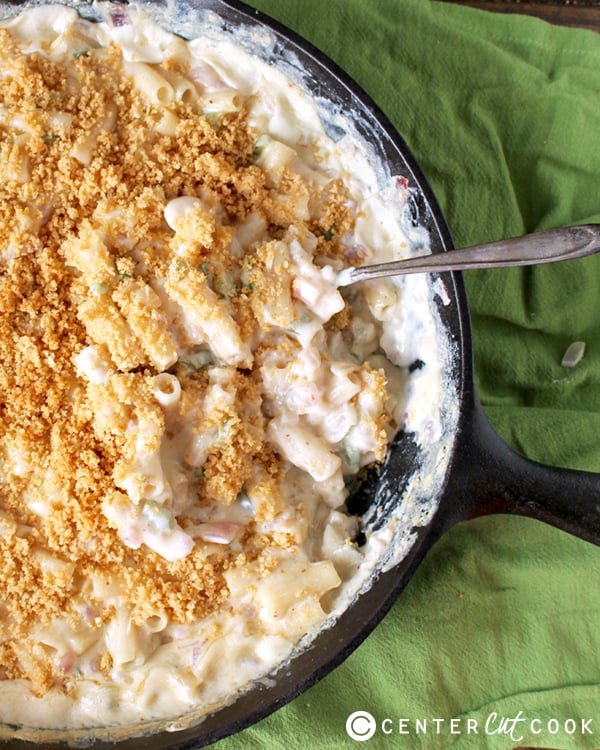 One tip I have to make this meal come together even quicker is to prep all the ingredients ahead of time. When I made this, I cut the jalapeño and onion and shred the cheese the night before. That way on the day I wanted to cook it, everything was ready and it came together so fast. And you definitely want to shred the cheese yourself instead of buying pre-shredded. It really helps make the sauce creamy instead of grainy. It just takes a couple minutes and is worth it for a silky smooth sauce.
The recipe calls for 2-3 jalapeños- use what you feel comfortable with. Some of the heat does cook out while sautéing, so this isn't an over the top spicy recipe. It has just the right amount of heat and adds great flavor. It's also cooled down by the cream cheese and milk. Now if you do like heat, feel free to add 3 or 4 to really get that spice.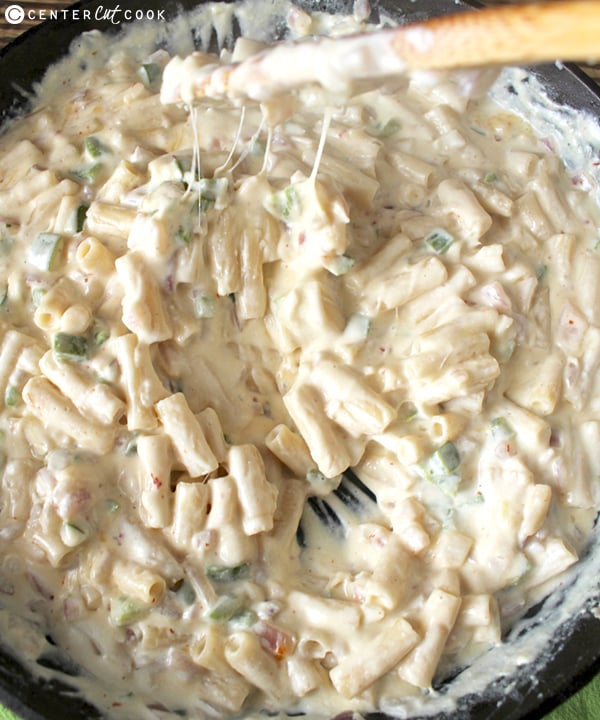 There is no meat in this, but it would be amazing with some bacon or chicken sausage added. I think as is, it would be perfect for a football game served as a side dish.
You will love how easy this meal is, how creamy and delicious it is, and how it only dirties one dish.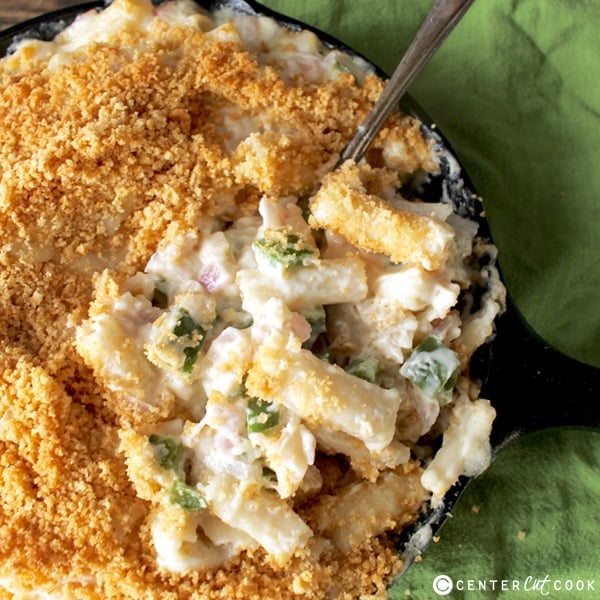 INGREDIENTS
2-3 jalapeños, seeded and diced
1 medium onion, diced
1 teaspoon garlic powder
1/2 teaspoon salt
8 ounces cream cheese
2 cups milk
1 cup water
8 ounces dried pasta (I use gluten-free penne)
8 ounces shredded monterey jack cheese
1/2 cup bread crumbs or cracker crumbs
1 tablespoon olive oil or coconut oil
DIRECTIONS
In a large skillet, saute peppers and onions with garlic powder and salt. Cook until softened, about 5 minutes.
Stir in cream cheese and mix until it is melted. Add in the milk, water, and dry pasta.
Bring to a boil and simmer on medium 10-15 minutes, stirring regularly, until pasta is cooked through.
Meanwhile, combine cracker crumbs and oil in a small bowl and mix until all the crumbs are evenly coated.
Preheat oven to 400°
Once pasta is cooked, add cheese and stir in to melt. If using an oven safe pan, top with crumbs and place in oven for 5-10 minutes to brown. Or, pour pasta into a 9×9 pan and top with crumbs and bake for 5-10 minutes.
Servings: 4