If you love Chinese food and have tried to cook it at home, you might have found that lots of stir fry recipes require a wok and a powerful gas stove. This is only half true.
Yes, cooking a delicious stir fried dish with moist and tender meat does requires high heat and a short cooking time, but it doesn't mean you need a Chinese kitchen to accomplish it.
In my recipe, you can learn how to create tender, juicy beef just like you'd get from a restaurant, with your flat skillet and electric stove.
The secrets are:
Always marinate the meat and coat it with a thin layer of potato starch (or any other type of starch you prefer). The potato starch will protect the meat from direct heat and keep the inside tender, even if it's a bit overcooked.
Make sure you use a large flat skillet instead of a flat-bottomed wok, and cook with the largest element on the stove. An electric stove won't generate enough heat for a wok; your veggies will turn into a stew due to the weak heat.
Always cook the meat separately and return it to the skillet later to mix it with the veggies.
Sear the meat at high heat without overlapping the pieces, just like you'd cook meat on a grill.
Lastly, maybe this doesn't even sound like a real stir fry, but it guarantees that you'll char the surface of the meat evenly with a very short cooking time. It yields a moist texture without overcooking. If you use this approach, you'll get results very close to those from a wok.
Most of the time, overcooking happens within a single minute when cooking a small amount of food at high heat, so here are a few things to note:
Make sure you finish reading the recipe before cooking it. If you are spending time reading anything while cooking this, chances are, the meat is already overcooked.
Prepare and mix all the ingredients, and place them near the stove before starting.
Do not follow a cooking time, but rather judge the doneness by watching and listening. If the skillet starts to smoke fiercely, remove it from the stove for a bit to let it cool down.
You'll need to move quickly during the cooking process.
OK, I'll stop here before scaring you away from trying out this dish! In fact it's a very simple dish that can be prepared and cooked in 15 minutes, once you get the drill down.
I hope you enjoy!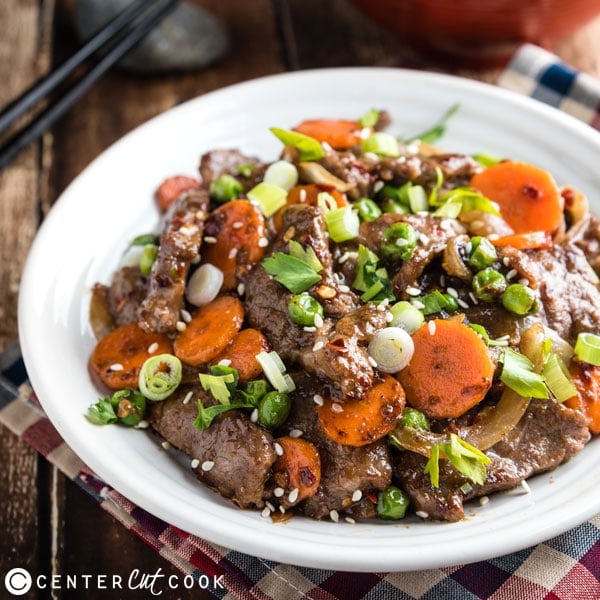 MARINADE INGREDIENTS
10 ounces short rib steak (or sirloin, or tenderloin), cut against the grain into 1/8 inch thick slices
1 tablespoon Japanese sake (not any rice wine that contains salt)
2 teaspoons soy sauce
1 tablespoon potato starch
SEASONING INGREDIENTS
2 teaspoons cumin powder
2 teaspoons chili flakes or crushed red pepper (or 1/2 teaspoon chili powder), skip or reduce the amount for non- or less- spicy dish
1/4 teaspoon salt
STIR-FRY INGREDIENTS
1 1/2 tablespoons vegetable oil
3 cloves garlic, sliced
1/4 small onion, sliced
1 small carrot, sliced
1/4 cup frozen peas
DIRECTIONS
Combine short rib steak, Japanese sake, and soy sauce in a small bowl. Mix well and set aside.
Combine cumin powder, chili flakes (if using), and salt in a small bowl.
Place the marinated beef, seasoning, all the ingredients for the stir-fry, and your extra salt near the stove.
Heat vegetable oil in a large nonstick skillet (or a wok) over medium high heat until hot. Make sure to use a large element if using electric stove.
Add beef and marinade to skillet. Quickly spread beef with two spatulas or a pair of tongs so there is as little overlapping as possible, just like when grilling meat. The bottom side of the beef will be charred very quickly, practically by the time you've finished spreading all the beef slices (if the pan is hot enough). Quickly flip them to grill the other side. When the bottom side is slightly charred, stir a few times with a spatula, and immediately transfer everything to a plate. The beef should be charred on the surface but still a little pink inside.
Turn to medium heat. Remove the skillet temporarily from the stove if using electric stove. Add the remaining 1/2 tablespoon oil, along with the garlic and onion, to the skillet. Stir a few times and return skillet to heat. Add carrot and frozen peas. Stir until the the carrots start to turn soft. Add beef, along with cooking liquid, back into skillet.
Swirl in the cumin seasoning mixture. Quickly stir everything until the ingredients are evenly coated with spices. Remove skillet from stove. Taste and adjust seasoning by adding a bit more salt if necessary.
Serve warm over steamed rice or noodles.